The knowledge you gain at ICMI's Contact Center Expo will help you move your contact center forward. Here, you will find 40+ sessions, roundtables and resources Covering both the latest industry topics, from chatbots to remote onboarding to metrics, and the insights you seek on essential areas, including WFO and leadership, to ensure you deliver on your business' strategic goals.
LEARN MORE AND REGISTER FOR THE CONFERENCE
Schedule a meeting with us and you'll be entered to win a
folding, electric Rad Power Bike!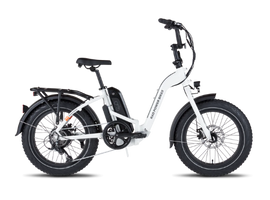 1 winner only. Limited to US residents. Must show up to the pre-booked meeting (if applicable). The winner will be notified by October 31, 2022. Cognigy is not responsible for any costs once the bike is in the winner's possession. No cash value. Winner agrees to a photo post with the e-bike on LinkedIn.
Lunch & Learn

Power Up Your Contact Center with Conversational AI
Wednesday, October 26 | 12:45-1:30 PM


How is Conversational AI powering up contact centers? For the first half of this interactive lunch-and-learn you'll hear real stories about real brands that have undergone a customer service transformation – from conversational IVR to smart self-service to agent assist. In the second half of the session, hear from peers on challenges, solutions and wins to better understand your path forward to providing next-level service experiences.