The newest edition of Gartner's Hype Cycle report is out, and we highly recommend the read to decision makers in the customer experience (CX) space as well as those responsible for customer service and support (CSS). The Hype Cycle for Customer Service and Support Technologies 2020 helps you navigate through the different CSS technology choices, identifying the different levels of maturity in which they lie and their potential applications within today's organizational context.
The current Hype Cycle is marked by the challenges brought by the corona-virus pandemic and the economic downturn that came with it. As noted in the report: "Investments in customer service and support technologies must be scrutinized for their ability to deliver on customer experience goals, their impact on cash reserves and likely speed of ROI.". Choosing your technology investments with certainty becomes a necessity then.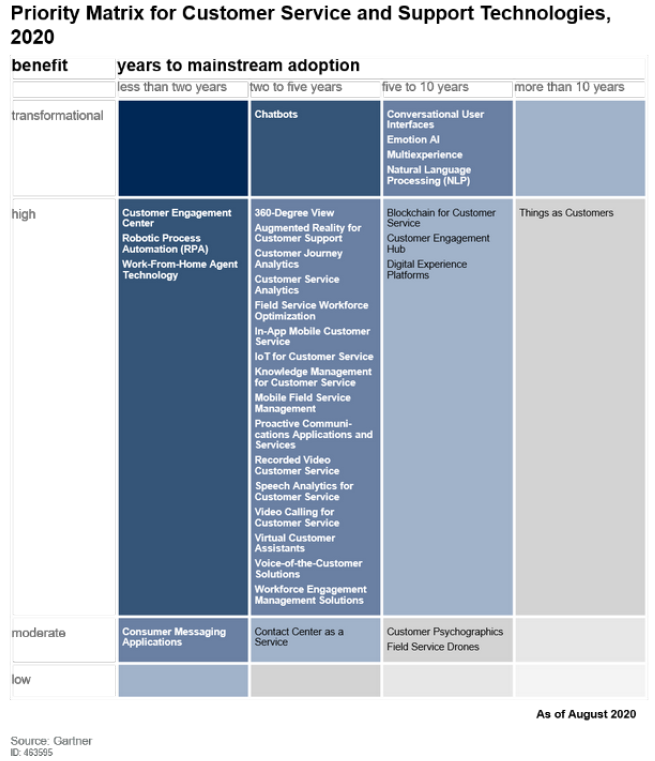 It's worth noting that chatbots, conversational user interfaces and Natural Language Processing (NLP) are listed by Gartner as technologies with transformational potential. Speaking of chatbots, analyst Magnus Revang had this to say: "The majority of implemented chatbots are unsophisticated and rule-based – failing to live up to expectations of stakeholders. The number of proof of concept (POCs) is high, as is the failure rate to bring even unsophisticated chatbots into production. Gartner is seeing a backlash against chatbots, primarily focused on unsophisticated implementations.".
In other words, in order for chatbots to fulfill its transformational potential, it should be powered by Conversational AI capabilities such as Natural Language Understanding (NLU), Machine Learning (ML) and Natural Language Processing (NLP).
Find out more by accessing the full report: