The Cognigy.AI Help Center enables teams to build their projects with step-by-step guides, tutorials, and much more. With the two brand-new series of training videos, we have put together some exciting content, to empower teams to create Virtual Agents quickly and gain insights into Cognigy.AI capabilities.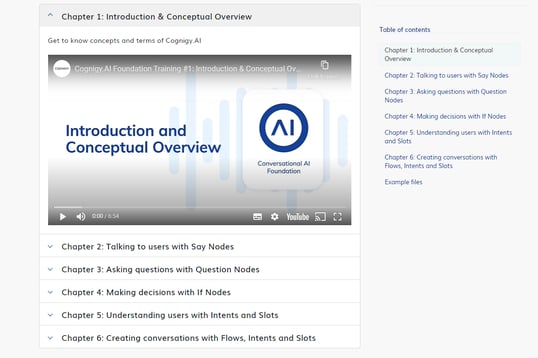 Cognigy.AI Training
The Cognigy.AI Foundation Training is a quick start training guide (120 mins) that takes you through the end-to-end experience of creating a Virtual Agent for the first time.
The Cognigy.AI Flow Developer Training (160 mins) delves into the advanced concepts of Cognigy.AI and enables teams to build complex, and super smart Virtual Agents.
Each video focuses on a specific Cognigy.AI capability which lets you create some amazing conversational experiences. Additional assets like .CSV files are provided to help follow along.
These videos & more are available in the Cognigy.AI Help Center for free. Have fun!