The brand new version 4.1.6 introduces numerous improvements & new features to Cognigy.AI.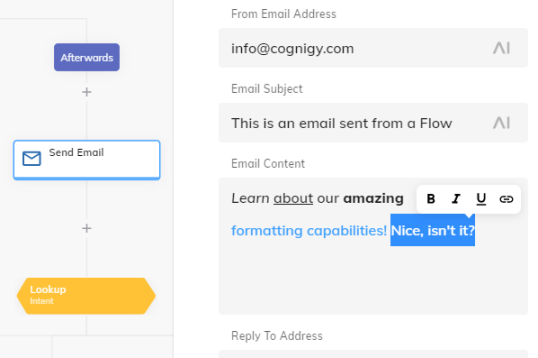 That's new with version 4.1.6:
Among the new capabilities is an add-on to the popular Send Mail Node: You can now use the embedded rich-text editor for text formatting right within the content field.
Other features in the latest release:
Added support for the Userlike-Unified-Messaging API in our Userlike integration

Added the ability to bulk-create Intent Localizations


Added tooltips to our handover- and httpRequest-Flow Nodes in order to better explain the individual properties


Added the ability for our on-premise customers to "trust" the code within an Extensions in order to execute them in a less secure, but highly performant way

Product alignment with VoiceGateway v2.4 features


Improve NLU training stability by adjusting the TTL for Training Jobs and adjust the concept of how Training Jobs will time-out


Improve UX by removing the "Delete all Intents" functionality from the Intent Editor when a non-primary Locale is selected


Increase the size of drop zones when dragging Flow Nodes in the Flow Editor


Improve error message when a Lexicon with duplicate data was uploaded

To learn more about these and other new features, check our Release Notes.