The latest release of Cognigy.AI, v4.19 includes a new feature "Last Activity Tracking". This functionality enables platform managers to easily perform routine configurations and administrative control tasks. In a nutshell, it is a comfort feature for Platform Managers that helps them to streamline access management.
To access this new functionality, go to "My Profile" in the top navigation and select "Access Control".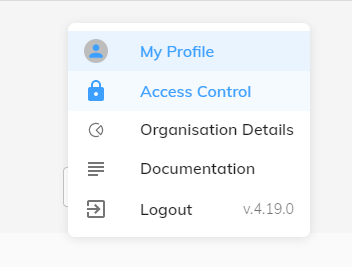 More improvements
Improved by adding the option to collate and concatenate multiple user inputs into one message to Webchat Endpoint settings

Improved by adding icons to the handover provider menu

Improved by adding a sidebar to Insights to navigate to Cognigy.AI

Improved by reordering the User Menu items by introducing separate sections for navigation to further Cognigy products

Improved by adding dynamic page titles to Cognigy Insights

Improved by updating Cognigy Journeys with up-to-date content

Improved by preselecting the current Flow in the Go To Node

Improved by adding the option to configure a get started message data payload for the Webchat Endpoint which is sent to the Flow
To learn more about these and other new features, check our Release Notes.