The newest release of Cognigy.AI, v4.16 comes with a slew of powerful new features and enhancements that elevate the usability and functionality of our robust Conversational AI platform.
Let's have a look at some of the new features!
Flow Node Search
The ability to search across Flows in the Flow Editor enables users to find things faster as they navigate through numerous properties inside their Flow Nodes.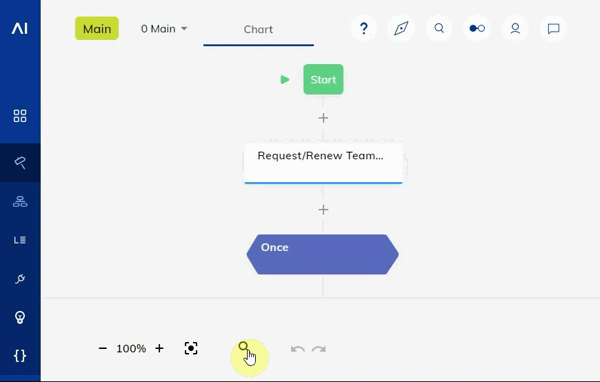 Match Pattern & Fuzzy-Search Flow Nodes
The power-packed version of Cognigy.AI also introduces two new Flow Nodes to Cognigy Flows. One allows you to match certain patterns within the user input utterances, while the other allows you to search an array of strings and return the one with the highest likelihood.

Users in multiple Organizations
Users can now be a part of multiple Organizations with this new feature. They can enter an organization-ID as part of their sign-in procedure, allowing them to select the Organization for which they wish to sign in.
Salesforce Service Cloud - Handover Provider
The newly integrated Handover provider allows you to swiftly transfer a user from the bot to a live agent in the Salesforce Service Cloud Console. Learn more in this article.

Train on Default Replies
This feature improves the accuracy of intent models by enabling users to include Default Replies data into the training of Intent models.


More improvements
Improved by adding "Open Node" to the context menu of the Insights Step Explorer, allowing users to navigate directly to the Node defining the particular step in the Flow Editor.

Improved by explicitly displaying the timeframe for which data is shown in Insights.

Improved by adding a "Reset Filters" button to the Transcript Explorer.

Improved by adding fields for the key-value pairs to the Headers section of HTTP Request Nodes.

Improved by adding an explicit link to Cognigy Insights to the analytics widget of the Cognigy.AI dashboard

Improved by adding links to the Extensions Marketplace from the Node Selection Menu of the Flow Editor.

Improved by adding a filter to Step Explorer, so that only results including a specified step are shown

Improved by enabling the "Set Rating" Node by default.

Improved by renaming tiles in Insights to better describe what is being displayed.

Improved by making button labels in Agent Creation Wizard clearer

Improved Insights dashboard performance.

Improved by adding a redirect to the login page from Insights for unauthorized users.

Improved by adding an optional custom base URL field to the Translation Provider settings. This allows users to set the region for Microsoft and Google translation services and also to use the DeepL free API instead of the pro API.

Improved by adding a setting to enable and disable the "Demo Webchat" functionality on a per-endpoint basis.

Improved by adding the "Autogrow Text Input" setting to the Webchat Endpoint. If it is activated the text area expands for longer inputs. It is configurable by how many line text inputs are maximally expanded.

Improved by adding the ability to have a Question Node reconfirm an answer with the user before proceeding.

Improved by adding the ability to specify the time of day when defining a custom period for which Insights data are to be displayed.

Improved by displaying error notifications when users try to navigate to a Node that does not exist in a Flow.

Improved by adding a Service Desk Template for NLU language Japanese.

Improved by adding support for custom light themes


Improved by renaming the "Generic" NLU language option to "Universal".
To learn more about these and other new features, check our Release Notes.