The latest release of Cognigy.AI introduces the new Intent Mapping Priority feature to help you better manage disambiguation in borderline cases and improve the overall NLU performance.
Resolve Ambiguity in Intent Hierarchy
As NLU models grow in size and complexity, having a meaningful intent structure provides virtual agents with more coherent and systematic logic to decode a user input. Likewise, it simplifies NLU management and maintenance by giving you an easy-to-navigate blueprint of different intent categories. Cognigy.AI's Intent Hierarchy is designed to do just that.
With Intent Hierarchy, you can deploy a separate set of training sentences for the Parent Intent or easily allow it to inherit examples from its Child Intents. The ability to map user inputs to the Parent Intent is critical to guide the conversation where the request is too generic or out-of-scope but is still a pertinent topic.
That said, in many scenarios, it is not black and white whether the user input should be mapped to the Parent or its Child Intent. When ambiguity occurs, the new Intent Mapping Priority feature lets you decide which Intent level should be prioritized.
Prioritize the Parent Intent
To better illustrate, let's take an example of the following user response: "I'm looking for home insurance that covers storm damage." Assuming the insurance company's standard policy does cover certain causes of storm damage like wind, hail, and lightning, but not flooding. It can get ambiguous whether the request should be mapped to the "Home Insurance" Parent Intent or its Child Intents (e.g., Wind Coverage, Hail Coverage, Lightning Coverage, etc.).
Here, you might want to prioritize the Parent Intent so the virtual agent can elaborate on the general home insurance policy or ask the user for more details regarding their request. With this, you can enforce a more relevant product offering that fully aligns with customer needs.
Prioritize the Child Intents
In other scenarios, you might prefer prioritizing the Child Intents instead to avoid redundant steps and streamline the user conversation.
For example, imagine in the Insurance scenario below, the user input is: "I want to update my policy coverage." In this case, ambiguity arises as the request contains a combination of sentences from both the Parent ("Update Policy") and the Child Intents ("Change Coverage"). Prioritizing the latter lets your virtual agent get straight to query resolution, instead of asking the user again for the information they want to update.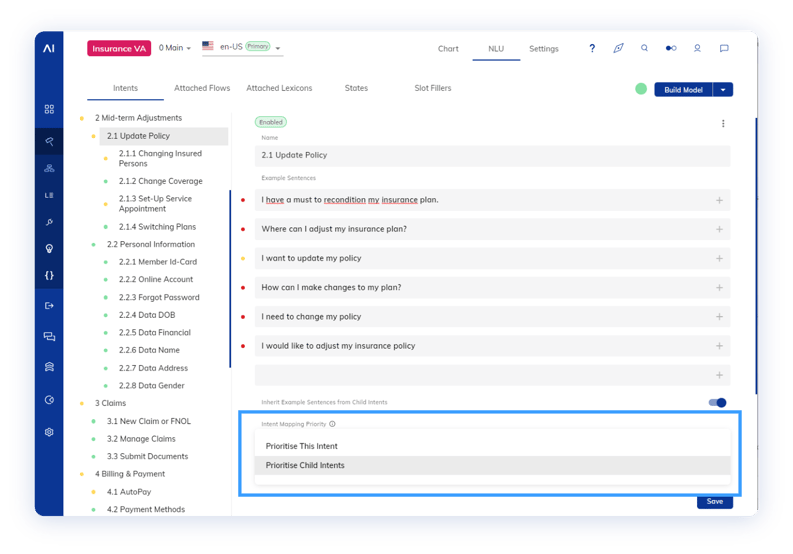 Other Improvements for Cognigy.AI
Cognigy Insights
Added WhatsApp attachments in the chat for Transcript Explorer and Message Explorer
Added the Goals filter in the Additional filters section for Transcript Explorer
Cognigy Live Agent
Added an opportunity to preview a message with raw data in the chat
Cognigy Voice Gateway
Added a voice warning message for Interaction Panel Calls when using a Transfer Node


For further information, check out our complete Release Notes here.