The latest release of Cognigy.AI once again introduces a host of notable improvements across the board. Without further ado, let's jump right in!
Native Nuance Support for (Even More) STT/TTS Flexibility
Speech recognition is a critical component to ensure users' spoken utterances on voice channels are accurately converted to text input for the NLU pipeline. By the same token, the right TTS service can help to shape an optimal customer experience that resonates with your brand image.
Cognigy gives you complete freedom to select your STT/TTS service of choice. But we also offer out-of-the-box integrations to make the speech configuration of your voice bots straightforward and hassle-free. Besides Microsoft Azure, Amazon Polly, and Google Cloud, starting from v4.46, we have added Nuance as the fourth natively supported speech service in Cognigy.AI
Nuance Recognizer features 86 languages and dialects around the world while Nuance TTS delivers 119 unique voices to help businesses to design and implement multilingual self-service with a unique brand experience. In Cognigy.AI, you can easily select Nuance as the STT / TTS vendor for your voice virtual agent using the Session Speech Parameter Config Node.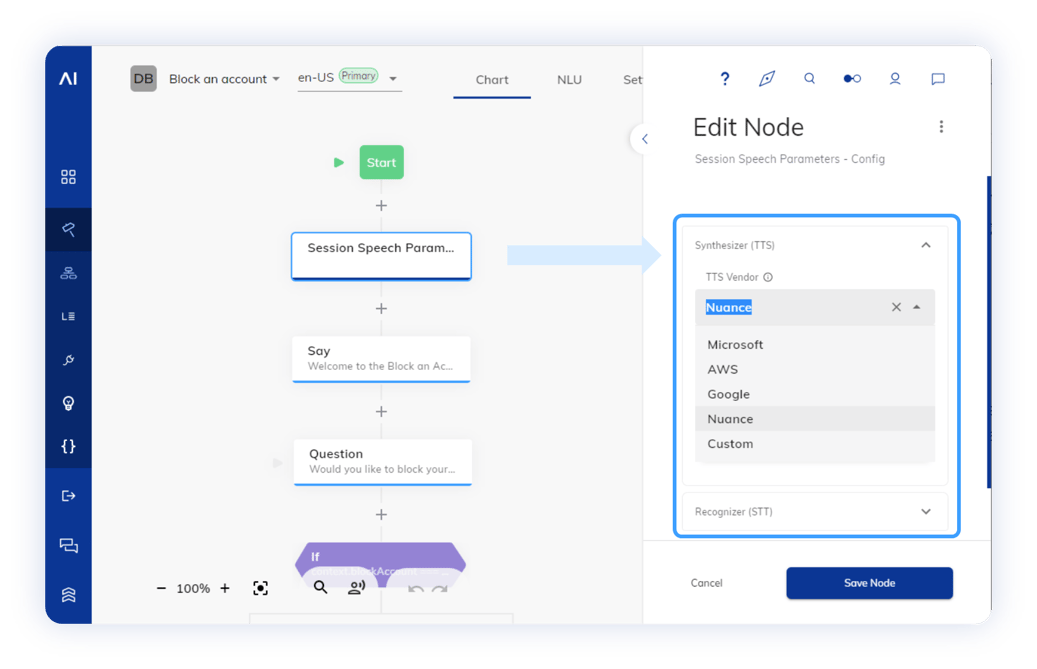 Craft Natural Conversations with Less Effort Using Built-in Yes/No Intents
A crucial requirement to deliver lifelike service experiences is the ability to understand the vast language variants used to describe a user's intent. Even answers to a Yes/No question aren't always as straightforward to the virtual agent as we expect. A positive affirmation can be anything like "by all means" and "that could work" or even entail words that might be mistaken as negative affirmations like "without a doubt" and "no problem". Likewise, customers can say "I'm good, thanks" as a polite expression for a "No" answer, depending on the context.
Previously, you could manually define a list of Positive and Negative Confirmation Words. With v4.46, we are excited to introduce an inbuilt Machine Learning model that will let you automatically capture numerous utterance variants of Yes/No Intents. Better yet, it is available for all NLU languages. To activate this feature, go to Manage -> Settings -> NLU Settings -> Select Yes/No Intents in the Yes/No Logic dropdown. You can then configure the desired Confidence Threshold to trigger the Yes/No Intents.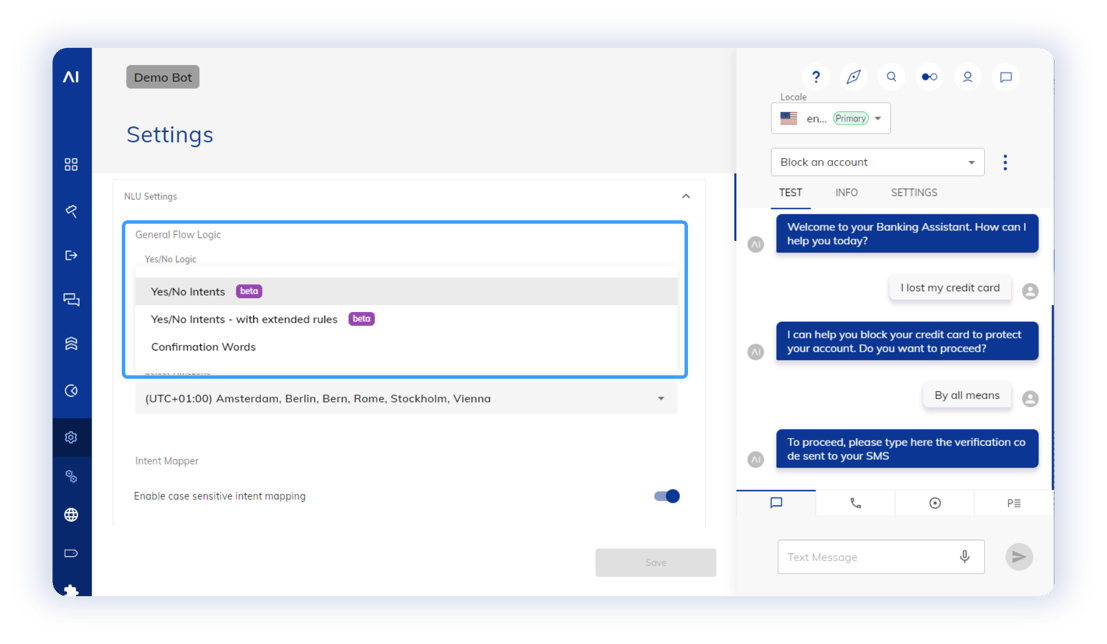 The Yes/No Intents setting can also be customized for individual Flows in the Flow Settings Panel. What's more, you can edit the prebuilt Yes/No variation list and add new vocabulary to any configured Locale in the Localization Settings.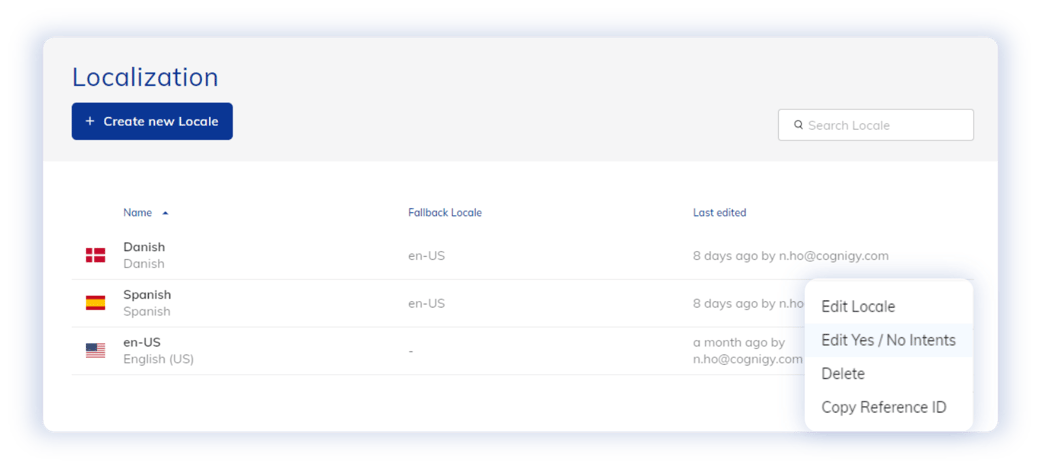 Improved Live Agent Experiences
Enhanced Webchat File Handling
Attachments that are received from and sent to Webchat are now treated similarly to those on the WhatsApp channel. For example, customers can now access the lightbox preview of a file sent by the agent before downloading.
Allowing the Supervisor to Override Agent Status
One new feature that will help improve queue management in Live Agent is that users with the Supervisor role now have the option to overwrite the status of any Agent directly from the Supervisor Dashboard.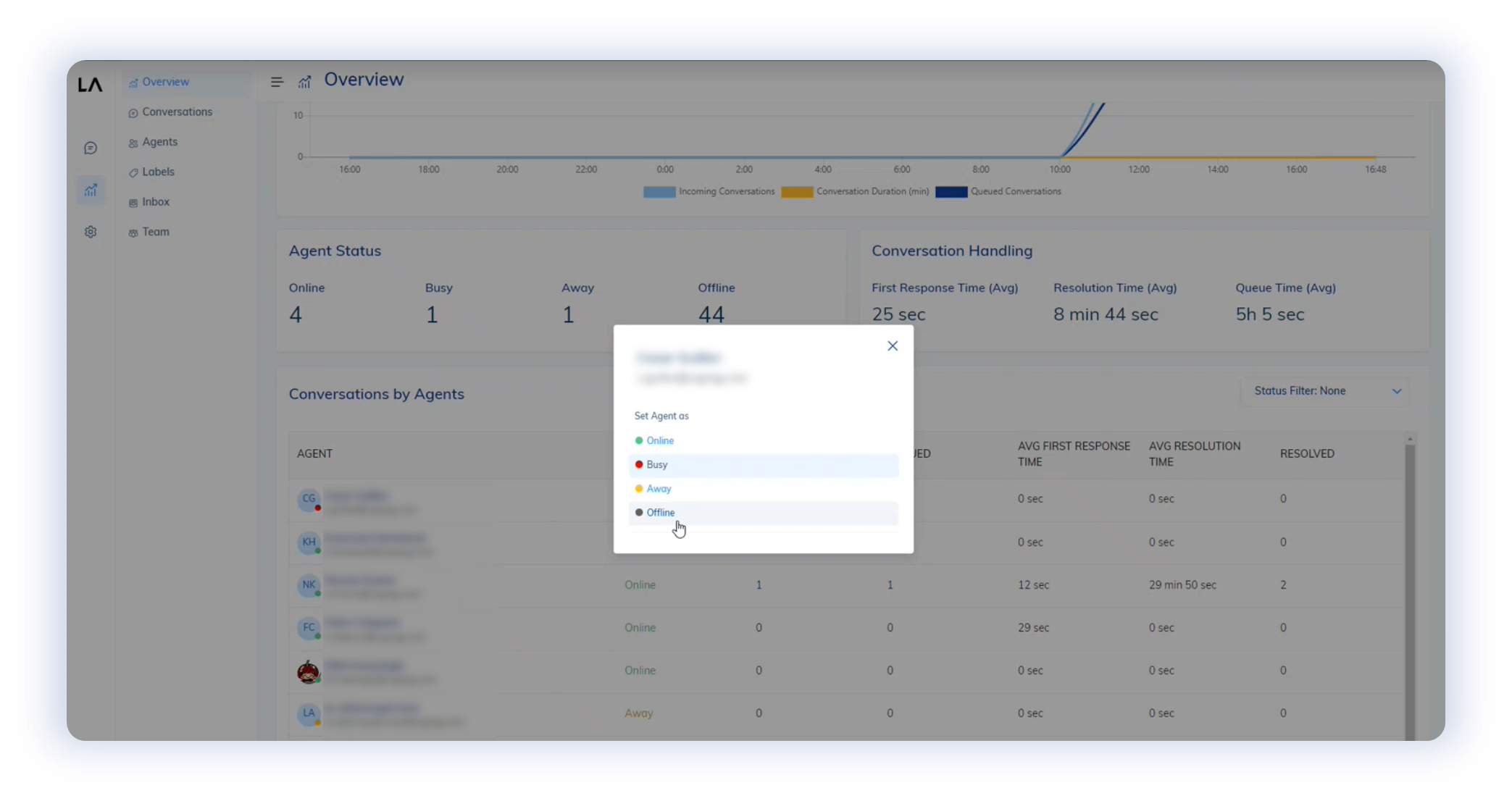 Other Improvements for Cognigy.AI
Cognigy Virtual Agents
Added an API for tracking analytics in the Code Node
Renamed the Complete Text Node to the

GPT Prompt

Node
Added an error notification in UI if the GPT Prompt Node fails
Changed the behavior of full-screen mode. Now the expanded code editor no longer spans the entire screen but only the browser window
Added the option to

trust an Extension

via UI
Improved by trusting the extension after the update if it is already trusted
Improved by updating the integrated Webchat Widget to version 2.49.0
Cognigy Insights
Added an error notification when the CSV report couldn't be downloaded
Rendered the masked data strings only when there is no other content to show in messages in Transcript Explorer and Message Explorer
Changed the naming of Conversation Details and Conversation Id to Session Details and Session Id in Conversation Details of Transcript Explorer
Cognigy Live Agent
Upgraded the OpenSSL version to fix security vulnerabilities
Cognigy Voice Gateway
Removed one second of a post-dial delay call from the Voice Gateway client. That allows answering calls faster
Updated speech provider voice lists for VG and Audiocodes endpoints
For further information, check out our complete Release Notes here.