Cognigy.AI v4.51 features a brand-new Call Dashboard in Cognigy Insights alongside the Agent Assist Workspace for enterprise contact centers.
Data-Driven Voice Design and Operations with Call Dashboard
Cognigy Insights is an omnichannel conversation analytics suite for enterprise contact centers – fully integrated into Cognigy.AI. The addition of the Call Dashboard aims to provide 360° real-time and historical visibility into your voice virtual agents, allowing you to control and optimize the overall quality of voice interactions.
Enhanced Operational Efficiency: With a complete picture of the overall call volumes, average concurrent sessions, and call transferred rates, you can better monitor traffic patterns and peak hours to improve resource allocation and workflow efficiency. Gain deeper insights into call center operations with the analysis of inbound vs outbound call traffic.
Quality Management and Performance Optimization: Metrics like abandon rate, TTS response time, and percentage of calls ended by the bot vs those ended by the customer reveal hidden bottlenecks in the customer journey. As such, you can fine-tune bot design, call routing strategies, as well as overall system performance.
Improved Customer Experience: Understand the primary reasons customers reach out with data on the top call intents to optimize self-service options or prioritize agent training.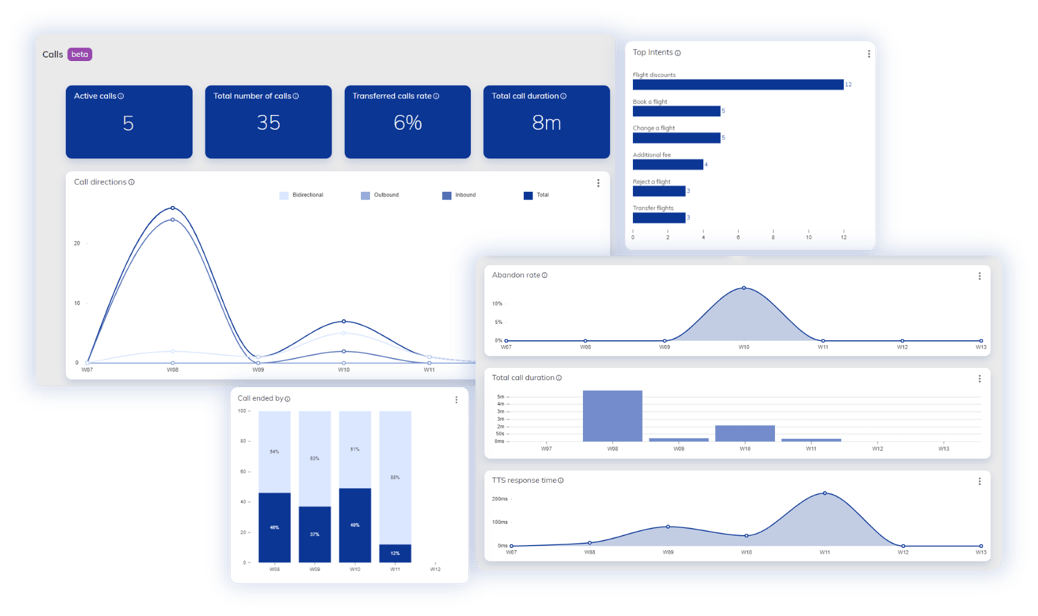 Elevate Live Support with Agent Assist Workspace
Cognigy's Agent Assist Workspace lets you design a variety of advanced functionalities that empower human agents to deliver speedy and precise customer support. It adopts a fully customizable grid layout where you can select the widgets that showcase the most pertinent information for your chat and voice use cases. When embedded into your contact center's agent desktop, it brings together all the essential tools and resources your agents require onto a single interface, reducing agent effort and cutting resolution time.
The key features of the Agent Assist Workspace include:
Fully interactive micro-applications in a customizable grid
Rich media capabilities to enhance contact center tech stack
Available as a standalone solution or seamlessly integrated into existing contact center agent desktops
Support for various types of information display, including PDFs and interactive 3D animations
Access to 100% of Cognigy.AI features, including Extensions and extensive logic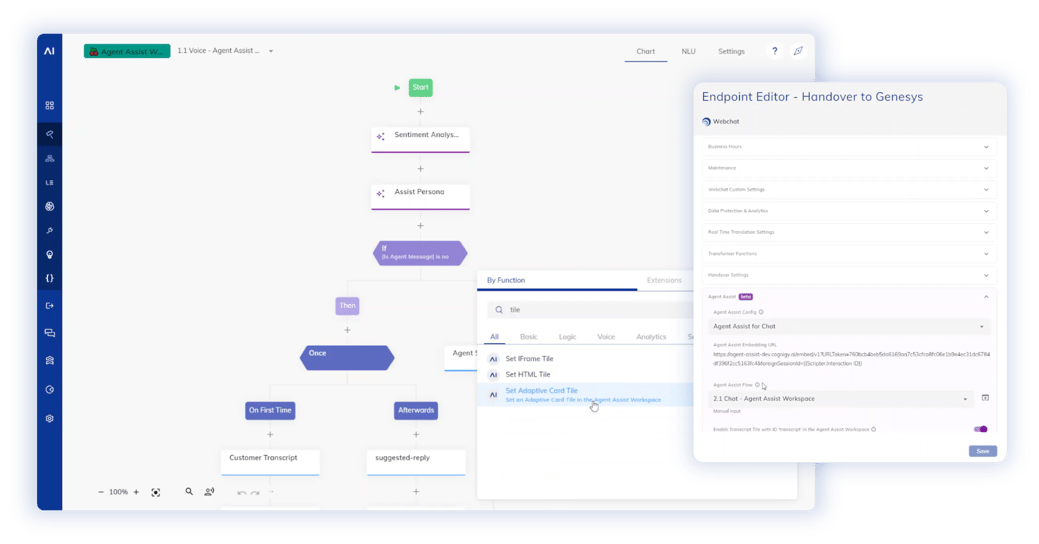 Cognigy.AI's low code UI now includes new Flow Nodes that allow for simple configuration of Agent Assist workflows. Within the Endpoint Editor, you have the ability to set the default Agent Assist settings for handovers.
The Agent Assist Workspace is also natively integrated into Cognigy Live Agent and you can easily enable it within the Account Settings section.
For more details on the architecture and step-by-step setup, please refer to our documentation here.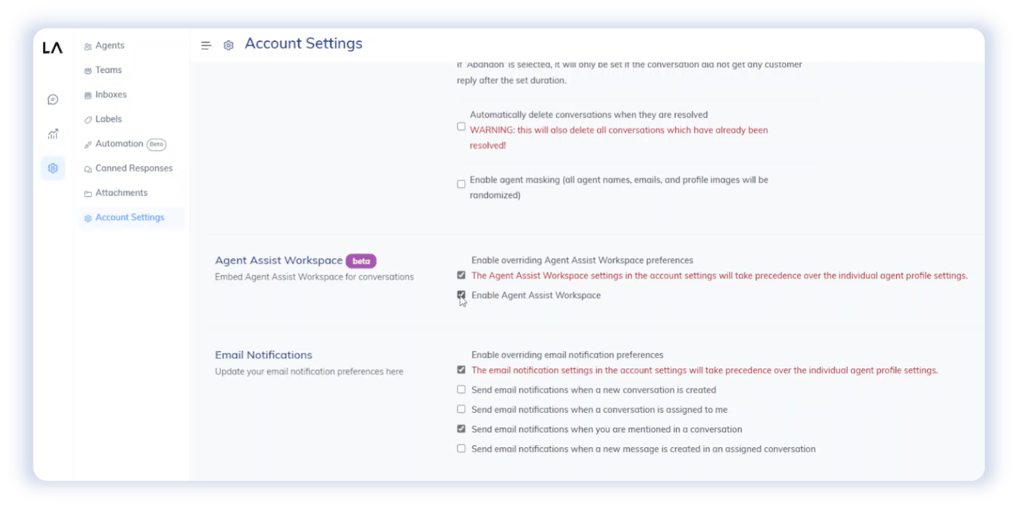 Other Improvements for Cognigy.AI
Cognigy Virtual Agents
Added

xApps

in Beta. Cognigy xApps are mobile first, micro web applications that empower enterprises to seamlessly connect all channels and enable personalized, multimodal self-service solutions uniting text, visuals, and voice. This feature is available to all Cognigy users
Added

Functions

and

Nodes

to automatically parse utterances, including spelling (alpha echo lima tango) to the correct strings
Added

uniqueIntentId

and

uniqueIntentFlowId

to the input object
Shortened the xApps URL for improved usability.
Moved the

Page Title

field to the Style Customization section in the xApp: Init Session Node
Made the xApps PIN screen use neutral styles by default
Made payloads in the Interaction Panel collapsible
Added the organization access control feature flag, which restricts access to the Agent Assist section unless specifically enabled for your organization
Cognigy Insights
Renamed the Live Agent Escalations chart to

Handover in Time

chart and updated its descriptions in the Engagement dashboard
Cognigy Live Agent
For further information, check out our complete Release Notes here