According to the 2019 Gartner CIO Survey, "Chatbots are the most widely used type of artificial intelligence (AI) application."
We highly recommend you read the most recent report published by Gartner: Consolidate Your Chatbot Initiatives Into a Single Enterprise Strategy.
Gartner states, "Chatbot requirements differ significantly in complexity and capability across an enterprise. As chatbot projects increase, often different vendors are selected by different groups. To avoid unnecessary redundancies, application leaders should define a consolidated enterprise chatbot strategy."
As an overview for the report, Gartner lists the key challenges that enterprises may face when developing a strategy, these are:
■

Most enterprises have a growing and diverse range of existing and planned chatbot deployments from different business owners throughout their organization.
■

Governance of chatbot applications, including the complexity of their requirements and the associated costs, varies enormously within a single enterprise.

■

Addressing varied enterprise requirements often involves multiple vendors and solutions making it difficult to effectively develop and maintain a common set of kills and investments.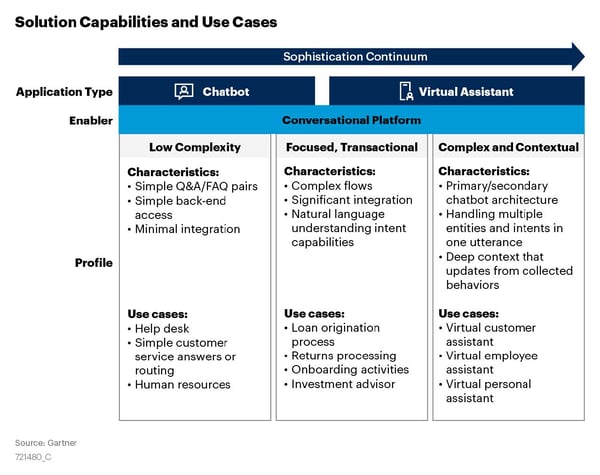 Gartner further says, "This research outlines three recommendations for developing an enterprise conversational strategy, and examines how the platforms for delivering these solutions will evolve over the next three to five years to meet these requirements."
"Defining a comprehensive enterprise approach becomes an increasingly important practice as the use cases become clearer, deployments increase, and vendor options improve."
According to Gartner, "While these recommendations are based on conversations with multiple Gartner clients, one of these conversations has been incorporated into a case study" (see Case Study: Enterprise Chatbot Strategy [Five Train]), which can be found in this report.
Find out more by accessing the full report here:
Gartner, Consolidate Your Chatbot Initiatives Into a Single Enterprise Strategy, 25 September 2020, Bern Elliot, Van Baker, Magnus Revang
GARTNER is a registered trademark and service mark of Gartner, Inc. and/or its affiliates in the U.S. and internationally and is used herein with permission. All rights reserved.