Cognigy Sessions is a techinar series from conversational AI experts for experts. Every episode gives deep insights into another Cognigy.AI topic. You'll learn from our industry-renown experts how to build the most amazing conversational experiences, based on Cognigy.AI.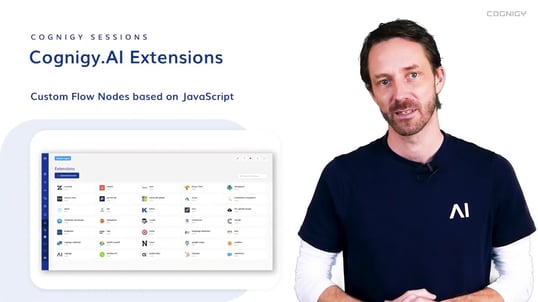 Enhance Cognigy.AI with Extensions:
In this episode of Cognigy Sessions we will demonstrate how to enhance Cognigy.AI with Extensions. You will learn how to use Cognigy.AI's powerful Extension framework, how to integrate with third-party systems, and how to enhance your Virtual Agents' capabilities with Extensions. Furthermore, we'll show you how to leverage open-source libraries to accelerate your development, and how to roll your own CognigyScript-based Extensions with an external IDE.
Check out all available episodes of Cognigy Sessions in our Help Center, no registration required.