Cognigy.AI v4.1.3 comes jam-packed with amazing new features to enable our users to build more natural conversations.

One such feature is the ability to dynamically escalate during the collection of Slots via Question Nodes. Users can now configure Question Nodes to take actions after a number of incorrect answers, including outputting help messages or executing more advanced Flow logic.

In addition, it is now possible to handle unexpected, intent-triggered user escalations (e.g. "help" or "I don't know") directly from within Question Nodes.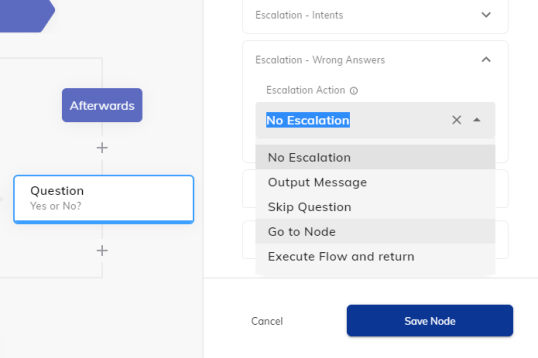 That's new with version 4.1.3:
Combined with Intent Conditions, these features allow the creation of truly context- and user-aware slot collection and intent mapping machine learning models to allow for even more natural conversations.

Other features in the lastest release:
Improved the reliability of parallel intent training jobs

Improved the ability for white-labeling by exchanging the default messages for our endpoint- and API-services

Add full TLS/SSL support for Redis and the ability to use fully-managed service for Redis

Improve various selects (e.g. flow select, node select) and add an option to also provide IDs manually

Improved various file-select menus and only allow files of correct file-types

Improved Typescript typings in Code-node

Improved German translations in our user interface

Expose the real client IP in the Cognigy Input Object
To learn more about these and other new features, check out in the Release Notes.