The latest release of Cognigy.AI makes the process of repurposing your existing flows and resources faster and easier than ever.
Rapid Iterations with the Ability to Clone Flows
As your service flows constantly evolve to incorporate new capabilities, channels, and business offerings, reiterations and testing can grow in complexity. To ease this process, Cognigy.AI v4.39 introduces the ability to clone any of your existing Flows in a single click. All contained resources including content, intent models, lexicons, and execution logics will be then duplicated in the copied Flow that lives within the same Virtual Agent.
As such, you can apply different modifications and test multiple flow variants simultaneously at speed – without affecting the original version that is currently being deployed.
Quick Tip: After cloning a flow, the only required action item is to retrain the duplicated Flow - simply by pushing the "Build Model" button.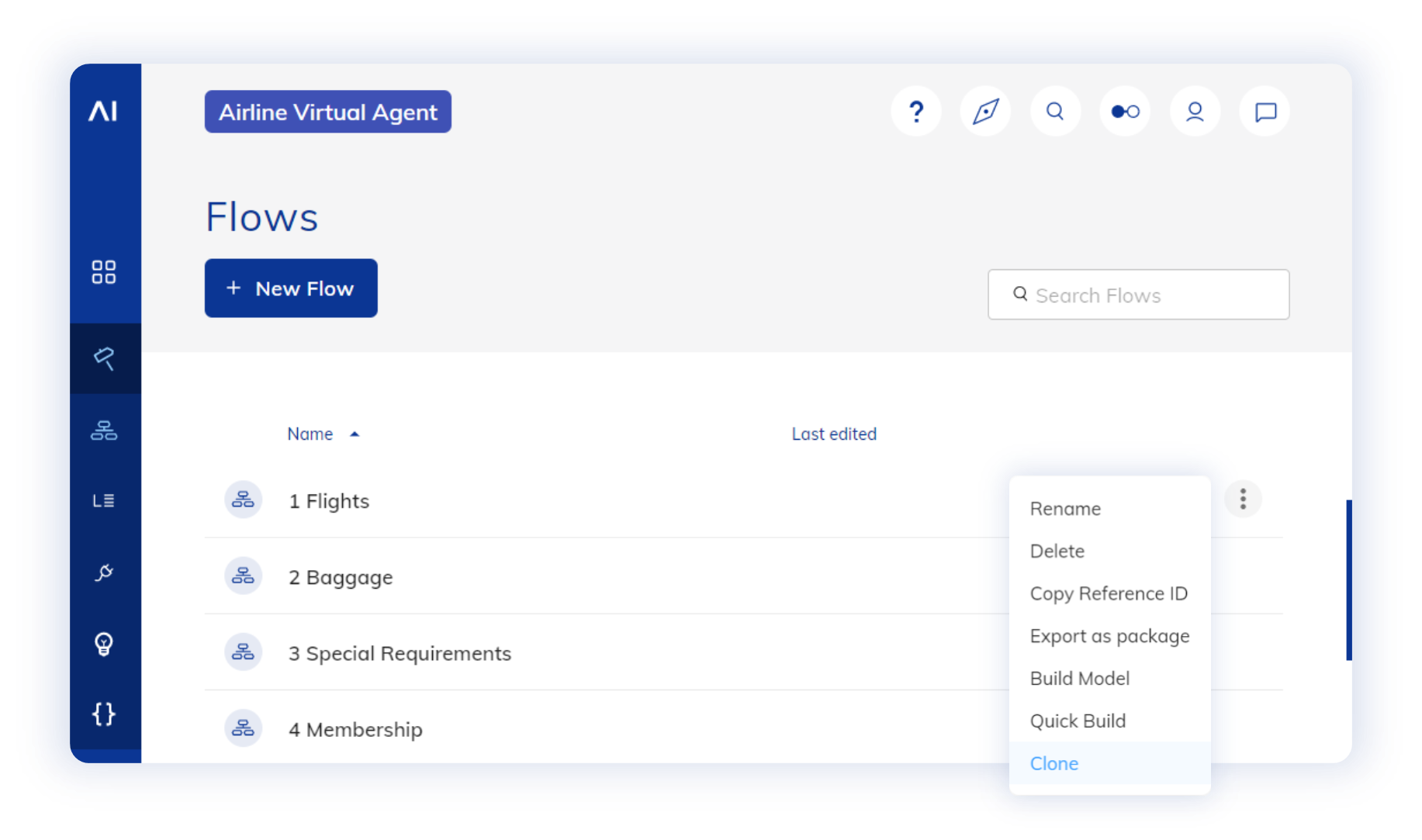 More Flexible Data Visualization in Cognigy Insights
The Detailed View of all time-series dashboards in Cognigy Insights now provides different data display options – by day, week, or month depending on the selected timeframe, giving you more flexibility when working with your data.
Other Improvements for Cognigy.AI
Cognigy Virtual Agents
Improved by making image attachments sent from live agent downloadable
Improved by updating the Webchat Widget to version 2.43.0
Improved by enabling the Inject API for REST Endpoints
Improved by creating a new wizard for agent assist.
Improved by deleting the insights data during delete organization
Improved by adding Test Translation Configuration endpoint with a Test Connection button
Cognigy Insights
Adding a metric that shows if a service is connected to dependencies such as RabbitMQ & MongoDB
Adding ODATA Endpoint for New Live Agent Collections
Added a new screenshot and documentation for the analytics, insight's session and steps expiration values
Cognigy Live Agent
Add the supervisor dashboard graph and global inbox filtering in the overview dashboard
Improved by adding a button to scroll down when you scroll up to the messages and avoids auto scrolling when new messages are comming
Improved by adding default alphabetical sorting for inboxes across live agent
For further information, check out our complete Release Notes here.