Contact centers often encounter integration obstacles that slow down their digital transformation endeavors. At Cognigy, we strive to break down these barriers to integration and make the adoption of Conversational AI efficient and hassle-free for enterprises.
To that end, the latest product release introduces our new native integration with the 8x8 experience communications platform, joining Cognigy's existing suite of over 100 out-of-the-box enterprise integrations.
Deploy Intelligent Customer and Agent Assistants for Your 8x8 Solution
The new integration empowers 8x8 users to easily upgrade their contact center tech stack with advanced Conversational AI capabilities – from intelligent self-service and LLM-powered interactions to next-gen agent assistance.
To meet your infrastructure requirement, two options are available for seamlessly connecting Cognigy.AI with your 8x8 solution and agent workspace.
8x8 Handover Provider: configurable in the Endpoint Settings and using the Handover to Agent This option is ideal for chat use cases where you can orchestrate and gather analytics on cross-channel conversations directly within Cognigy.AI. The conversations can be handed over to the human agent with the full history and context.
8x8 Endpoint: this option extends the integration to both messaging and voice use cases with the conversation routing to the Cognigy.AI bots defined within the 8x8 platform. On the phone channel, a conversation can be handed over to the human agent using the Transfer

Node.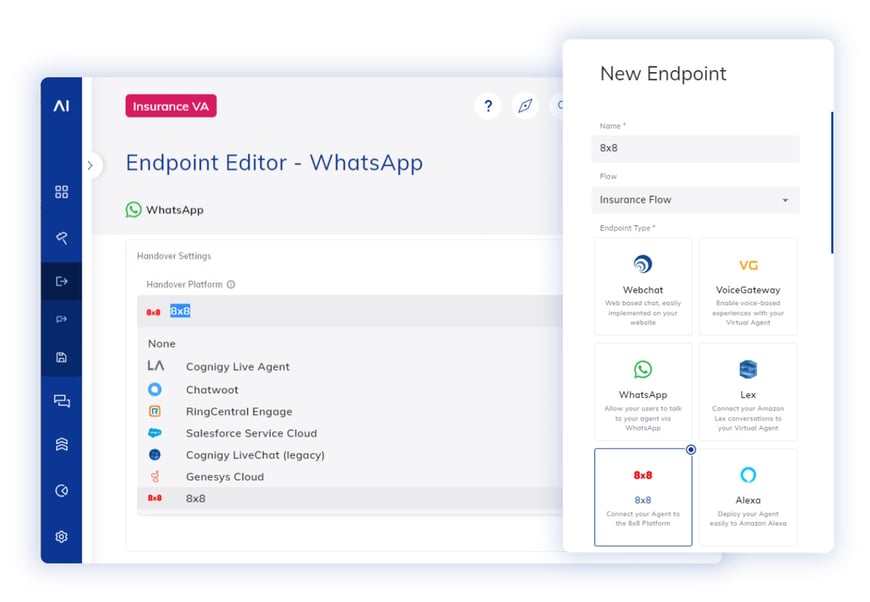 For step-by-step setup and integration details, refer to our documentation here.
Call Transcription for Agent Assist using the Transfer Node
Call transcription is table stakes to conversation intelligence and quality assurance in contact centers – that's no surprise. But with the advent of Conversational AI, call transcription has an even more significant role to play when it comes to boosting agent performance.
Transcripts can be ingested into agent assist workflows to not only analyze customer sentiment and satisfaction but also provide agents with real-time suggestions, knowledge retrieval, and auto-generated call summaries.
With v4.50, Cognigy.AI enables the flexible configuration of the transcribe option for all customer calls – whether handled by the bot or the human agent. When selecting Dial as the Transfer Type in the Transfer Node, you can configure your preferred STT provider to maximize transcription accuracy and define which audio stream to transcribe – be it the caller, the called party (i.e., virtual/human agents), or both. The recording will be then forwarded to the defined Webhook URL.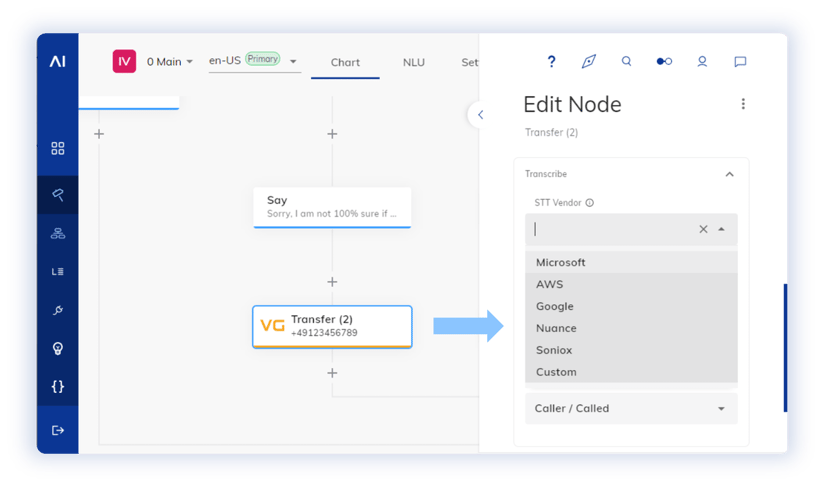 Rapid Bot Testing with Bulk Playbook Execution
In Cognigy, Playbooks are sampled conversations that you can automatically run to test and QA your virtual agents, eliminating the need to manually type the entire conversation. This feature is particularly handy every time you roll out a new bot version.
Good news for developers - we have now extended the Cognigy CLI to take the use and benefits of Playbooks up a notch with bulk execution. Using the run command, you can schedule a batch of Playbooks in any number to automatically run before every release, ensuring timely detection and clearance of bottlenecks, boosting efficiency, and making bot-building even more enjoyable!
Other Improvements for Cognigy.AI
Cognigy Virtual Agents
Added a progress indicator for snapshot download
Improved by sending an email out once a user is added to a Cognigy project via

Access control

or

Members
Added the default favicon to the xApp page, changing the default page title from "App Shell Page" to "xApp" and allowing users to customize the favicon and page title in the

xApp: Init Session Node
Disabled snapshot creation buttons when a limit is exceeded
For further information, check out our complete Release Notes here