There is so much in store with the release of Cognigy.AI v4.36 that we can't wait to share with you. Without further ado, let's dive right in!
Effective Staff Scheduling Using Engagement Heatmap
A pivotal factor for a great service experience is the ability to attend to and resolve customer queries quickly. And that requires effective resource planning, i.e., what is the workload going to be, and how many resources do you need to handle it?
The new Heatmap report in Cognigy Insights aims to help you achieve just that with relevant insights to better forecast and calculate base staff based on historical customer interactions. The Heatmap offers a time series visualization of agent handover traffic, allowing you to spot trends in peak workload and plan your staff scheduling accordingly. You can find it on the Engagement dashboard.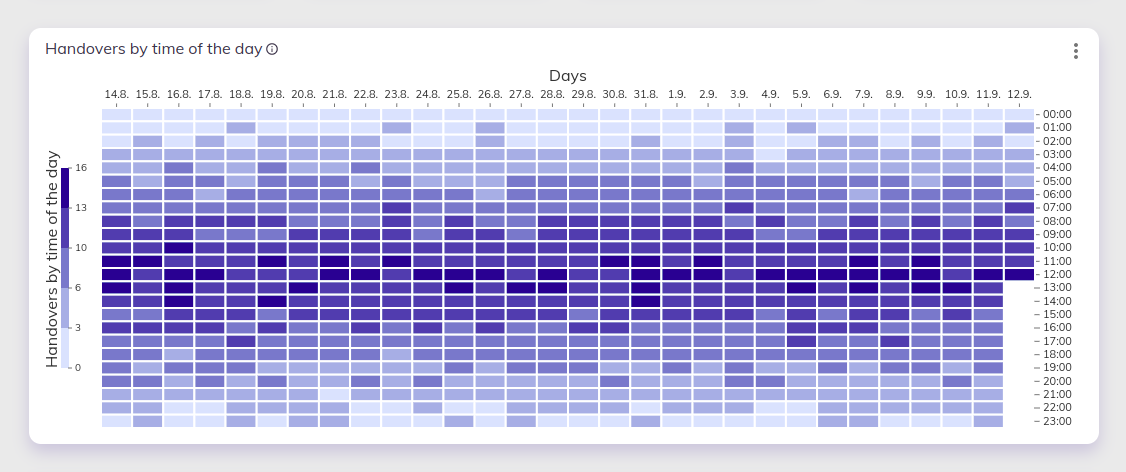 In addition to the Heatmap, Cognigy Insights also introduces a new detailed view for all existing reports. The detailed view displays an extended value range of your data set while giving additional filtering capabilities for deeper interaction analysis.
Accelerate Issue Resolution with Assist Bot
The agent needs assistance? We've got you covered! Cognigy Live Agent's Assist Bot offers your workforce a new way to access helpful information and resources promptly while engaging with customers - without leaving their interaction window. It is readily available on the right-hand side of the agent's conversation.
Assist Bot complements the Whisper Assist function by letting customer service teams actively and independently seek help from a virtual agent based on their needs in the moment.
To configure the Assist Bot, you will need to create the respective workflow in Cognigy.AI Flow Editor using the Webchat Endpoint, then add the Endpoint URL under the Cognigy Live Agent Inbox Settings.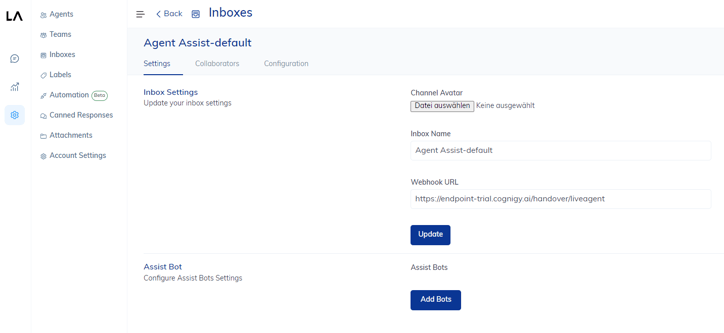 Improved Attachment Handling in Live Agent
Oftentimes, agents need to send attachments like product policies, invoices, or contract terms to customers during live support. While Cognigy Live Agent already enables easy and quick file uploads, you can now better manage previous attachments through a new "Attachment" section. It offers a drop-down view of all uploaded files and associated conversations - sortable by date and inbox.
Furthermore, you can configure a retention policy to automatically delete obsolete files from the system based on their time-to-live (TTL).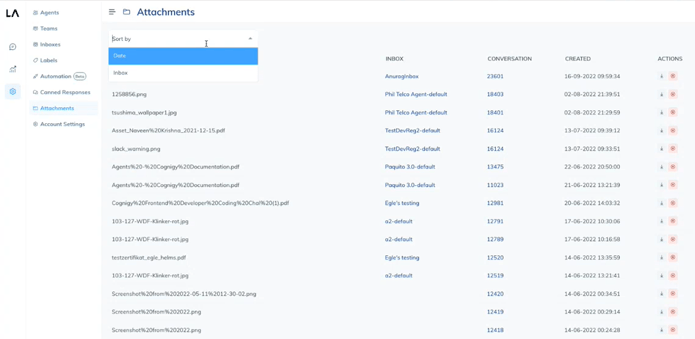 Below are numerous other enhancements that come with Cognigy.AI v4.36. For further information, check out our release notes for Cognigy.AI Virtual Agents, Cognigy Insights, and Cognigy Live Agent.
Improvements for Cognigy.AI Virtual Agents
Adds support for "Google Cloud" as a storage provider for the "File Upload" functionality located in the WhatsApp Cloud Endpoint

Improved by making Analytics Step field searchable during Node search & searching Nodes that have an analytics step set searchable
Improved by redesigning the input mode selection in Interaction panel
Improved by adding resource names to the delete confirmation prompts
Improved by changing name of Agent Assist endpoint
Improved by adding indices to collections of service-resources and service-trainer. This improves performance while retrieving intents, feedbackreports, and trainer-records
Improved by redirecting to "Insights Transcript Viewer" when clicking on a conversation item in Cognigy.AI
Displaying of ratings in the conversation history improved, they are now in the correct order
Improvements for Cognigy Insights
Implementing Dashboard print styles in Google Chrome
Implementing ACL for Insights
Adding the logic for handling rating as input and output
Improvements for Cognigy Live Agent
Improved by adding a new feature, called 'Agent Masking'. Enable this feature in account settings in order to have all agent names, email addresses, and images randomized (some agent lists will still be unmasked for administrative purposes - e.g. to see which agents are in the account, add agents to the correct inbox, etc.).

Improved by renaming the unattended property to queued for the reports page