The release of Cognigy.AI v4.38 introduces robust features that drastically ease contact center integration while helping customer service teams double down on service quality.
Deploy Cognigy.AI Virtual Agents on Amazon Connect Within Minutes
If you are using Amazon Connect, integrating Cognigy.AI with your Virtual Contact Center is now easier than ever. Using the new native Amazon Lex Endpoint, you can create and embed Cognigy.AI Virtual Agents into any existing or new Amazon Connect Contact Flows in just a few simple clicks.
This combination allows you to take advantage of Cognigy.AI's versatile low-code UI and service automation capabilities – all while maintaining your contact center operations on Amazon Connect with zero disruption.
Note that if you have already set up your Amazon Lex bots without using Amazon Connect, Cognigy.AI enables you to integrate these into our platform swiftly, too. For more information on how to set up and connect your Amazon Lex Endpoint, refer to our documentation here.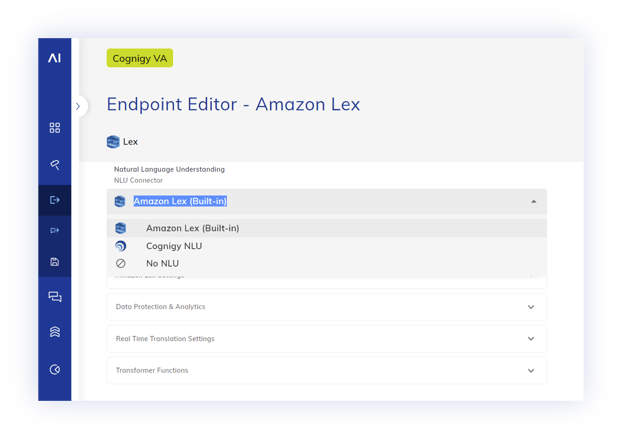 One-Click Integration into Genesys Cloud Contact Center
Intuitive and frictionless agent handoff is a native component in Cognigy.AI. For Endpoints that support this capability, you can now select and configure Genesys Cloud as the Handover Platform at the touch of a button under the Endpoint Settings. With this, all handover requests from the respective Endpoint are seamlessly routed to your Genesys Cloud resources to be processed by a contact center agent. For a complete setup guide, visit our Help Center article here.
Improved Queue Management with Live Agent Supervisor Dashboard
Effective queue management is critical to minimizing wait time and customers' frustration while avoiding agent burnout. Cognigy.AI offers fine-grained control over various handover triggers to help you route customers to the right agent in the shortest time. That said, customer service traffic can be very difficult to predict, especially in fast-changing environments. In the event of unexpected workload arrival, it is vital for customer service managers to retain a quick overview of queue traffic and whether the workload can be better distributed among agents.
If you are using Cognigy Live Agent, the new Supervisor Dashboard aims to help you attain this goal. Available for the new "Live Agent Supervisor" role, it provides actionable insights into existing open and queued conversations to empower data-driven queue management. At the same time, contact center team leads can monitor and stay on top of important service quality KPIs like first response time, queue time and resolution time.
The Agent Masking option further ensures that all these insights fully comply with labor protection rules depending on your country and region.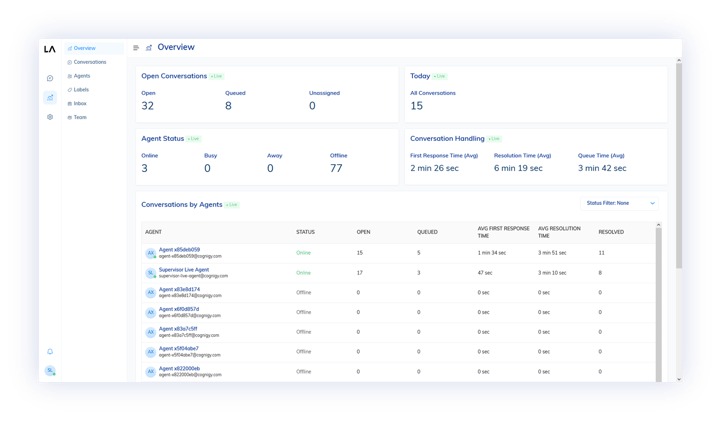 Below are multiple other enhancements that come with Cognigy.AI v4.38
Improvements for Cognigy.AI Virtual Agents
Improved by adding file upload and attachment handling to service-endpoint for contacts, location and sticker type of whatsapp messages
Improved by adding new organisation wide data privacy settings that can be set in the management-UI
Improved by displaying the speech providers logo in voice preview dialogue
Improved by adding a togglable XML editor to the Voice Preview feature
Improved by showing an additional error message for json editor fields containing invalid json
Improved by adding a Json validator for updating Audio Settings and Translate Settings
Improved by filtering and searching Audit Events using type and user at the same time
Improved by adding new role "Live Agent Supervisor"
Improvements for Cognigy Insights
Added the ability to configure a TTL for all data we collect as part of Cognigy Insights. The TTL can either be configured on a system level or via the Cognigy Management UI

Detailed view for Pie Chart graph showing all fractions (and reducing the default to only show the largest 10 fractions)
Improved by adding a TTL to all analytics services, for document expiration after a predefined time
Improvements for Cognigy Live Agent
Improved by adding validation for date ranges and restricting queries to one year in the past for the reports section
For further information, check out our complete Release Notes here.