We just launched Cognigy.AI v4.4, delivering once again an amazing list of improvements & new features.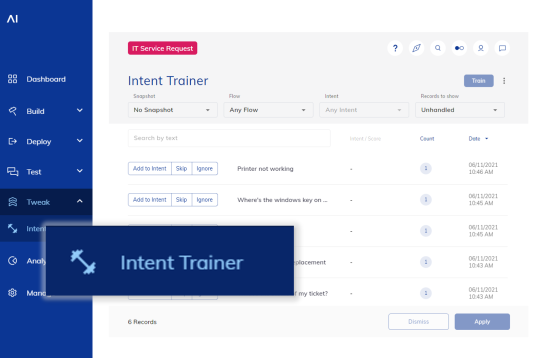 That's new with version 4.4:

Most notably, we updated the Cognigy.AI Intent Trainer to improve the UX and simplify handling review tasks. More specifically, we have added the following new features:
Endless-scrolling mode now helps our customers to simply scroll through all trainer records
Optimized UI to prevent filtering/sorting when un-submitted changes still exist
Dismiss unsubmitted changes altogether, with one click
Improved styling for the currently selected row
Improved translations for customers using our UI in a language different than English
Learn more about Intent Trainer in our documentation.
Other new feautures & functions include:
New Twilio Voices: We have added new Twilio Voice options to our Twilio Endpoint(s).
Configurable CORS for Cognigy.AI Endpoint: We have added the ability to configure CORS origins for the Cognigy.AI endpoint microservice. This allows our customers to additional protect their endpoints.
Question escalation to handover: We have now added the ability to escalate questions by creating handovers to real human agents.
Upgraded internal WebchatWidget
Improve auto-completion in Code-Nodes
Include Intent scores below the Intent threshold
Add health-endpoint to ODATA microservice
...and much more.
To learn more about these and other new features, check our
Release Notes
.