With Cognigy.AI v4.48, we're excited to introduce our brand-new Live Agent Dashboard that complements existing Virtual Agent data in Cognigy Insights to give contact center managers end-to-end visibility into their CX operations.
Cognigy Live Agent Analytics – Now Available in Insights
The new Dashboard is fully integrated with Cognigy Live Agent, an AI-powered live chat solution that allows service agents to communicate in real time and asynchronously with customers and their peers. It serves as the counterpart to existing Virtual Agent reports in Cognigy Insights, offering actionable analytics on human-driven live support to deliver a 360° view of your customer service operations.
The Live Agent Dashboard empowers CX teams and contact center leaders to:
Monitor service quality: Measure real-time performance against SLAs and vital KPIs by tracking how quickly agents respond to customer queries and how long it takes to resolve issues.
Improve customer satisfaction: Correlate success metrics (e.g., first response time, average handling time, resolution rate) with customer ratings and feedback to uncover bottlenecks and analyze root causes for improvement.
Augment agent performance: Get a quick overview of open, pending, and abandoned conversations, as well as conversation topics over time. With this information, supervisors and team leads can take steps to optimize resource scheduling and develop tools to help agents resolve customer queries faster.
Increase contact center efficiency: Stay on top of total Live Agent sessions and the handover rate. Combine this data with other conversation and NLU data to detect opportunities for future self-service and efficiency gains.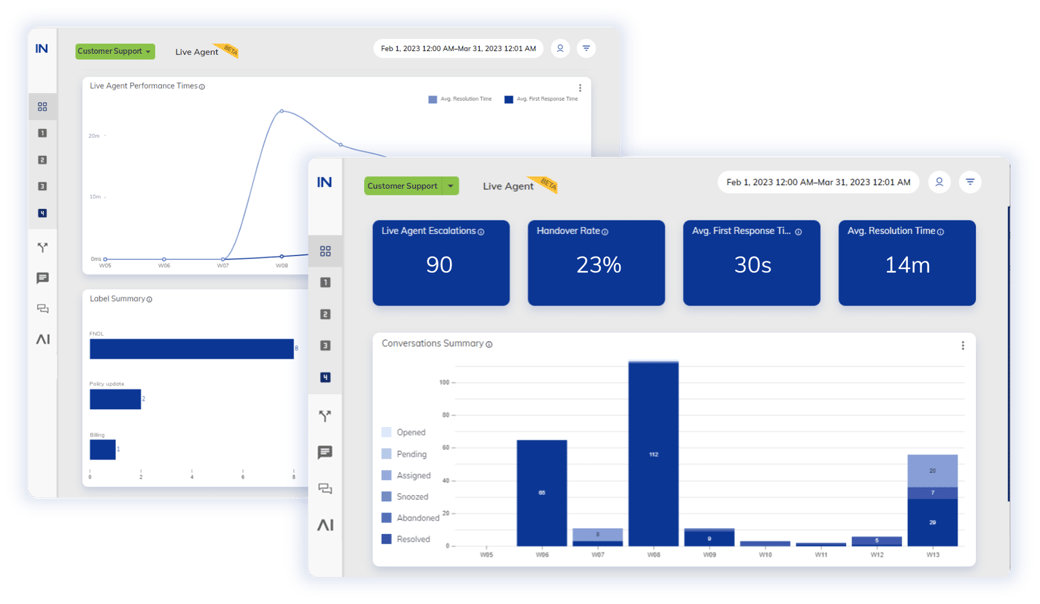 GPT Conversation Node for Fully AI-Powered Interactions (Research Preview)
Generative AI is an incredibly powerful lever to reinvent customer experiences with empathetic, natural, and lifelike conversations like never before. With Cognigy's beta launch of Generative AI features, we have introduced enterprise-ready tools to help businesses tap into the potential of Large Language Models (LLM) today.
But can we leverage LLM to power an entire customer conversation end to end? In a quest to explore this opportunity, we have released a research preview feature called GPT Conversation Node with Cognigy.AI v4.48. In essence, it allows you to launch a Virtual Agent without any pre-defined logic flows and capitalizes on the full language power and flexibility of Generative AI.
⚠️Important: This Node is part of Cognigy's LLM research effort. It is intended solely as a preview feature (no public beta or general availability) and is NOT recommended for production use.
The GPT Conversation Node ultimately serves as an orchestration tool to ensure your Virtual Agent is business and mission-focused. You can define its persona and task on a highly granular level to provide detailed context about your business, brand personality, and required background knowledge. Learn more about all configuration options here.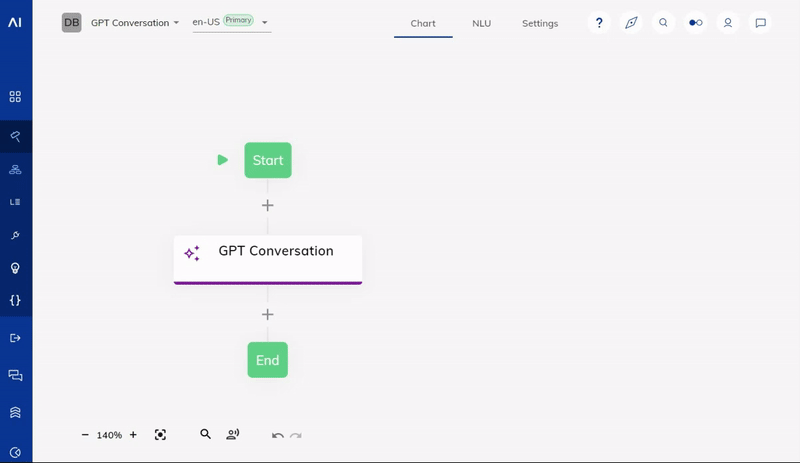 Other Improvements for Cognigy.AI
Cognigy Virtual Agents
Added the option to

generate synonyms

to the Lexicon Entry Generation setting on the Lexicon page
Added the Organisation filter to the Agents Overview v2 Monitoring Dashboard in Grafana
Added a notification for the Genesys Cloud handover provider when a user closes their browser
Updated Webchat version 2.52.0 to the Demo Webchat page
Cognigy Insights
Added searching by

Session ID

in Transcript Explorer
Added a tooltip in the search field in Transcript Explorer
Removed deprecated OData endpoints versions 2.0, 2.1, and 2.2
Added more information to the Containment Rate chart tooltip
Added the

Containment Rate bar chart

to the Engagement dashboard
Added the Session ID column to Transcript Explorer, and the ability to copy this ID
Added total sessions and sessions with no handover to the Containment Rate tile tooltip
Cognigy Live Agent
Renamed Whisper Assist to Agent Assist
Cognigy Voice Gateway
For further information, check out our complete Release Notes here.