The latest release of Cognigy.AI introduces the ability to enable/disable speech input gathering on demand and the new Audit Logs to maintain transparency and accountability within your Live Agent resources.
Optimized Multimodal Interactions with Granular Voice Control
In a multimodal conversation, voice is often combined with other interfaces like touch and multimedia to deliver more effortless and engaging experiences on the phone line. Cognigy xApps is a powerful tool to help you achieve this within Cognigy.AI.
For conversation design, speech recognition is vital during voice interactions. That said, it can cause interruptions when users transition to other communication modes as part of the conversation. For instance, imagine using xApps-based web forms for data collection during a voice call. As the user temporarily pauses the call to engage on the web app, unexpected background sounds can be mistaken as data input by the system, resulting in a disrupted user experience.
To address this challenge, the new Mute Speech Input Nodes provide proactive control over when speech input should be accepted or deactivated. This level of control ensures that voice and visual interfaces work harmoniously in concert with one another, enabling smoother and more intuitive multimodal interactions.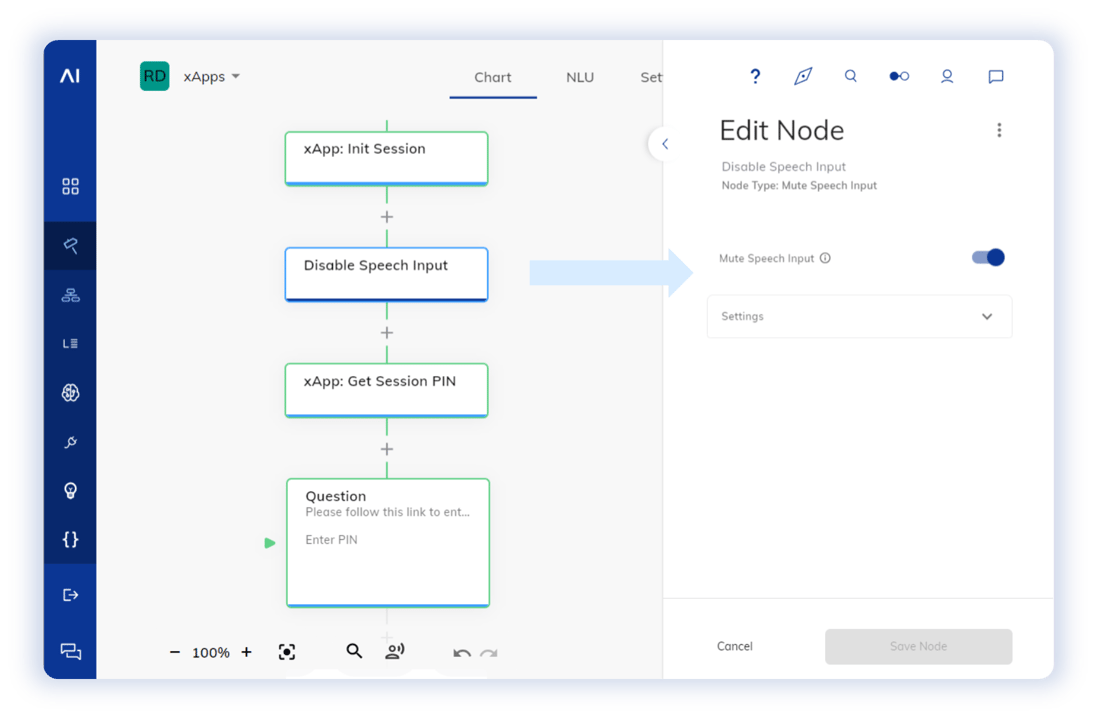 Enhanced System Security and Visibility via Audit Logging
With v4.54, Cognigy Live Agent users now benefit from improved system monitoring through Audit Logs. These logs record essential system events and configuration changes, arming you with valuable insights for troubleshooting, security, and auditing purposes.
Structured records of events such as create, update, and delete for Inbox and Automation Rules enable effective tracking of user activity and event timestamps, ensuring a robust security framework and greater visibility into system operations.
Other Improvements for Cognigy.AI
Cognigy Virtual Agents
Added a toggle to turn off the

TTS audio cache

in the Synthesizer (TTS) section of both the Voice Gateway Set Session Config Node and the Voice Gateway channel responses with Set Activity Parameters for the Question, Optional Question, Say, and Play Nodes
Encrypted the audio preview credentials by adding them to the connection resources
Added the Speech Connection field in the Voice Preview settings
Renamed the Setup Large Language Model button to Configure LLM in the Generative AI settings
Added German language support for the Node fields
Agent Assist Workspace
Added the

indicator for tiles

that are not presented in the Agent Assist Workspace layout
Modified the tooltip styles to align with the tooltips in Cognigy.AI
For further information, check out our complete Release Notes here.