With Cognigy.AI v4.56, you can now configure any custom speech vendor of your choice and leverage Generative AI to get a head start with adaptive card output type.
Unprecedented STT/TTS Flexibility with Configurable Custom Speech Vendors
Cognigy.AI comes with prebuilt integrations for leading speech vendors like Microsoft, Google, AWS, and Nuance. That said, many enterprise use cases might demand a specific STT service optimized for a unique language, or a TTS service that resonates perfectly with your brand's identity.
So far, Cognigy.AI users can integrate any custom voice or speech model built with one of our natively supported speech vendors. The latest release now takes STT/TTS flexibility to the next level, allowing you to easily connect and utilize the bespoke speech services of any other third-party vendors in Cognigy.AI.
Custom speech vendors can be added and managed on the Self-Service Portal of Cognigy Voice Gateway in a few simple steps. Once completed, you can select your desired vendor in the conversation flows using Set Session Parameters Nodes.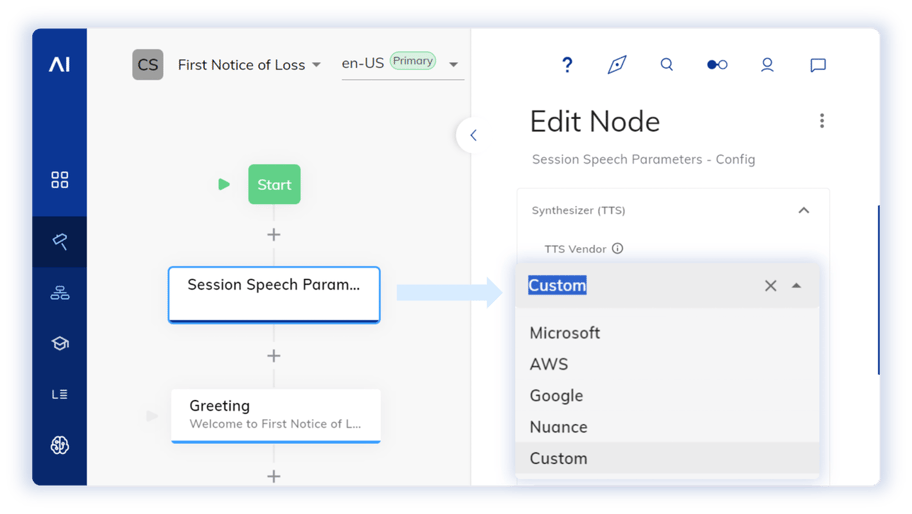 Accelerate Conversation Design with AI-Generated Adaptive Cards
Cognigy.AI lets you leverage Generative AI to boost productivity by automating multiple bot building processes like Intent sentence generation, Lexicon generation, and Flow Generation. With v4.56, we're thrilled to introduce the newest addition to our LLM-powered Build Assist capabilities - AI-generated Adaptive Cards.
Adaptive Cards are a platform-agnostic way to display a stream of information that is richly formatted and interactive. Available for the Question and Say Nodes, the new feature now makes the authoring process of Adaptive Cards in JSON more accessible to low-code conversation designers and more efficient for developers.
You can swiftly generate an Adaptive Card from scratch by providing a brief description of its function and purpose. Even better, you can then fine-tune the functionality, look and feel of the created cards through subsequent prompts.
Other Improvements for Cognigy.AI
Cognigy Virtual Agents
Improved by adding German translations to the Cognigy.AI product
Cognigy Insights
Removed italic style from the collapsible content payload in Transcript and Message explorers, leaving it only for the message title
Improved by showing the DTMF event as a collapsable text message in the Transcript and Message explorers
Improved by showing transfer and hang-up events as collapsable text messages in the Transcript and Message explorers
Cognigy Live Agent
Added the description for variable usage to the Reply to User and Reply to Bot sections in the conversation chat
For further information, check out our complete Release Notes here.