The release of Cognigy.AI v4.60 introduces exciting new features to our agent augmentation features. Also, we're thrilled to announce the general availability of Knowledge AI!
Expedite Agent Assist Workspace Design
Cognigy Agent Assist Workspace adopts a grid layout fully customizable to your CX design needs. Using the Agent Assist Nodes, you can configure and structure the widgets best suited to your use cases by embedding any HTML, Adaptive Cards, and iFrame content. This approach offers infinite flexibility to arm human agents with relevant information for context-aware, effective, and instant support.
To make things easier, v4.60 comes with fully premade Agent Assist widgets, giving you a head start. Once you have configured the Agent Assist Grid Layout, these plug-and-play widgets can be readily added to your Flow. These include:
Identity Assist to display customer profiles and details.
Sentiment Assist to analyze and demonstrate customer sentiment.
Transcript Assist to transcribe customer calls while the agent is engaging with customers.
Next Action Assist to suggest the next best response throughout customer interaction.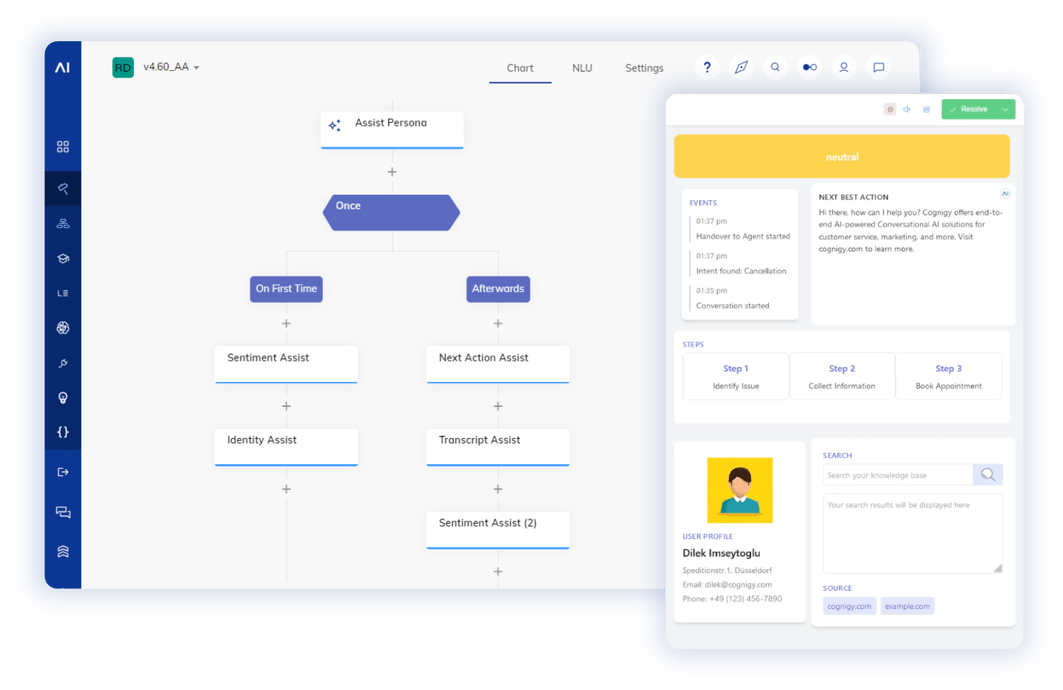 Intelligent Routing in Cognigy Live Agent
In customer service, skills-based routing is a strategy to match customer inquiries with the most suitable agents based on their specific skills and expertise. This ensures that customers are directed to the agents best equipped to handle their needs, reducing handling time and increasing first-contact resolution.
With the latest release of Cognigy.AI, you can now set up skills-based routing in Cognigy Live Agent, besides the previous automatic and manual routing options. You can define the required skill(s) and language(s) for the specific queries or Intents using the Handover to Agent Node. Likewise, in Cognigy Live Agent, you can assign relevant skills and languages to each agent.
This can further be combined with Priority routing where conversations are prioritized as None, Low, Medium, High, and Urgent. As such, every incoming query can be forwarded to the best agent, depending on the level of urgency, agent availability, and expertise. Intelligent routing enhances the quality of service provided to customers and enables agents to handle queries effectively.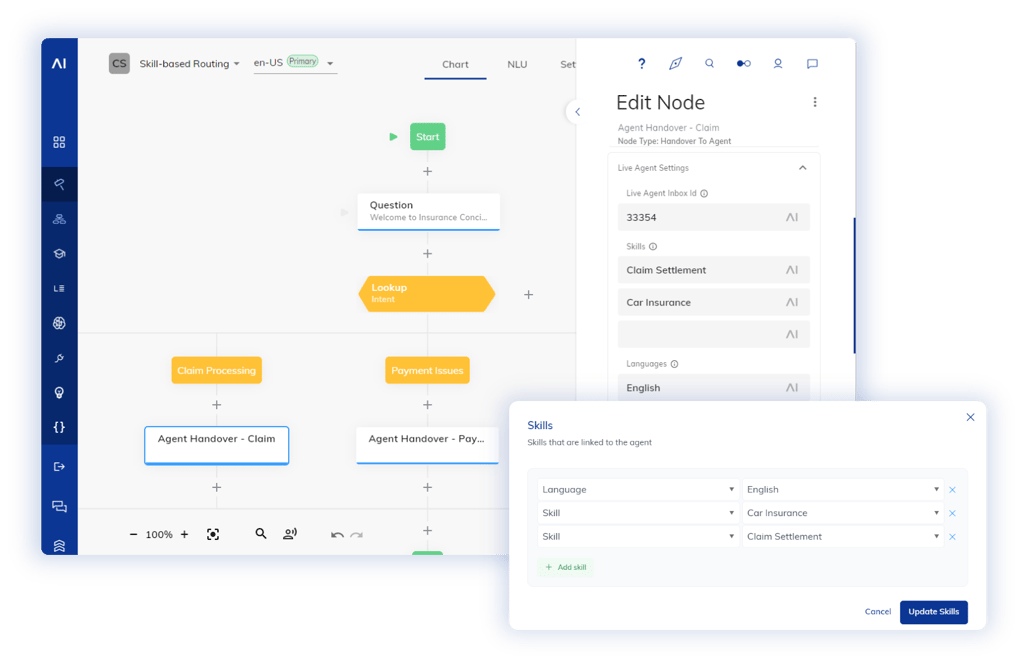 Streaming LLM Prompt Outputs for Reduced Latency
Cognigy.AI's LLM Prompt Node now includes a new feature called Stream to Output. This feature enables the model's prompt results to be directly streamed into the conversations, bypassing the need for the LLM Prompt Result token and Say Node. This results in a significant reduction in latency, about 2-3 times faster, which makes it a great option for voice scenarios, as it allows for more natural and seamless conversations on the phone line.
Note that the results won't be saved in the Input or Context sections, and some providers of the Cognigy LLM Prompt Node, like Google, might not support this streaming feature. In cases where streaming isn't supported, the results will be recorded in the Input object.
Knowledge AI General Availability
Knowledge AI has been made available to customer environments, including Cognigy's hosted SaaS environment and on-premises environments. As such, customers who are interested in Knowledge AI can now leverage this feature upon request.
Note that Knowledge AI will continue to be available in the Trial environment as a trial version.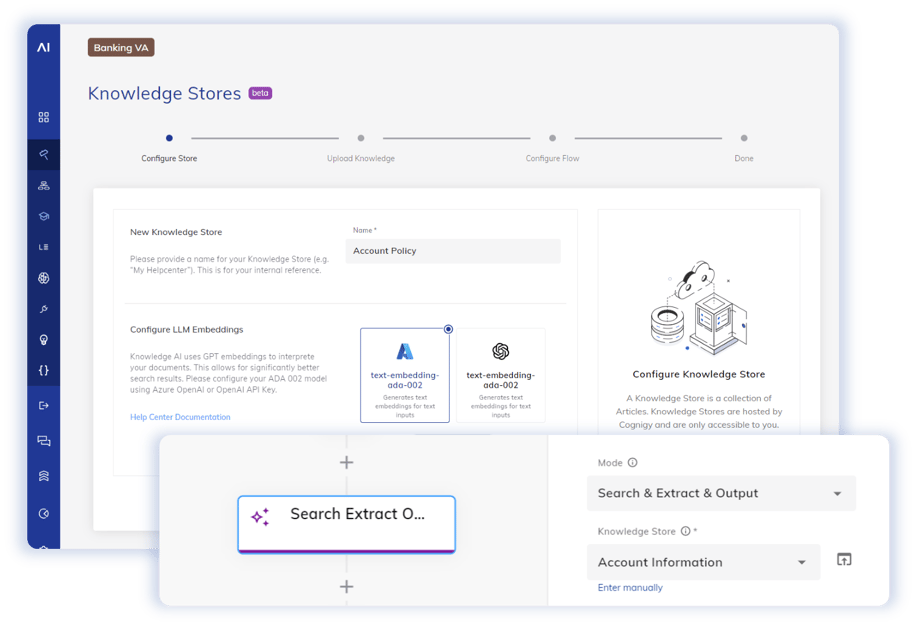 Other Improvements for Cognigy.AI
Cognigy Virtual Agents
Added the

Bandwidth

Endpoint
Added the

Error Handling

section to the Search Extract Output Node
Added the opportunity to configure whether

extensive data payloads

will be stored in Analytics
Improved by showing the Knowledge Source failures in the list instead of just deleting them
Improved by removing the

certainty

property from the topK objects returned in Knowledge Search
Increased

chunk limit default size

from 500 to 1000
Improved by making the Snapshot up and download logic more reliable
Added the

No Answer

Voice Gateway event
Added

Call Event

Handling as a section to the VG Endpoint, enabling the addition of actions to any Call event
Cognigy Insights
Implemented the Bandwidth Endpoint and displayed messages in the Transcript Explorer for the Endpoint, including the Endpoint logo
Cognigy Voice Gateway
For further information, check out our complete Release Notes here.