'Tis the season. From improved attachment handling to quicker and more fun bot building – we're excited to bring some early Christmas presents to our Cognigy.AI community!
Find Attachments Faster in Cognigy Live Agent
The latest release of Cognigy.AI now makes it a breeze to find conversation attachments in Live Agent. The new filter function in the Attachments section lets you search for any file previously sent by either the agent or customer using the Cognigy.AI Session ID, Cognigy.AI User ID and Filename. Plus, you can apply multiple filters simultaneously to nail down your search in one go.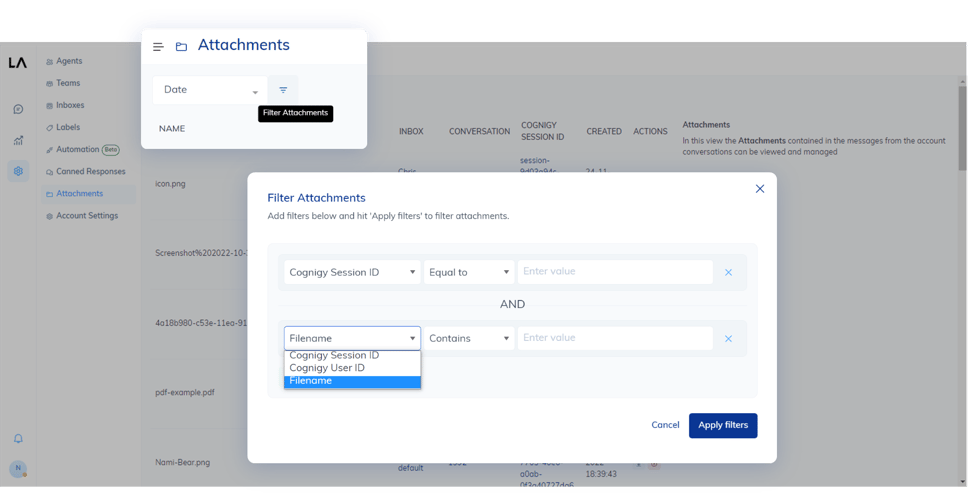 Quick, Happy Coding with CognigyScript
CognigyScript is a powerful feature that lets you create highly personalized and dynamic conversations by leveraging Input and Context objects collected in previous customer responses with text script or Javascript.
The new improvement in v4.41 now enables developers to copy the JSON path of any selected object and insert it into the intended Text field in a few clicks. Likewise, you can create a new Token from the JSON path to make it easily accessible for subject matter experts and other non-technical colleagues. It may look like a small feature – but it's a game changer for every avid Cognigy developer!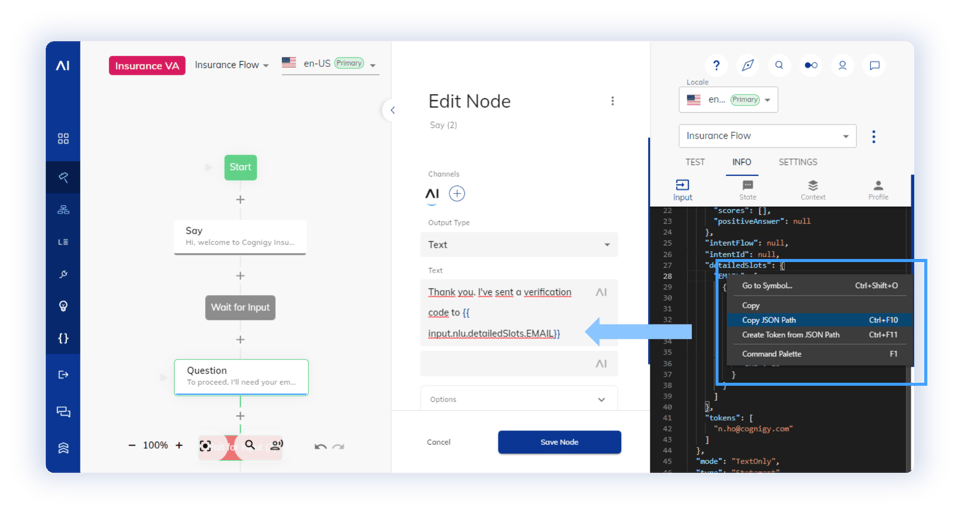 Preview Adaptive Cards in Real Time
We also have good news for conversation designers who look to enrich CX with rich responses using Adaptive Cards on supported channels like Microsoft Teams. With the addition of a new visualizer in the Node field type, you can now preview the UI experience in real time – exactly how customers will see it while building and editing your Adaptive Cards in the JSON editor.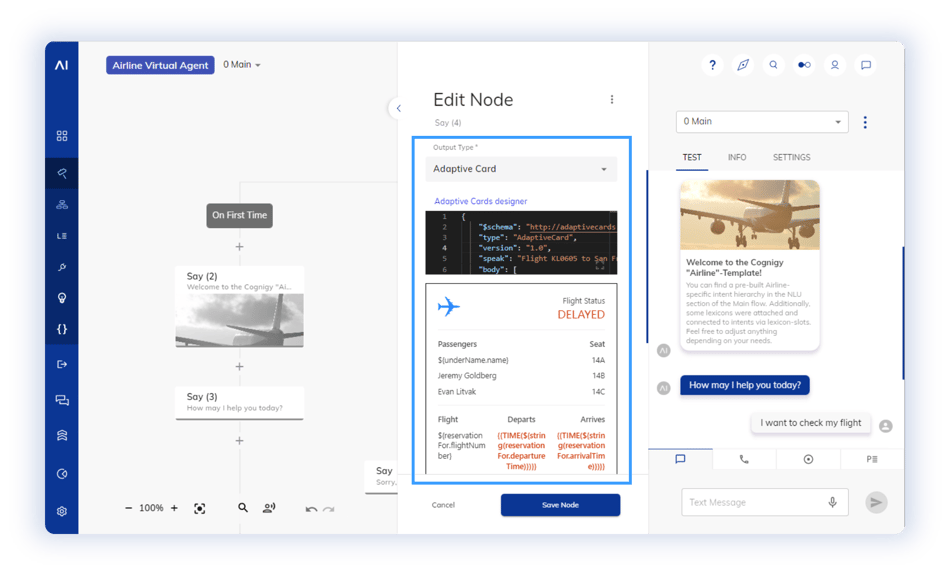 Other Improvements for Cognigy.AI
Cognigy Virtual Agents
Improved by updating the Webchat version to version 2.45.0
Improved the date-picker in Cognigy Management-UI to be more consistent across different web browsers
Improved by releasing a new version of our rest-api-client package to npm (v0.13.1)
Improved layout by adding a header to Cognigy Live Agent setup section in Agent Creation Wizard
Improved by renaming Whisper Assist to Agent Assist for the Cognigy Live Agent Handover Provider
Cognigy Insights
Changed the data foundation we are using to drive the "Conversation Count" and "Conversations linechart" report and make sure they are based on session data to make those reports more accurate
Rename "Average Conversation length" and "Max Conversation Lenth" to "Average Session Length" and "Max Session Length" as the reports were actually based on session data.
Improved the performance of certain analytics reports and our ODATA analytics interface by adding missing database indices
For further information, check out our complete Release Notes here.