After releasing Cognigy.AI 3.1 exactly three months ago, we spent time with our customers and partners evaluating what features would be important for them to truly realize their vision for Conversational AI.
Webinar auf Deutsch? Hier klicken.
In numerous discussions, two roadmap requests emerged front and center:
The ability to easily design full conversational processes with integrations to any third-party systems without limitations
The ability to hand over any conversation to a human agent
With Cognigy.AI 3.2, we're adding several tools to satisfy those wishes, plus adding many more to make creating advanced Conversational AI solutions even easier.
Conversational Processes
To enable full business processes to be handled in a conversational interface, we've introduced "Conversational Processes" and added the ability to call external systems directly from within a Process. The feature enabling this is called Process Actions and essentially allows the calling of a Cogngiy.AI Flow (Cognigy.AI's powerful visual programming environment) from within a Process.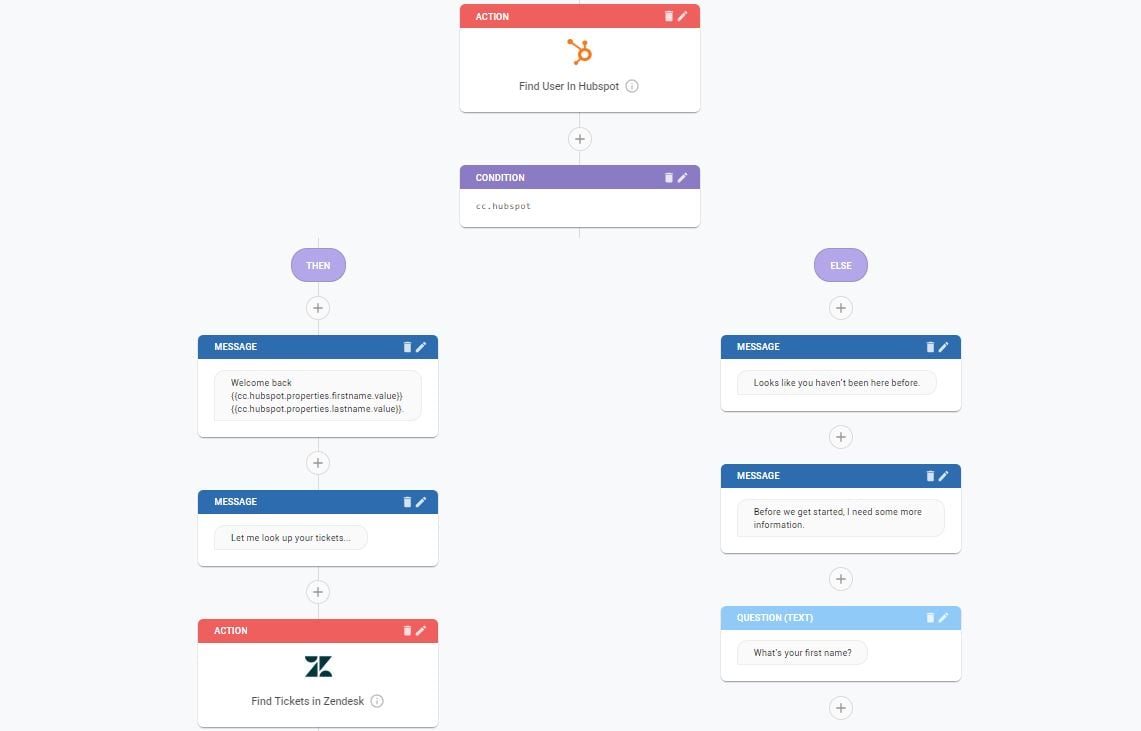 Using Actions, non-technical users can access advanced functionality, such as creating a user in Salesforce, finding support tickets in Zendesk or any other desired functionality. Process Actions can be developed by super users directly in Cognigy.AI, allowing for infinite flexibility when it comes to developing advanced functionality..
With Conversational Processes, it is now also possible to inject partial results into a Processes, allowing a user to jump back into a process at a certain point. This way, a process could be finished halfway, then continued later.
Cognigy Integration Framework
In addition to allowing Actions from within Processes, Cognigy.AI 3.2 introduces the new Cognigy Integration Framework, which allows developers to build Custom Modules in standard JavaScript and expose these modules in the Cognigy.AI Flow Editor. Custom Modules can harness the full power of Node.JS, with access to all NPMs and access to all native Node.JS functionality.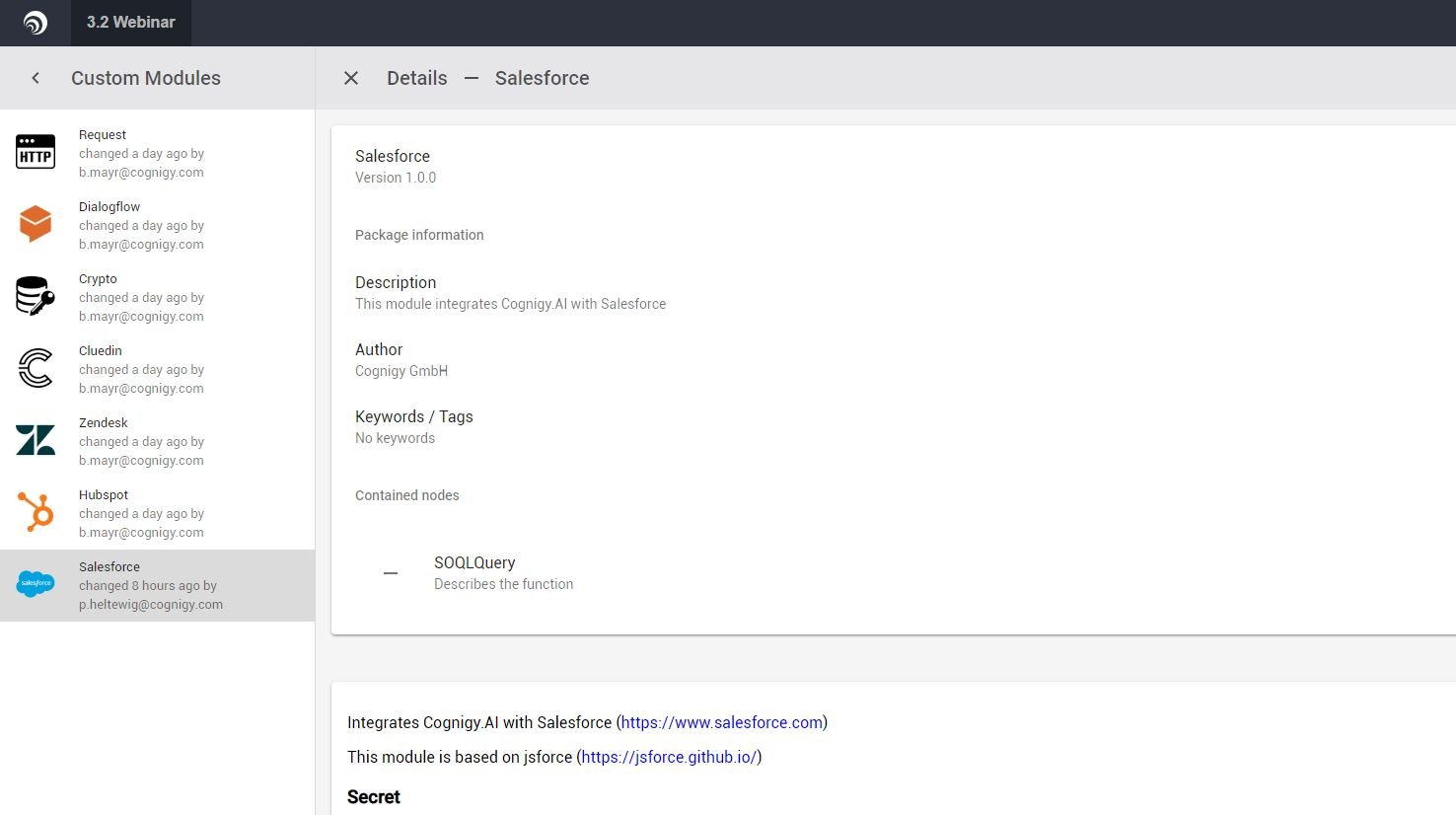 Custom Modules are standard JavaScript packages, which are installed into Cognigy.AI through the Cognigy.AI user interface after validation. Through this approach, organizations can now expose highly complex, custom-built functionality to their business users in a non-technical fashion, seamlessly bridging the gap between complexity and usability.
Cognigy Live Chat
Conversational AIs have come a long way, but still struggle at times to understand their human users. If and when this happens, the conversation should be taken over by a human agent, helping the user with their request.
To address this, Cognigy now offers Cognigy Live Chat, a bot-human handover tool which allows for easy take over of conversations, while giving bot-based support to the agent helping the user with their request.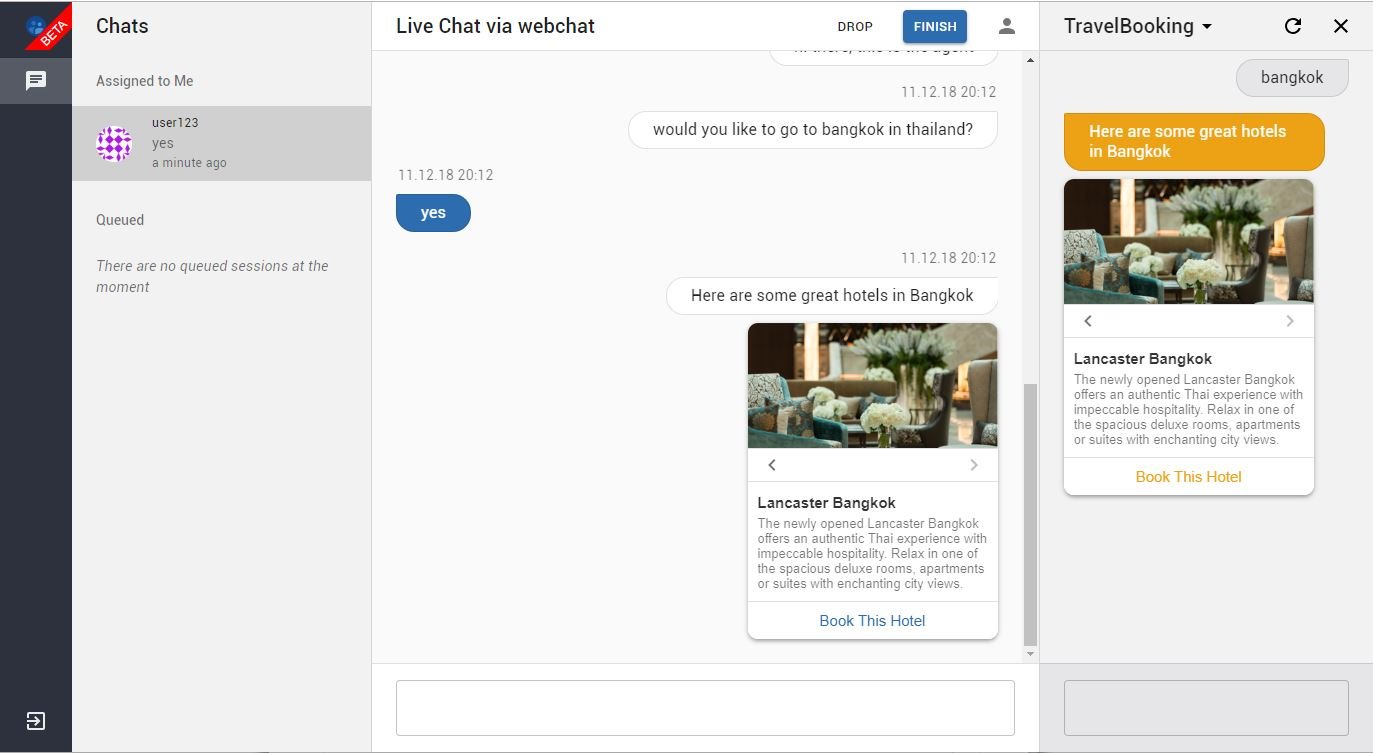 Handovers can be triggered from within Cognigy Flows, putting users into a queue which can be seen and processed by the agents. Once a conversation has been accepted, the agent can chat directly with the user, manage their contact profile and hand the conversation back to the bot.
In addition, the agent can access "Agent Flows", a customer-defined set of AIs which support the agent in handling user requests, such as searching databases or compiling graphical content. The replies of the Agent Flows can be forwarded to the user with a single click, making supporting the user easier than ever.
Advanced NLU Features
As with every release, our Natural Language Understanding (NLU) team has worked long hours on making sure that Cognigy.AI stays at the forefront of NLU capabilities. With this release, our new intent mapping technology has made it out of beta and has now become the default for all new Flows, maintaining our leadership position in the market when it comes to quality of intent detection overall..
In addition, we've added the ability to up- and download intents, both in native JSON format, as well as CSV, making sharing and managing intents across the organization easier than ever.
Last, but not least, a small yet important feature was added to our date and time detection algorithms, which can now be forced to detect only dates in the future. That way, saying e.g. Monday will always result in the following Monday.
Watson Assistant Connector
Cognigy.AI 3.2 adds a native NLP connector to Watson Assistant directly from within Cognigy.AI, alongside the already existing connectors for Google DialogFlow, Microsoft LUIS and Alexa Skills Kit.
Intents and Slots are converted into Cognigy's format, making it easy to switch NLP connectors without changing the logic of the conversational AI.
Summary
With every Cognigy.AI release, we're trying to strike the perfect balance between market demand and innovation. With Cognigy.AI 3.2, enabling full conversational process automation, infinitely flexible integration with backend systems, agent live chat and all the other new features, we believe we have reached that goal, enabling our customers and partners to deliver conversational AI solutions with the best user experience, the smartest integrations and most usable tooling for Enterprise conversational teams..