Ralf Wiesmann joins the AI provider as the Vice President Strategic Partnerships, bringing 25+ years of expertise at Deloitte, Accenture Digital, CGI, Vodafone and Nokia.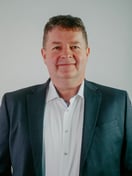 DÜSSELDORF, Germany 09.02.2022 – Cognigy, a global leader in customer service automation, today announced that Ralf Wiesmann joins its team as Vice President Strategic Partnerships. With over 25 years of experience in B2B software, digital transformation and telecommunications, Ralf previously held management positions (board, consulting, sales) at Deloitte, Accenture Digital, CGI, Vodafone and Nokia. As Vice President Strategic Partnerships at Cognigy, he will expand the international partner business of the AI provider and work closely with the largest consulting firms and transformation specialists.
"Together with our strategic partners, we automate the customer service of global brands and corporations. Ralf has the right mix of management experience, consulting mentality and tech expertise to further expand our partner business," explains Marc Schneider, VP Global Alliances & Partnerships at Cognigy.
"I have known the Cognigy's management and technology for many years and am impressed by the development. The market for conversational AI is booming and Cognigy is growing even faster as a global leader. The task now is to quickly convert the enormous business value that Cognigy offers into scalable business solutions together with selected top partners. Cognigy is key to enabling companies to transform and automate their service for customers and employees around the world and across all channels. I'm happy to be able to contribute my experience and to be part of this outstanding team," says Ralf Wiesmann.
Cognigy is one of Germany's leading tech innovators, a global enterprise conversational AI platform leader and one of the 10 fastest-growing technology companies (according to the "Deloitte Technology Fast 50"). Cognigy offers its customers an excellent network of well-trained local and global implementation and IT system partners with the right industry and topic specializations: www.cognigy.com/partner
About Cognigy

Cognigy is a global leader in omnichannel Customer Service Automation. Intelligent voice and chatbots powered by its Conversational AI platform help businesses improve service quality, reduce operational costs, and support teams across the enterprise. Cognigy's award-winning AI understands user intents precisely and enables natural dialogues in over 100 languages. Easily scalable and pluggable, its low-code platform automates business processes through integrations into backend systems, operates as SaaS and on-premise, and is GDPR compliant. Cognigy's worldwide client portfolio includes BioNTech, Bosch, Daimler and Lufthansa. Learn more at cognigy.com
Contakt Cognigy
Cognigy GmbH
Päivi Tabourin
Speditionsstraße 1
40221 Düsseldorf
marketing@cognigy.com
+49 211 54591991
PR & Media Relations / Cognigy Partner-Communikation
Marcus Bond, BOND Business-Kommunikation
+49 177-6252663
marcus.bond@bond-pr.de