Today Cognigy GmbH, makers of the Conversational AI platform COGNIGY.AI, announces the appointment of Marc Schneider as Head of Business Development.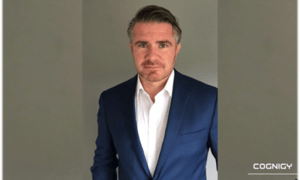 Marc joins Cognigy after serving as Vice President for DACH at digital marketing firm Sitecore for 12 years, where he helped to grow Sitecore from a small European startup into one of the leaders in digital marketing in the world.

"I am very excited to join Cognigy in this amazingly interesting space. I see voice and chat as the natural next step for many companies to deliver intelligent, human-like experiences as a part of their customer's journey and I'm excited to join such an amazing team.", says Schneider.

Schneider will be spearheading sales in the DACH, Nordics and Benelux regions, whilst building a full sales and partner team to support Cognigy's customer and partner ecosystem.

"We're very excited to have Marc on board", says Philipp Heltewig, CEO of Cognigy. "His experience in sales will bring immense value to Cognigy and we're looking forward to creating the next big success in digital marketing together."

Cognigy allows enterprises to easily integrate voice and chat AIs into their devices and applications, connecting with various channels such as Facebook Messenger, Alexa, Slack, Skype and many others.