Transforming customer service and enhancing customer experience through automation were the focus of this year's Contact Center Summit. Cognigy and Bucher + Suter are driving this significantly with technology and service. The interest in the strategy keynote, the live product demo and case study of the partners was correspondingly high.
On October 20 and 21, one of the most important meetings of the contact center industry took place. In around 70 sessions, the participants of the Contact Center Summit 2021 received a compact overview of the current trends and solution offerings, as well as aspects of the strategic further development of contact centers. Prof. Nils Hafner, who has been researching, lecturing and publishing in the field of customer experience management for many years, made it clear in his opening keynote how important it is to realign contact centers and what challenges need to be overcome.
Bots: drivers of transformation
Voice and chatbots play a crucial role in the transformation - the experts agreed on this But to be successful, the technology must not only be 100% reliable, improve service smartly and fit seamlessly into the contact center infrastructure. It must also not be used as another silo or point solution, as Sascha Poggemann, COO and co-founder of Cognigy explained in his strategy talk. Self-services via voice and chatbots must act as a strategic and fully integrated component in global customer service to deliver desired outcomes. He explained what to consider when planning and implementing bots, and that market studies such as from IDC or even the AIC4 certification as an AI seal of approval are helpful when choosing technology. After all, there are countless bot solutions on the market, many with similar promises, which does not make evaluation easy for those responsible for customer service.
Smart technology, simple application
The subsequent product demo showed how easy it is to set up and expand smart phone bots with Cognigy.AI. The telephone has always been the most important contact channel to companies. Voicebots are now enterprise-ready and are used in corporations and large enterprises to improve service (for example, for 24/7 requests outside business hours and to answer standard inquiries). Decisive for success is a deep and simple integration into the contact center infrastructure as well as the ability to easily configure complex processes as well as responses. Cognigy.AI offers this possibility with the Voice Gateway developed for contact centers. Some of the participants of the live demo were amazed at how uncomplicated and fast voicebots are up-and-running, i.e. implemented and networked with contact center relevant systems. Even more so, how independently contact center staff can develop automated responses without IT know-how, use intent recognition and provide agent handovers at the right places and at the right moment.
Bucher + Suter impresses with finance case
The strategy and demo were followed by an exciting case study. Jürgen Schick, CSO of contact center specialist and close Cognigy partner Bucher + Suter explained how the interaction between bots and humans can be optimally synchronized at an insurance company. The bot greets customers with a simple question: "What do you want?" The leading insurer is thus taking a revolutionary new path: away from the familiar Interactive Voice Response to intelligent intent routing with automated responses and agent. In his presentation, Jürgen Schick provided exciting insights into the requirements and implementation of voicebots and 24/7 customer service. He also addressed the special security, data protection and performance requirements that regulated enterprise companies with high dialog volumes have and what suitable solutions are available on the market.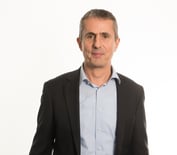 "AI-assisted customer service with voicebots is the future topic with which companies can positively stand out. But the trio of technology, processes and people must be right," concludes the experienced contact center specialist, who with Bucher + Suter looks after more than 400 contact center customers in over 60 countries."