Today, after months of hard work, we're releasing Cognigy.AI 3.1 - jam-packed with amazing features that continue to bolster Cognigy's position at the forefront of conversational AI.
Cognigy.AI 3.1 is all about the contact center and making it easier to deploy conversational AI solutions across channels. Whilst chatbots are all the hype, we shouldn't forget that 90% of customer service inquiries still come through traditional call center channels. Cognigy's Technology now allows our customers to leverage the power of conversational AI on all channels, including phone systems, to deliver outstanding, fast and reliable customer service instantly and around the clock.
Here's what Cognigy.AI 3.1 has to offer...
Contact Center Integrations
Cognigy.AI now natively integrates with Twilio and Google Contact Center AI, bringing the power of our industry-leading conversational AI platform to these channels.
Users can now call the AI and perform various actions that were previously limited to the chatbot channel, such as making bookings, changing reservations, and tracking packages. The solution includes the ability for human handover, meaning the bot can transfer control of the call to a human operator if it gets stuck.
In addition, Cognigy.AI can trigger the AI to place calls. This could be a call to a user, authenticating them or providing information; or it could be a call to a business on behalf of the user, placing an order or making a reservation, then getting back to the user for confirmation.
Cognigy Duplex anyone? :)
Visual Conversational Forms
Conversational Forms were one of the big new features in Cognigy.AI 3.0 and turned out to be our most used feature of that release. Our customers enjoyed the ability to quickly - within minutes - build linear conversations that request a series of data points from a user, for example in a booking process or in lead qualification.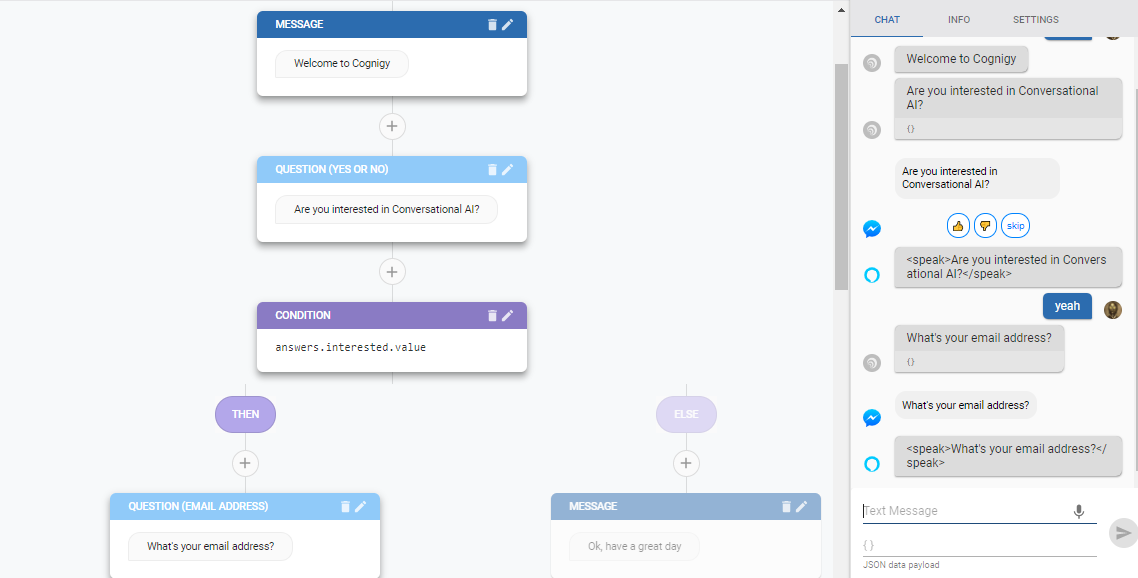 Cognigy.AI Conversational Forms
Cognigy.AI 3.1 takes this concept to the next level by adding a visual forms editor which allows users to graphically compose the conversation. It adds conditions as well, allowing for more complex interactions.
Advanced NLP
Cogngy.AI's NLP has always been market-leading and, with Cognigy.AI 3.1, we're adding to it both on the technology and feature side.
With this release, we're introducing new features such as the Intent Trainer - a graphical overview of what your bot has understood and what it hasn't understood. Using the Intent Trainer, our customers can easily improve their bots over time, teaching it new utterances and improving the accuracy of their intent models.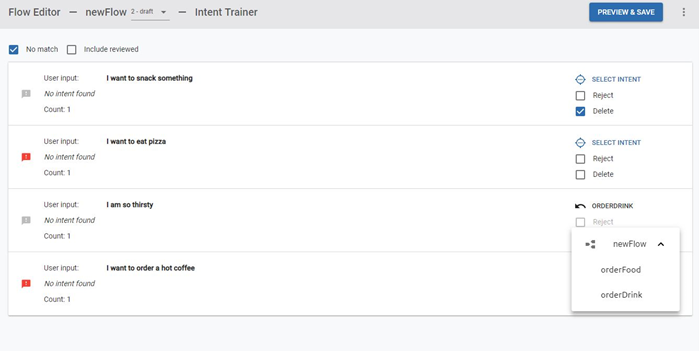 Cognigy.AI Intent Trainer
Under the hood, we completely rewrote our machine learning algorithms, which now provide unmatched intent detection and slot mapping accuracy.
Additionally, our tool now speaks Japanese and Spanish, which join English, German, Dutch and Danish in the languages Cognigy supports out of the box. The "Generic Language" option still exists and has also been given a boost in intent detection capabilities, so that all languages can be used with Cognigy.
More Conversation Endpoints
With Cognigy.AI 3.1 we've added several new conversation endpoints:
Twilio
DialogFlow
LINE Messenger
Additionally, we improved the Facebook endpoint to let you manage Facebook Messenger bots directly from within Cognigy.
Custom Flow Nodes
One of Cognigy.AI's core principles is extensibility. Customers are using Cognigy in a variety of environments and need to integrate with existing line of business systems. So far, the only way to do so was through databases or HTTP requests. With Cognigy.AI 3.1, we're adding the ability to write custom Flow Nodes - essentially fully-featured Node.JS components that seamlessly embed into Cognigy.AI. This includes complete support for all NPMs and TypeScript.
Improved Flow Editor UI
The Cognigy.AI Flow Editor is the tool where our users spend the most time, so we added some features to further boost productivity:
Search & Replace
Undo/Redo
Graphical editor for Google Actions
Interaction Panel Channel Filters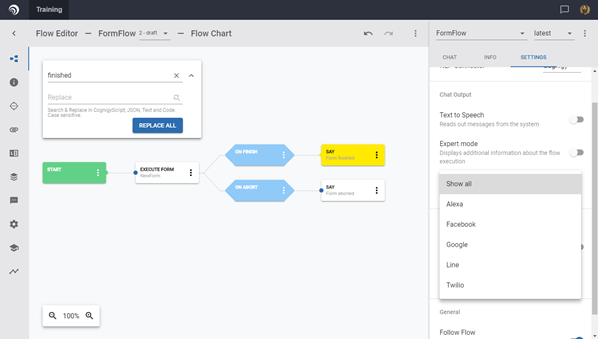 Cognigy.AI 3.1


If you're interested in learning more about Cognigy.AI, sign up for a demo below.