Over 3,000 contact center leaders, influencers and technology execs gathered at Customer Contact Week (CCW) 2022 in Las Vegas last month, and we're still glowing from all the excitement and amazing conversations we had.
The Cognigy team flew in from across the globe to join in on conversations that are driving contact centers forward. Several themes stood out.
First, what matters most to contact center leaders is customer experience. Compared to last year when contact centers were still deciding whether to take on AI and automation and which use cases to apply, that debate has been replaced with discovering next-level solutions to drive their CX forward (including swapping out current technology that hasn't delivered what it promised).
Next, there is a significant increase in interest in Agent Assist. While Agent Assist is a broad term and can mean many things, it shows the investment in innovative solutions that support and promote employee and customer satisfaction across channels.
Lastly, contact center execs are seeking insights into CX as well as agent behavior to optimize their work. Business intel and data insights help companies visualize and make better decisions about how to improve the entire customer journey.
More highlights from the event are below!
A Booth Not to Miss
Knowing that registrations were more than double from December's show, Cognigy aimed at catching the attention of attendees in multiple ways.
The team sported matching Vans sneakers and Cognigy shirts, gave mini-demos on building chatbots and voice bots on a giant 55-inch touchscreen monitor, handed out "boogie bots" and brought in fresh cookies to boost everyone's energy.

Think Tank Session
For our Think Tank session on "Determining Chatbot Viability for a Given Customer Experience", VP of Technology Derek Roberti, Head of Product Marketing Sebastian Glock, and CEO at CRMG, Dave Morgan, headed out a lively discussion.
From marketing to customer support, companies across industries are investing in transforming service experiences now more than ever.
Standing-room-only, attendees shared their journeys and experiences with chatbots and AI customer service, shared lessons learned and best practices. Of particular interest is the "agent assist" functionality, which many contact center execs are evaluating and trying to get educated on.
(By the way, we just held a webinar with leading analyst firm IDC on the agent empowerment topic – watch it here).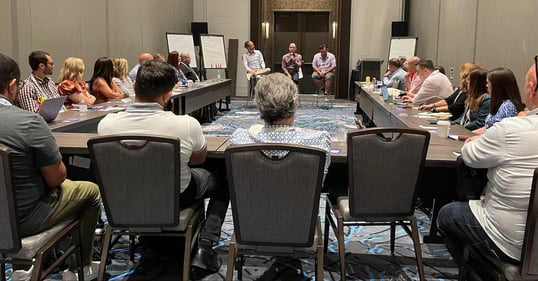 CCW Excellence Awards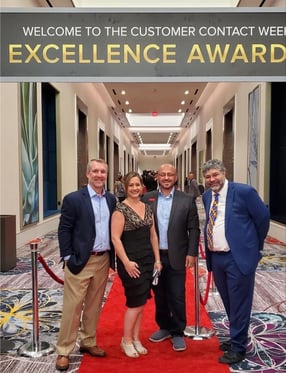 Cognigy was honored to be a finalist in the CCW Excellence Awards in the category of "Workforce Innovation".
We are proud to be recognized for our solutions that support contact center transformation and improve how agents work.
A big round of applause for all the nominees and winners. It was inspiring to spend the evening among so many of the industry's top innovators and disrupters.
Special thanks to analyst Dave Michels and our partner at Blue Prism, Satish Shenoy, RVP, Technology Alliances, Americas, for joining us at our table and making the evening more fun!
Where to Find Us Next
Cognigy is hitting cities all across the country (and globe), including:
July 27

VentureBeat Transform San Francisco
August 14 GBTA in San Diego
September 20 InsureTech in Las Vegas
Hope to see you all in person or online soon!