Düsseldorf / San Francisco / Sydney / London — Cognigy today announced that Rob Fardin has joined the company as Vice President for the Americas. The appointment is effective from December 1, 2021.
An industry veteran, Fardin has held several strategic sales leadership roles demonstrating a consistent record for delivering growth. In his previous position, Fardin joined Seismic Software a decade ago as one of its first five employees. During his time there, he assisted the developer of sales enablement solutions to mature from a bootstrapped startup with less than $1 million in annual recurring revenue to more than $250 million and a recent valuation of $3 billion.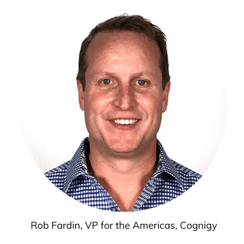 At Cognigy, Fardin has been tasked with growing the organization's North American and Latin American operations. He will also provide strategic direction to meet revenue goals, identify and pursue new revenue streams, and synchronize the entire go-to-market engine of Cognigy. This incorporates marketing, sales, and customer success across the Americas.
"We're extremely happy to have Rob join to lead our continued expansion in the Americas. Building on our existing successes in the region, North America is a key focus and investment area for Cognigy in 2022 and beyond and Rob's strong leadership will contribute to further strengthening Cognigy's leadership role in Conversational AI," says Philipp Heltewig, CEO and Co-Founder of Cognigy.
"I am proud to be building the go-to-market engine for Cognigy. The organization has shown that it is at the forefront of helping enterprises deliver a better customer experience something that is critical to mission success today," says Fardin. "Throughout my career I have enjoyed working with C-suite executives across various verticals, helping identify opportunities for operational improvement, and then delivering solutions that streamline processes, capture improved efficiencies, and drive value to the business. I am excited to start the new chapter of my career with Cognigy and help ensure its success across the region."
Connect with Rob on Linkedin.