In a nutshell, conversation design allows computers and artificial intelligence to converse and hold casual conversations, almost like a human would. This concept can be puzzling for some. They may question, "Why is this needed?" or "What is the purpose of all of this?"
Well, have you ever gone onto a website, and somebody popped up in a chat box to offer help? The person may have answered your questions or helped you navigate the website. They also may have informed you of the services and products that the business offers.
That's a result of conversation design. Conversation Design is an element of UX design, which gauges and improves the user's experience. This UX design principle ensures that the product or service is easy to use and efficient for customers.
Conversation design in chatbots
But there's a plot twist. The person mentioned in the previous example is actually a chatbot. This bot is programmed to assist you and answer any questions. They are programmed to advance the overall experience with the website, product, or service given.
This kind of design helps the website owner evaluate the needs of their customers. The objective of conversation design is to make sure that their chatbots are enjoyable to interact with. It also gives the website or business owner an inside look at the customer's wants and needs. And that's the beauty of the conversation design summarized, which is just the tip of the iceberg. There are several other benefits that conversation design can provide to online business owners.
You have probably seen conversation design in action, but you just did not know what it was yet. Have you used Siri lately? That's a part of UX or conversation design, too. Google's Assistant feature, Amazon's Alexa, and Microsoft's Cortana also use this technology, and as you may have guessed it, they're called voice assistants or virtual assistants.
Virtual assistant and conversation design
We often use virtual assistant programs without even noticing what they are. Little did we know that was our first introduction to the conversation design concept.
These programs' main goal is to make the conversational style seem human-like, so you will never know that you are talking to a computer. You'll recognize the perks of AI improvements if you've ever spent time shouting at the automated services over the phone when making a payment for a bill or trying to make an appointment with your doctor.
The idea is to keep discussion efficient without the added stress and frustration of what feels like having a failed and laborious conversation with an awkward robot. Programmers work to ensure that the conversations are natural, helpful, and as pleasant for the user as possible.
So really, we have all been exposed to UX and conversational design for a while. We just did not know it yet. Now the question is, who programs these? And what is their job title?
What is a conversation designer?
Conversation designers work to make the conversational flows naturally in these programs. A conversation designer's role can appear quite complicated because they have to meet the needs of the customer and the needs of the business they are offering the service to. They are the mastermind behind making the conversational experience almost human-like, but that's not all they can do. They often have to think if their work meets the business owner's vision and benefits the consumer's needs —all at the same time.
More than that, conversation designers have to think beyond responses said by one party. They have to think ahead and anticipate what a customer might say to craft the perfect reply. So, what can conversation designers do to ensure that companies have a good conversation design?
How Conversational AI complements conversation design
Designing a chatbot with canned responses and FAQs is easy. But when you combine that with processes, that's when businesses can make a long-lasting impact. Conversation designers now need to do more than just writing replies because they also have to connect the dots across different platforms.
Let's take bill payments for utilities as an example. How many times have you gone through endless customer service on the phone, social media, or webchat just to leave with more frustration? When chatbots are designed with Conversational AI in the mix, frustration is no longer part of the equation. The following video is an example of how an AI-enabled chatbot handles customer communication without the need for a human agent intervention.
Is it challenging to utilize Conversational AI in conversation design?
In short, no.
In the history of technology, we as humans have had to learn how to code and learn other ways to communicate with computers to perform specific tasks or troubleshoot certain issues. With the advancement of technology and other processes, this is no longer necessary. We can now craft and maintain chatbots to perform specific tasks for us without learning complex coding or other skills required in the past. How is this possible, you asked?
Low-code platform for conversation designers
The market is currently saturated with chatbot platforms but rightly so. As many as 40% of millennials engage with bots daily. While chatbot providers are in abundance, they are still stuck in the traditional canned answers and FAQs. An AI-enabled platform such as Cognigy.AI is the true evolution of chatbot supporting both consumers and customer service agents.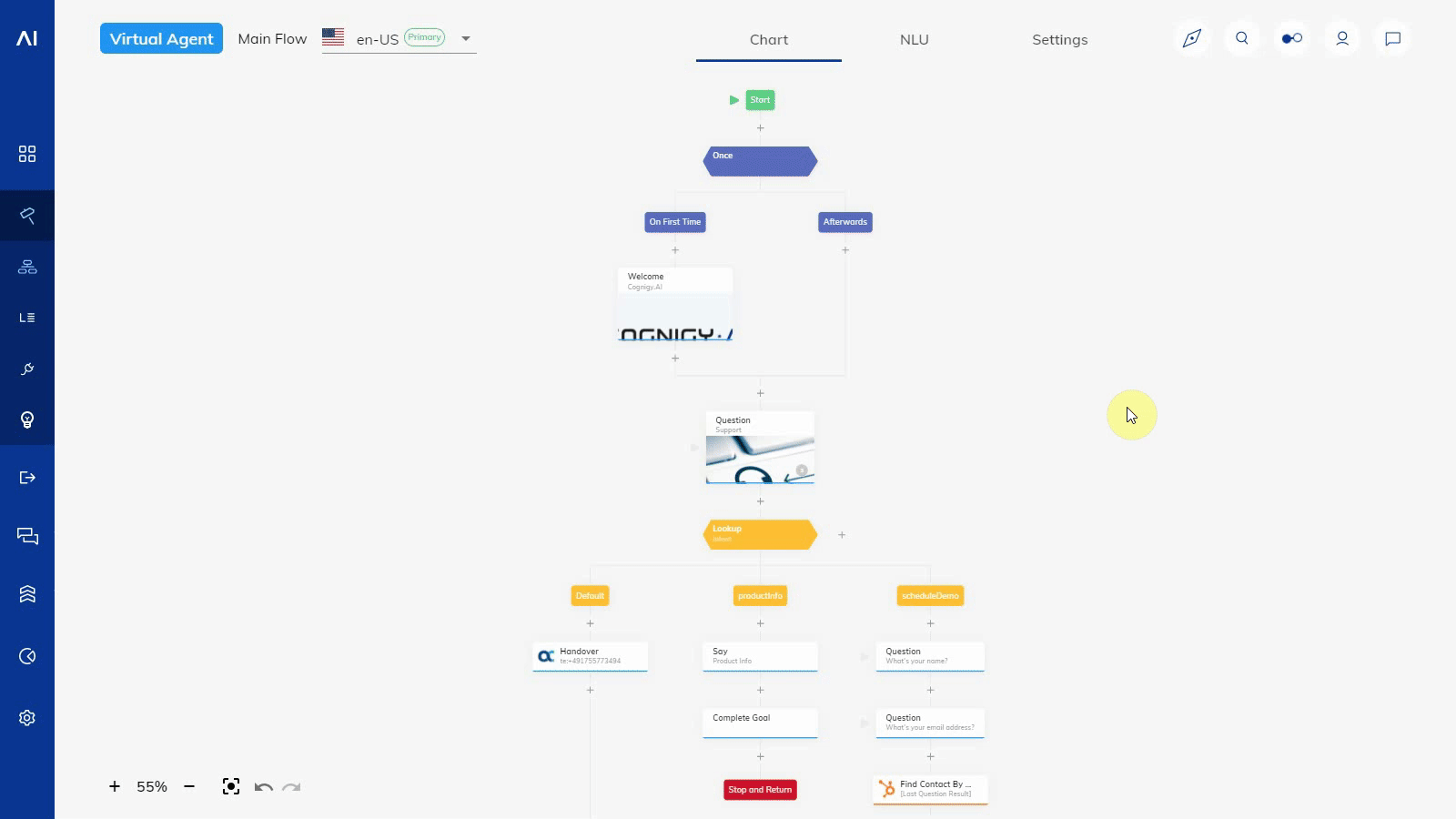 It's equipped with a Graphical Flow Editor that visualizes conversations in an easy-to-read flow that enables you to create and deploy your very own chatbot or even voice bot in as little as 15 minutes.
Getting started with conversation design using Conversational AI
If conversation design is a topic that piqued your interest, let's give it a try with some basic training. It's easy to get started and completely free to try. Cognigy Academy offers a list of courses crafted by industry professionals to advance your Conversational AI skills.
Our training videos offer 180 minutes of world-class training by our Conversation Design expert where you'll learn how to design good user experiences for voice and chatbots. The best part? You don't need any prior knowledge to get started.
Chatbot checklist
Need even more help? Our detailed Bot Building Checklist is here to guide you in getting the most out of your Cognigy.AI chatbot before you release it to the public. The checklist helps you guide your users in setting the right expectations of what your bot can and cannot do and ensures that your bot truly understands your customers' intentions using natural language understanding.

The state of conversation design in 2021
With AI-powered chatbots on the rise, the need for conversation designers is at an all-time high. Let's take a look at some of the most important statistics.
While the fast-moving world of conversation design can be a challenging journey, it's not complicated to navigate through. The only challenging aspect when you're just starting is assembling a conversation design portfolio so learn from these tips to create one.
If you're someone looking to launch a conversation design career, sign up for a course with Conversation Design Institute to get certified.
Once you're all geared up and ready for your next conversation design role, browse through the job listing at Conversation Designer Jobs.
Need to know where conversation designers hang out? Join the super exclusive Facebook group, the Conversation Designers Internet Club, where you can meet and chat with like-minded designers, whether you're a beginner or pro.