The IT support industry is a relatively novel one, seeing massive growth and gains throughout the 1990s and 2000s. However, as technology continues to change and progress, call center and service desk jobs have seen a noticeable decrease in availability.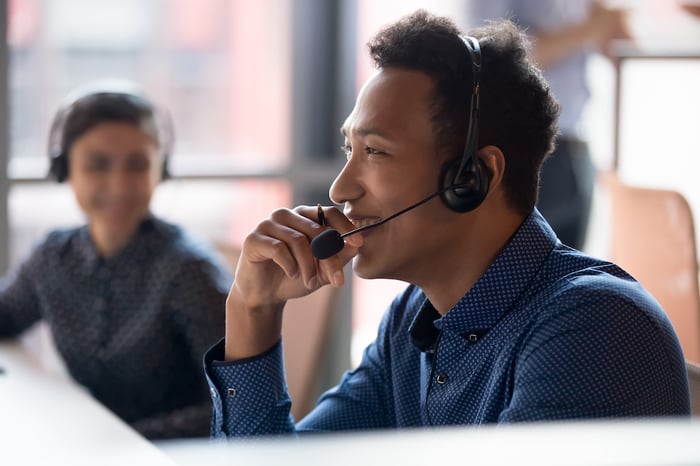 Machine automation, coupled with advances in artificial intelligence (AI) tech, has stymied the prospective job growth of these industries. In particular, Conversational AI has altered the future of IT automation, causing many to wonder just what to expect over the next few decades.
Let's take a brief look at Conversational AI to discover how it's driving the future of IT support and service desk services. But first, what does an IT service desk do?
The primary role of an IT service desk
An IT service desk serves as the main source for monitoring incidents, addressing user requests, and providing a unified communications channel between other service management functions within an organization or community. Additionally, the service desk also plays an active role in change requests, maintaining third-party support contracts, managing software licenses, as well as assisting with problem management.
The IT service desk can also be integrated into other core business processes such as:
Employee, external contractor or partner onboarding and off-boarding

Internal data management
Reporting and metrics management
Infrastructure/service monitoring
…and much more
How is Conversational AI changing the future of IT support?
Conversational AI is changing the future of IT support in several ways. Some of the most remarkable benefits and changes include:
Increased client and customer engagement
Reduced stress on live support agents
Unique data collection
Huge savings in operational costs

Let's examine these developments in greater detail to help you better understand why Conversational AI platform like Cognigy.AI is quickly becoming a powerful tool.
1. Increased client and customer engagement
In nearly every aspect of consumer services, the customer is always right. Businesses may find themselves constantly chasing after consumer trends and needs, often hoping to engage their clientele more directly and effectively.
One of the most notable aspects of Conversational AI is user engagement. Unlike traditional chatbots, a Conversational AI is capable of assisting customers and clients in a comprehensive manner.
For example, a customer with a specific question no longer needs to wade through several chat menus to find their answer. Instead, they engage directly with the Conversational AI, which will then use its tremendous amount of learned experience to quickly address the client's concerns and offer a solution.
2. Reduced stress on live support agents
In rare situations, Conversational AI will direct customers to speak with a live support agent. However, this is a massive change from the traditional support setup.
Customers that may have immediately emailed or called live support agents in the past may only do so when the AI cannot give them a satisfactory answer. This means that the live support agents and IT service technicians have fewer calls to attend to, lessening their workplace stress and helping them provide the best possible care for each client. The following video is an example of a fully automated IT service desk that requires almost zero human interaction.
3. Unique data collection
Conversational AI is a smart way to collect data without spending funds on an external data collection service or software. The most commonly keyed requests or questions can be relayed to business owners and marketing professionals, who can then use those keywords to implement better SEO throughout the website and campaigns.
In terms of the IT industry, Conversational AI may be one of the best ways to identify common, widespread technical errors. After all, if 80% of users are asking questions about a specific error message or hardware component, there's an excellent chance that there may be an extensive technical problem.
4. Huge savings in operational costs
Finally, there's the financial incentive to switch to Conversational AI services. When you need fewer live support agents to answer client questions and respond to concerns, you're naturally saving money that would have otherwise gone to hiring more personnel than you need.
Additionally, the data retrieved from Conversational AI platforms can essentially replace the paid data services many companies utilize for marketing and analytics purposes. As such, it's no surprise that many businesses are actively seeking to incorporate Conversational AI into their customer support service, websites, and IT teams.
How to get started with Conversational AI for the IT service desk
As various AI programs and implementations continue to develop, it seems likely that all business ventures, from large corporations to small businesses, will benefit from Conversational AI services.
Notably, the IT support industry may see rapid change as more companies opt to include Conversational AI in their websites and support applications. It's clear that Conversational AI helps reduce the amount of stress placed on support agents while also offering valuable data and client insights. If you'd like to discover how Conversational AI platforms such as Cognigy.AI can help, sign up for our free trial or request a free demo now.