Things like powerful robots and IBM's supercomputer tend to come to mind when thinking about artificial intelligence. But, AI is at its best when it's deployed in simple ways that solve everyday problems for people.
Conversational AI, in particular, has the power to revolutionize the customer experience. Conversational AI can reduce friction, make frustrating interactions more pleasant, and ultimately provide customers with a more memorable experience.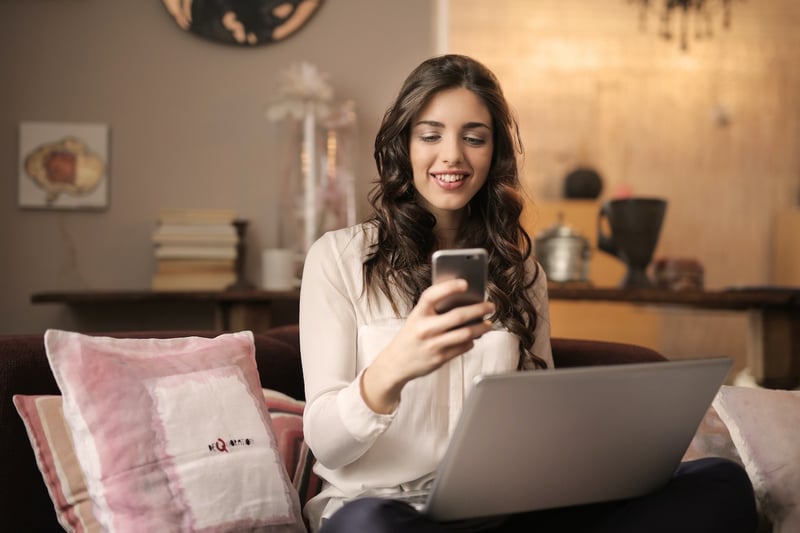 Here, we're going to take a closer look at what Conversational AI is and how companies are using it to deliver more for their customers.
What is Conversational AI?
Conversational AI is technology such as voice assistants or chatbots that combines conversations to trigger processes. These technologies use machine learning, natural language processing, and data to mimic human interactions. Conversational AI can recognize speech and text and provide meaningful answers to the issues customers are dealing with.
Conversational AI is used to speed returns, provide answers to questions, help customers find what they need in-store, upsell customers on products they may be interested in, and much more.
As AI is being deployed to assist customers, it's also mining customer data that will strengthen its ability to provide personal attention to that customer in the future. These processes allow businesses to develop more robust marketing techniques and will enable them to meet their customers on their terms to achieve better interactions.
The days of a business having to guess which marketing channels are producing and which are lagging are behind us, and it's thanks to AI. The result is the customer receives a better experience, and the company garners meaningful data that can be used to improve the customer experience on the next interaction.
Five examples of Conversational AI in action
One of the best ways to understand the power and potential of this technology is to see how companies are using AI to improve customer interactions right now. Here's how today's businesses are winning with conversational AI.
1. Lufthansa's Elisa, Nelly, and Maria
In the event of canceled flights or missed connections, passengers can simply chat with Lufthansa Group airlines' chatbots for help. Their AI-powered chatbots are available for round-the-clock support and can do more than just answer frequently asked questions. The best part? In case the chatbots are unable to offer help, passengers can request to speak with a human agent, all without having to wait in line. With the chatbot implementation, their customer service centers have reduced time spent on general questions while concentrating more on the inquiries that the bots are unable to answer. Give Elisa a try.
2. GEICO's virtual assistant
When it comes to a more 'human' chatbot experience, GEICO's Gabby takes home the prize for not just being helpful, but witty as well. Think of Gabby as your personal insurance assistant that's available on-the-go, and on any device you own. Whether you're looking for a page on the website or app, Gabby can quickly direct you there accurately, each time. Gabby gets increasingly smarter as she learns from the user. And if you're a customer, Gabby is even more useful within the customer portal as she'll help you find your ID card or answer billing questions.
3. Sephora's fashion bot
Sephora was one of the first retailers to roll out conversational AI with their Kik-based chatbot. The company has since rolled out its chatbot across other platforms, including Facebook Messenger.
When a new customer visits Sephora, they complete a short quiz with the chatbot that will help the bot surface relevant product recommendations and provide product and service recommendations. You can also use the bot to book in-store services and even apply different products to your selfies to see how they'll look on you once you buy them.
This technology has helped Sephora position itself as a helpful partner on the customer's beauty journey, and it makes it easier for customers to make purchasing decisions.
4. Boxed SmartStockup tool
Boxed is a new warehouse club retailer similar to BJ's or Sam's Club. Boxed is unique because they don't charge membership fees, and they don't have physical stores. Boxed deals primarily in consumables and one of their most significant challenges are ensuring customers rebuy products from them when they run out instead of purchasing them from another retailer.
When a customer places an order, Boxed asks a few questions to help them understand user habits and combines that with historical data on restocking habits to precisely predict when a customer will run out of a particular item.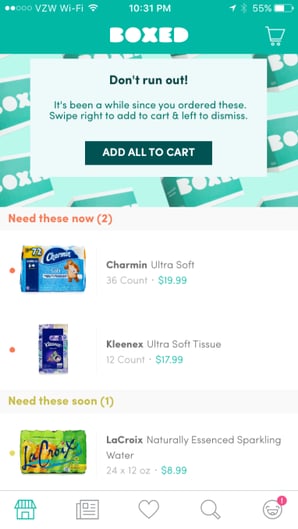 Boxed's Smart Stockup tool then uses this data to provide customers with alerts for items they need to reorder now and things they'll need to order soon. As a customer continues to shop with Boxed, the recommendations become more precise and useful.
For Boxed, this results in a significant uptick in repeat business, one of the critical areas necessary for a company like Boxed to continue to grow. For the customer, their overall shopping experience is improved. They're more likely to make future purchases from Boxed since the company eliminates friction between the customer and repeat purchase.
5. Woebot's mental health chatbot
Mental health has been at the forefront of the healthcare market for several years now, and healthcare providers struggle to meet consumer demand for mental health services. In the past, mental health services haven't been the most accessible, and there's no guarantee that patients could receive the help they need at the moment they need help the most.
Woebot eliminates virtually all of the barriers to mental health therapy, allowing people to interact with Woebot on-demand and in real-time. Stanford researchers developed Woebot to deliver cognitive behavioral therapy to patients on their terms.
Users have text conversations with Woebot, and the AI-powered chatbot uses therapy tools centering around the principles of CBT, DBT, and IPT. The bot offers psychoeducation and helps users address their underlying mental health issues so they can overcome them.
Woebot users can communicate with the bot at any time, and it can provide meaningful insight and help them work through their issues any time of day. Woebot also checks in with users daily to see how they're doing and provides mood assessments. The more users interact with Woebot, the more personalized and useful its recommendations become.
Woebot is available as a free app for Android and iOS devices, and you can also access it through Facebook Messenger. Many healthcare providers, including England's Care First, have partnered with Woebot to provide patients with comprehensive on-demand mental health care.
As mental health continues to be an area more healthcare providers and practitioners focus on, it's easy to see Woebot and technologies like it becoming ubiquitous in the marketplace.
So, is Conversational AI right for your business?
Conversational AI is one of the most exciting areas that businesses are venturing into, and it's one of the many ways companies are using AI to deliver memorable interactions to customers. In some cases, like with the Woebot mental health chatbot, it even has the power to save lives.
As more businesses begin to adopt Conversational AI, customers are in line for the lion's share of the benefits. You can expect companies to continue to push the envelope with Conversational AI in new and exciting ways that make our lives better.