The world seems more uncertain than ever these days. People seek certainty and they want to feel heard, understood, and looked after when problems arise, which is where the insurance industry comes into play. No matter whether your car has been totaled or your house has been damaged in a natural disaster, you should feel certain that you'll be taken care of by your insurance provider. No one buys insurance for the complex policy documents or fine print. Customers buy certainty, safety, and comfort.
For that reason, customer service is a critical pillar of your insurance business because customers only use your services when things go wrong. Here's how AI Agents, powered by Conversational AI can help you overcome labor shortages, increase scalability, and deliver satisfying experiences that foster loyalty.
The Business Value of an AI Workforce
An AI workforce provides a unique blend of personalization and automation. It allows insurance companies to offer tailored support experiences across various channels, from iMessage and WhatsApp to Alexa. This omnichannel and multimodal experience ensures that customers can interact with their insurance providers at any time and on the platform of their choice, even using multiple channels simultaneously if required. For example, suppose a customer is having difficulty pronouncing a complicated last name. In that case, they can seamlessly switch to typing on a micro web app while staying on the phone with an AI or human agent.
Retaining good customer service agents has always been a challenge, but with the post-pandemic labor shortages, finding qualified agents is like searching for water in the desert. Enter AI agents for insurance. "Hiring" an AI agent, even solely to handle ID&V on all your incoming calls, can both save you money and speed up your service since human agents will already know who is calling and why as soon as they pick up the phone. This saves time, reduces AHT, and above all, means human agents can immediately begin helping your customers instead of ritualistically reciting standard ID&V questions and performing checks manually which are annoying and off-putting to customers.
Insurance is for when things go wrong. It's about minimizing the negative consequences of unforeseen events. So why not minimize the friction and difficulty of customer support at exactly the time when your customers need it most?
In short, what's the business value of AI Agents:
Close the labor gap in contact centers

Delivery of contextual, relevant support to individual customers

Lower the burden of tier 1 requests on human agents

Meet customers' omnichannel and multimodal expectations

Increase automation and efficiency
Let's go into more detail.
Customer Service Reimagined
Handling minor accident claims manually, for example, can be a drain on resources. An AI agent can automate this process, significantly reducing contact center volume and costs. A customer can report a car accident via iMessage for example and the AI-powered system will handle the claim efficiently, securely, and in a user-friendly manner. An AI Agent can even seamlessly process images of the accident using optical character recognition (OCR) to read license plates, and then use AI (including LLMs) to evaluate the scenario and advise the customer on how their individual policy applies. With all the necessary administrative steps done, a human agent can then wrap up any final complex questions.
Particularly when this technology is used in combination with Generative AI, AI Agents can make standardized self-service a thing of the past. Customers don't want to copy/paste answers from an FAQ. They feel low-effort and like one-size-fits-all answers even when correct. Thus, simply the way you deliver service – even when accurate – can undermine customer trust.
Cognigy's AI Agents, for example, maintain conversation context (including across channels) and can optionally create customer profiles. Using Large Language Models, a standardized response can be dynamically personalized for every single customer. This combined with the ability to integrate into other key systems such as your CRM or policy management system means customers get contextual, individually personalized service.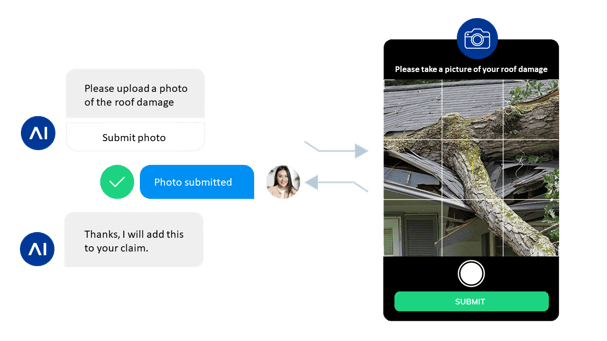 Employee Experience
AI Agents don't just benefit customers; they also enhance the employee experience as valuable coworkers. With AI Agents taking over routine tasks, employees can focus on upskilling and dealing with complex problems that require a human touch. Human agents don't get the same sense of satisfaction helping someone change an address or add a child to their policy in contrast to ensuring a customer is taken care of and relieved after their home has been damaged in a hurricane. Having these positive interactions day after day could decrease agent attrition, as agents may find their work more fulfilling as they are no longer primarily handling routine administrative processes.
Moreover, with AI Agents assisting humans in real-time during every voice or digital interaction, your human agents can stop switching tabs, searching for information, or checking policy details and instead, have it proactively fed to them as the conversation progresses. This reduces the agent error rate, speeds up training time, and leads to more confident agents, which your customers will also sense.
Conclusion
AI Agents powered by Generative and Conversational AI are more than just a technological advancement; they are strategic assets that offer a competitive edge as well as close the gap in staffing and customer experience. Far from replacing anyone, they'll become trusted coworkers who are essential in enabling humans to focus on high-value work. AI won't replace service experiences with technology, it will deliver the technology-enabled experiences customers expect.
If you want to learn more about unleashing the Power of AI Agents for your insurance business, we will host a special German Roundtable in Düsseldorf together with our partner Deloitte on "The Future of Customer Service in the Insurance Industry in a Generative AI World" on December 05, 2023. Meet our stellar lineup of speakers, including industry pioneers Stephan Schüssler from Deloitte Consulting, Cognigy's Sebastian Glock, and Jochen Westheide from ARAG IT GmbH. Don't miss out on this incredible event!