DÜSSELDORF, SAN FRANCISCO and SYDNEY – We are pleased to announce that Cognigy Insights has won "Best Overall AI-based Analytics Solution" in the 5th annual AI Breakthrough Awards program conducted by AI Breakthrough, a leading market intelligence organization that recognizes the top companies, technologies and products in the global Artificial Intelligence (AI) market today.

Cognigy Insights is a powerful conversational AI analytics stack that enables enterprises to improve customer experiences and operational efficiency based on data-driven insights. The platform provides customers with the ability to increase ROI with reliable data in order to optimize bot and contact center operations. It also enables users to gain a deep understanding of customer journeys, preferences, while gathering feedback to craft enhanced end-user experiences with smarter, user-focused decisions.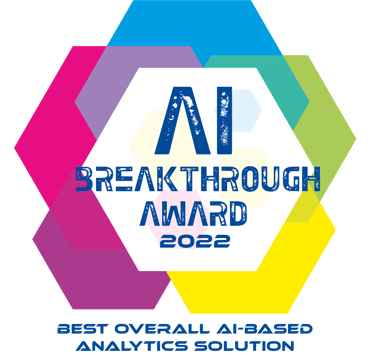 The data-driven decisions produced by Cognigy Insights gives customers easy and intuitive access to conversational KPIs by monitoring virtual agents and contact center processes, and creating fast actionable reports. Powerful KPI dashboards produce enterprise-grade monitoring and reporting all in one place. Users leverage the power of comprehensive dashboards to drill down and get a real-time overview.

With Cognigy Insights, a wealth of data can be mined to improve performance such as channel engagement, goals, CSAT, handovers and more. This allows developers to get as granular as they want with the ability to filter information based on categories like timeframe, use case, version, language, and channel.

Additionally, Step Explorer gives an in-depth understanding of user journeys to map and analyze automated and agent-triggered interaction steps in a visual environment. Lastly, with Cognigy's AI-powered Natural Language Understanding (NLU) customers can extract insights from human-to-human conversation content and optimize automation and contact center operations. With aggregated core NLU metrics like understood/misunderstood messages and top intent score, customers can spot what is not working and improve the bot performance to achieve better NLU accuracy with minimal training effort.

"We are proud to receive an AI Breakthrough award for Cognigy Insights," said Philipp Heltewig, CEO and co-founder at Cognigy. "Analytics plays an essential role in creating positive service experiences. To achieve the best outcome in any customer service strategy, decisions must be powered by data and insights – to be able to improve, scale and deliver. Cognigy Insights supercharges contact centers' service quality by providing users with in-depth, AI-driven understanding of interactions."

The mission of the AI Breakthrough Awards is to honor excellence and recognize the innovation, hard work and success in a range of AI and machine learning-related categories, including AI platforms, Deep Learning, Smart Robotics, Business Intelligence, Natural Language Processing, industry-specific AI applications and many more. This year's program attracted more than 2,950 nominations from over 18 different countries throughout the world.

"While virtual agents create millions of data points every day, enterprises are struggling to decipher and extract value from it," said James Johnson, managing director, AI Breakthrough. "Businesses need to access and analyze this data in order to act upon it in a meaningful way to create outstanding customer experiences – and Cognigy Insights delivers on this need, providing enterprises with an easy and intuitive way to visualize, aggregate, and act based on the right data. This all-in-one single platform is a shining example of breakthrough AI-based analytics in action. We extend our sincere congratulations to Cognigy for winning this 2022 AI Breakthrough Award."
Cognigy is consistently achieving the highest ratings and recognition across multiple independent sources. See more of Cognigy's achievements,
analyst research & awards here.