Chatbots and Alexa Skills, as well as most other Voice AIs are tools for marketers to create novel customer experiences. Because of that, Cognigy has released its first batch of tools aimed directly at helping marketers – Facebook Design Tools and Alexa Tools.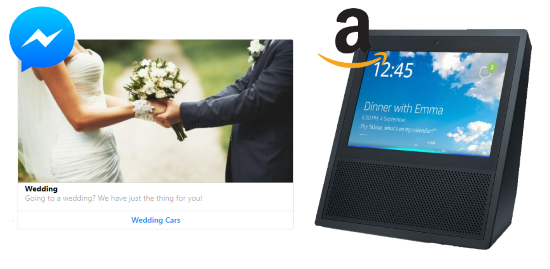 With Cognigy's Facebook Design Tools, marketers can create advanced Facebook Messenger experiences by harnessing inbuilt features like galleries, lists, buttons, quick replies and more. Marketers can use Cognigy.AI's graphical conversation editor to construct these elements without writing a single line of code. What makes it even better – Marketers also have access to the full power of Cognigy.AI and CognigyScript inside the Facebook Design Tools, meaning creating Messenger content out of external databases, APIs and more is now just a click away.
Cognigy's Alexa Tools enable marketers to easily create Speech Synthesis Markup Language (SSML) replies for Alexa and graphically edit the content of Alexa Cards and Alexa Echo Show Display Templates. By using the power of Amazon's new flagship Alexa device, marketers can merge Alexa's industry-defining voice interfaces with a graphical touch interface, creating truly unique user experiences. These can be tested directly from within Cognigy.AI's graphical conversation editor, where all SSML and graphical output is rendered in real time.