San Francisco / Düsseldorf – June 1st, 2018 - Cognigy, the leader in Conversational AI software solutions, announced today the release of their easy-to-use Conversational AI Platform COGNIGY.AI 3.0. The new version offers several new features that enables brands to create and own all conversations with each and every customer across channel, device, or engagement method (chat, voice, etc) and helps to scale loyalty and engagement with customers more efficiently than ever before.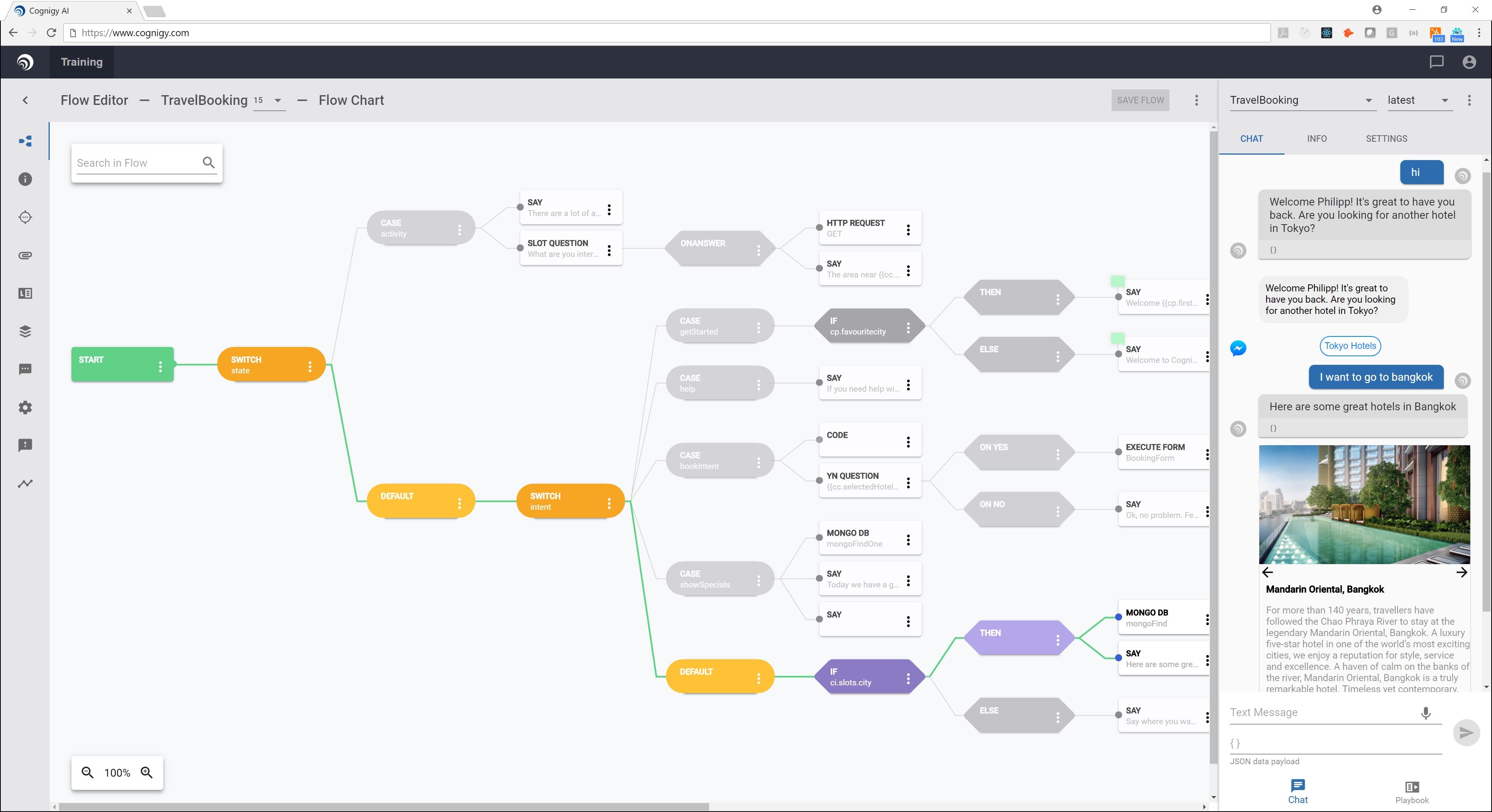 COGNIGY.AI 3.0 speeds up the creation of Conversational AI's through the use of advanced authoring tools and a graphical flow editor that allows to create advanced Conversational AI's in minutes rather than days. To design, build, and manage smart conversations in one location across any channel COGNIGY.AI 3.0 provides with new and updated enterprise features include:
Contact Profiles enable 1:1 personalization of conversations the tracking of contact profile information, all whilst being fully compliant to GDPR. Profiles can live within Cognigy and be kept in sync with external customer relationship management systems.
Conversational Forms allow non-technical users to create, deploy and manage structured information gathering processes without writing a single line of code. The Forms use advanced natural language processing to detect the required information in even the most complex user inputs.
Conversation Analytics show product owners usage statistics of their AIs and aid in the optimization after rollout. Additionally, marketers can integrate conversation analytics directly into their existing BI tools.
Advanced Authoring Tools such as confirmations, questions, profiles, context management and more
Omni-Channel Deployment to any conversational channel, such as Alexa, Google Home, Facebook Messenger, Webchat, Slack and many others with full control over the release cycle.
Full access to Cognigy.AI's powerful API allowing to easily integrate existing enterprise systems
Full Flexbility: design and create new conversations using the graphical flow editor or code directly in the AI using JavaScript inside our Flows
Advanced Natural Language Understanding for choosing the best natural language understanding, whether based on machine learning, rules, or keywords
Enterprise Security and Scalability: Cognigy.AI's new architecture has been developed with the needs of large enterprises in mind, allowing for maximum security and infinite scalability.
"Communication is at its best when people have natural conversations. Give them that freedom and business will move faster." said Phillip Heltewig, CEO of Cognigy. "With the new version COGNIGY.AI 3.0 we further improved our efforts in ensuring enterprises can effectively scale engagement with customers to improve service, decrease costs, speed growth, free up resources, and stay at the forefront of customer expectations."
COGNIGY.AI 3.0 is available today.

About Conversational AI
Conversational AI is advanced technology that uses natural language processing and understanding to participate in conversations, whether written spoken or written, with the same human nuances and context that two people talking would do. It enables enterprises to create a natural conversation between users and devices that helps to build brilliant customer experiences, delight customers and generate loyalty.
About Cognigy
Cognigy.AI, the premier Conversational AI Platform, enables brands to design, build, and manage smart conversations in one location across any channel such as Facebook Messenger, Alexa, Slack, Skype and many others. The platform provides benefits across the company for all departments to improve service and loyality, decrease costs, speed growth, free up resources, and stay at the forefront of customer expectations. Founded in 2016 Cognigy was awarded several times, has a fast-growing partner community and counts global enterprises and brands among its customers, such as Henkel. www.cognigy.com