The World RPA & AI Summit is one of the most important events surrounding the use of Robotic Process Automation (RPA) and Artificial Intelligence. Cognigy attended this year's event as a platinum sponsor and leading Conversational AI provider together with our close, strategic partner Deloitte on Oct. 7-8 in Berlin.
The summit which was focused on the future of intelligent automation took place recently. The program was particularly hands-on with presentations from international corporations such as BNP Paribas Group, Coca-Cola, Danone, Dell, LEGO Group, Nestlé, Societe Generale, Vattenfall and Vodafone. The two days allowed the approximately 130 participating RPA & AI managers to finally once again exchange ideas in person in an exclusive circle of experts post-Corona. Sebastian Glock, our Senior Technology Evangelist, and Peter Fach*, AI & Data / Intelligent Automation Lead, at our partner Deloitte, had the pleasure of opening the congress with a keynote.
How RPA combined with Conversational AI is taking automation and the customer experience to a new level
Although it is still in its infancy, Conversational AI technology has evolved rapidly over the last two "Corona years" and today, when combined with RPA software robots, it enables unprecedented end-to-end automation. Voice and chatbots combined with RPA can at least partially automate internal and external use cases. This has huge potential for companies. According to Gartner, 72 percent of companies will be deploying RPA in the next two years. Now, RPA and innovation teams are extremely focused on winning the race for the smartest automation and, in turn, the best customer and employee experience. And Conversational AI is the key to this. It was, therefore, no surprise that the participants followed the joint keynote closely.
The two AI experts started with an overview of how RPA has developed. After all, RPA software robots have been taking over repetitive routine processes in a variety of different areas, such as accounting or IT, for roughly 20 years now. Robotic Process Automation can optimize all back-office processes, can post invoices or wages, read and process data, fill out forms and even test software. While inputs and devices were initially required to start RPA processes, they are now an important part of automated business processes.
The Customer Experience Boost
By developing the ability to transform unstructured content, such as customer emails, into structured content, making it process-ready, RPA has made the next big leap. Peter Fach aptly called it "RPA on steroids." The effect: a customer sends an e-mail to his provider and wants to communicate a change of address or order a service. Usually, the system responds with an autoresponder and asks for a few days of patience. The latest RPA understands the request, immediately starts a process and sends the customer a confirmation, within minutes, that the request has been processed.
The real big leap in automation comes with the combination of RPA and smart voice and chatbots. Deloitte is at the forefront of this and uses Cognigy.AI not only with its customers but also internally in the HR department. Peter Fach showed an example of how a department head can pay a bonus to selected employees. Previously, this required contact with an HR employee, who provided information on the bonus program, answered queries and then took over the handling (booking, payment, etc.). Now, the team lead is guided through the process in the HR portal by a Cognigy AI-based chatbot. They see which employees they can incentivize and how this can be done, receives answers to their questions from the chatbot, makes their selection, click on Execute - and RPA initiates the booking and payment of the bonuses in the background. All highly integrated with UI-Path and various other systems. A great example of the process superpower of Conversational AI and RPA.
One can customize and automate such processes for each company, and in certain salary categories, for example, obtain approval from the workers' council, etc. Only for requests that are out of the ordinary, such as a special payment which is un-foreseen to retain a specialist, is the consultation with the HR specialist necessary and useful.
The combination of RPA and smart voice and chatbots lead to an unprecedented experience for customers, employees, and other audiences because requests are processed:
synchronous (in real-time),



voice-based (and thus fast, naturally, from anywhere)

in the channel of choice

networked across the board (omnichannel)
As Peter Fach explains, this makes contact with voice and chatbots not only just as good as contact with a human in the contact center but even better.
Will this make them obsolete? Not at all! For example, many customers would prefer to speak to a human. There are goodwill requests that a bot can't decide on, and many more examples where a human is needed. According to Glock, it's all about resolving customer concerns quickly, and Agent Assist solutions play an essential role in this. They enable human agents in the contact center to answer all customer questions competently.
Use Case Insurance: End-to-End Processing
In addition to the HR case, the AI experts demonstrated how smart, fast and automated the processing of a claim notification at an insurance company is with Voicebot and RPA. Peter Fach showed the use case of a large insurance company.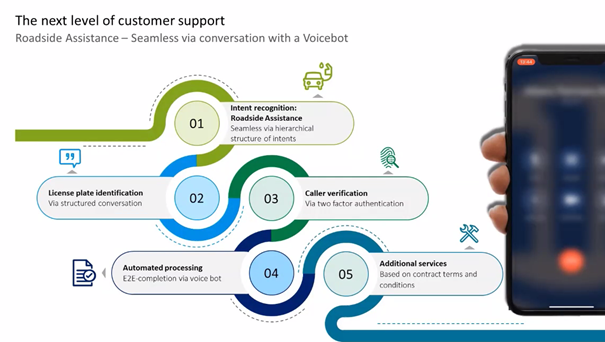 It is a continuous, digital process with many advantages. Even if the call is interrupted during the process, the information that has been previously collected carries over to the next call and the caller does not have to explain everything again from the beginning.
You can find more industry-specific use cases in our blog post Supercharge your RPA with Conversational AI
The Q&A session that followed and the panel discussion in the afternoon demonstrated how important the topic of Conversational AI is for automation specialists from corporations, but also how diverse the questions about it are.
It became clear that the success of comprehensive automation depends on three factors: The customer's willingness to transform, the use of a leading technology platform, and collaboration with a partner who supports the customer strategically and operationally in its transformation process and automation with vision, expertise, and manpower.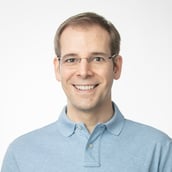 Peter Fach leads all consulting services around Intelligent Automation at Deloitte. This includes leading technologies such as Cognigy.AI that are increasingly taking interactions to a whole new level. With his teams, he has helped several clients leverage the power of Conversational AI to improve the experience in customer/supplier facing use cases and to leverage efficiency potential in shared service situations. Peter also leads Deloitte's Product and Assets team, which develops ready-to-use software solutions for various industries.