Imagine you could get the latest status of a given Incident, by simply asking a conversational AI. Gone are the days of browsing endlessly through portals and intranets to find the correct information.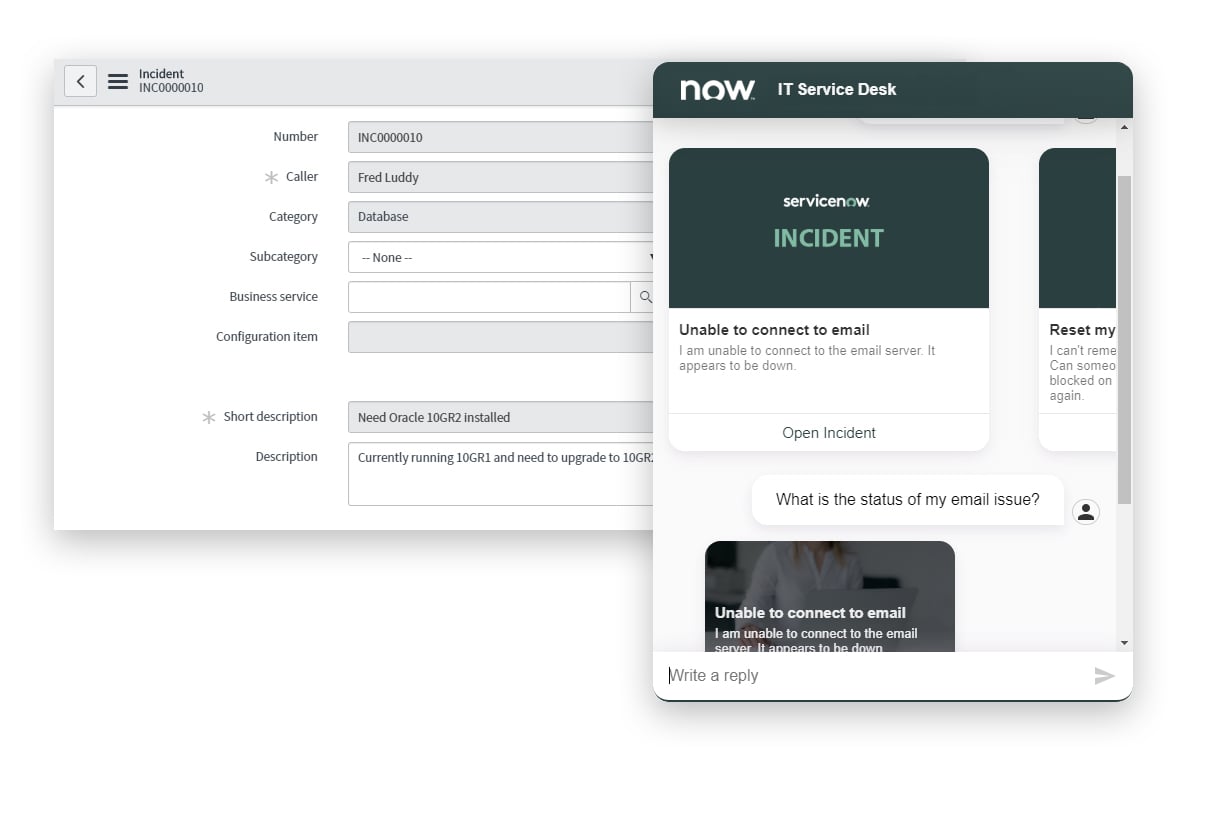 Cognigy.AI now ships with an out-of-the-box integration for ServiceNow, a fully-fledged ITSM and digital workflow management solution that is used by more than 3000 organizations world-wide. ServiceNow is commonly used for all ITSM related processes like Incident and Problem Management and is also used to automate customer service processes.

Conversational AI
By using Conversational AI, both internal customers as well as internal employees, can trigger processes and update tickets by simply "talking" to a chatbot. Users directly interact with ServiceNow data and functionality without navigating through menus and completing multiple forms. This is possible through Cognigy.AI's ServiceNow connector. The connector offers a conversational interface to ServiceNow's REST API, which allows for detailed, table-level, interactions.
Visual Flow Editor & Extension Framework
By using Cognigy.AI's Extension Framework, the ServiceNow module can be easily configured. Operations can be selected by creating a ServiceNow Node in a given Cognigy.AI flow, allowing for contextual enrichment with data.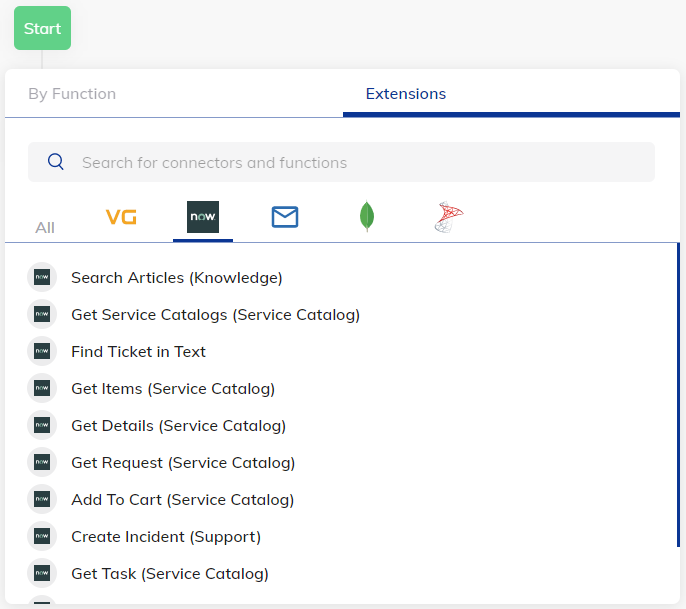 These functions can then be used as part of a Cognigy.AI-flow, to build conversational logic as can be seen in the following flow.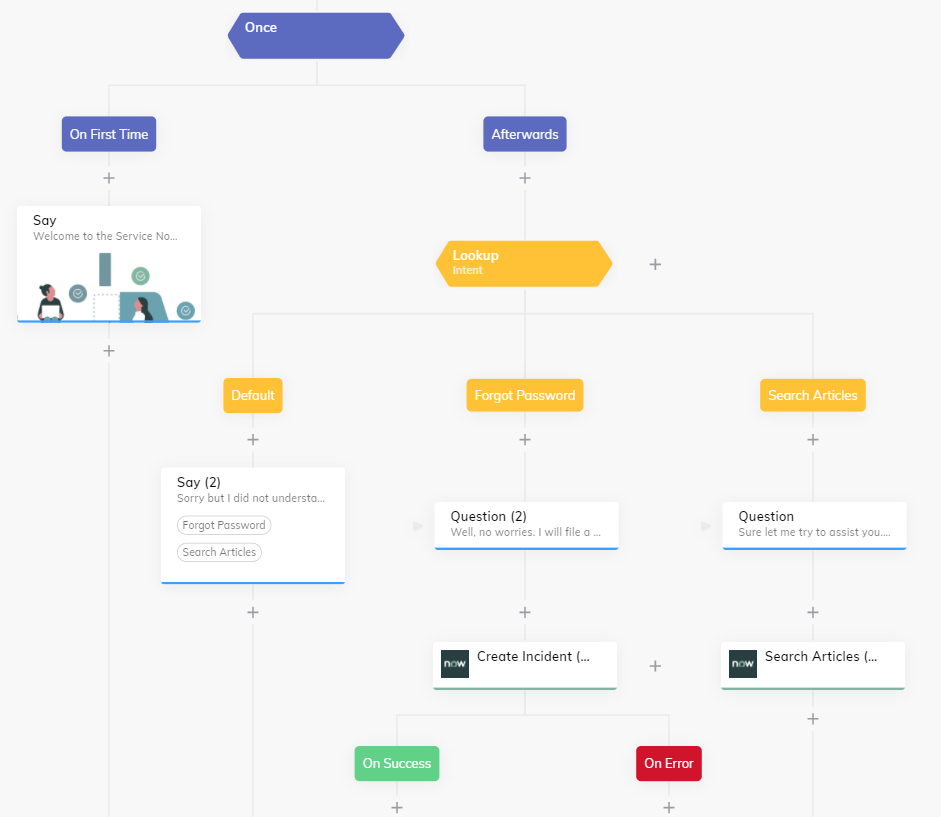 1. The user input is analysed using machine learning-based Natural Language Understanding (NLU)

2. In case the user says something like "What is the status of the Email client?" the associated "ServiceStatus" is triggered.

3. This triggers a ServiceNow GETFROMTABLE-Node to request, that retrieves the latest status from ServiceNow.
4. Finally, the incident status is output using a Say-Node, based on dynamic tokens like "incidentNumber" and "incidentStatus", as can be seen in the following screenshot.
This process takes less than 10 minutes to set up and allows for very powerful interactions.
Deploy on multiple channels
Once a basic flow has been made, Cognigy.AI's endpoint connectors can be used to easily make the bot available across a wide-range of channels. An example of this could be Facebook Messenger or Microsoft Teams. Another option would be a Voice Gateway Endpoint that allows users to simply call our bot via phone. The possibilities are endless!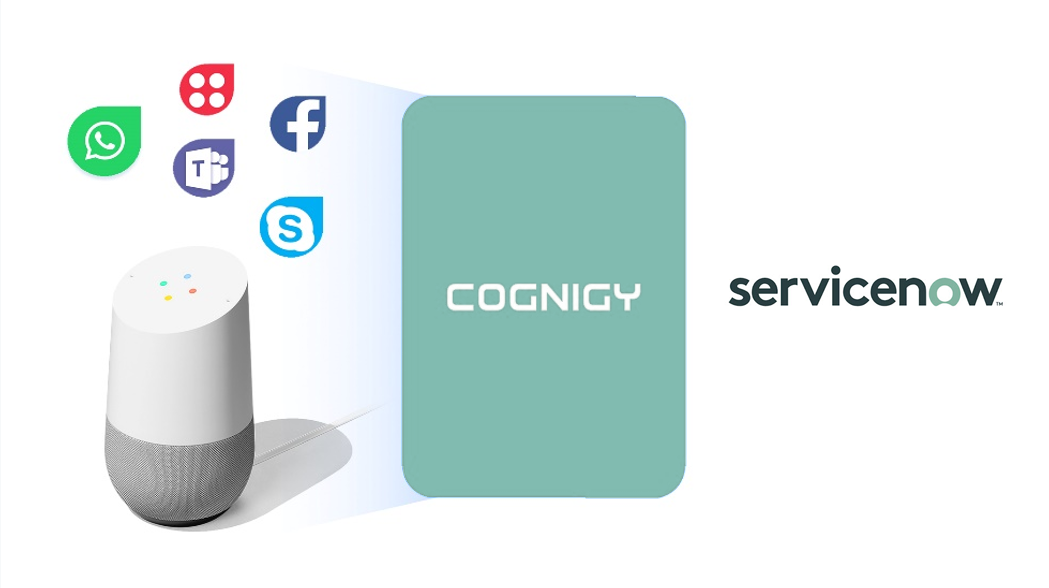 Give it a try!
Contact your Cognigy.AI sales rep or request a demo! Need more technical information or want to test-drive it yourself? Check out our documentation and tutorial in the Cognigy.AI Help Center.