Artificial intelligence may still seem a long way away from affecting our lives, but it already has a considerable impact. You may not notice it, but AI is everywhere, like our smartphones, social media feeds, and smart home devices (to name a few). It has also revolutionized contact centers in the past decade or so, significantly improving the way they function.
The trick for business owners is knowing where AI fits in your contact center strategy. Many companies shy away from the daunting task of replacing old processes and technologies, but implementing the right AI technologies can be highly beneficial for both your customers and employees. We might even say that AI is critical to the success of your contact center.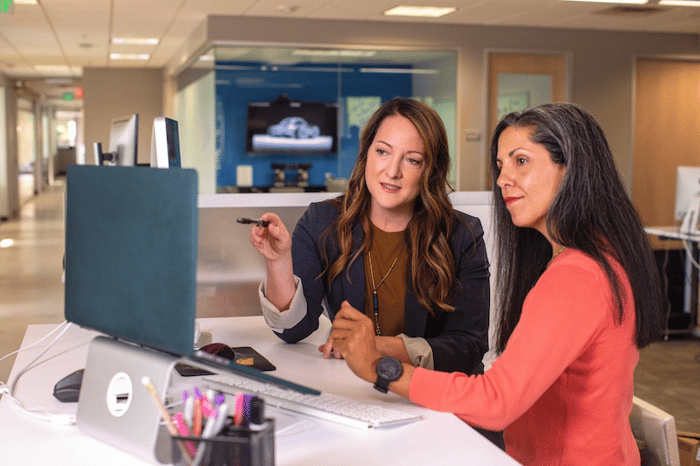 The changing role of the contact center
Before we discuss some of the benefits of artificial intelligence, let's take a quick look at the role of the contact center.
Centralized contact centers handle basic tasks like product support, customer inquiries, and telemarketing, but their functions have changed significantly over the years. Nowadays, companies have recognized the contact centers' role as a critical connection point to their customers and are shifting their strategies accordingly.
Notably, businesses can use their contact centers to offer excellent customer service to build brand awareness and brand loyalty. Contact centers are also a fundamental way for customers to gather information about a product or service from the comfort of their own homes. When utilized correctly, contact centers allow companies to:
Boost sales opportunities
Offer personalized customer service
Optimize resource utilization
Retain customers and improve customer relationship
And if you think that they're outdated, keep in mind that contact centers are alive and well–at least 45% of consumers still prefer to use phone channels. The bottom line? Companies have to create a seamless and easy calling experience or risk losing their customers to a competitor. Those that are slow to adapt are likely to get left behind.
Benefits of implementing AI in your contact center strategy
AI provides many opportunities for companies to create the seamless customer journey and experience they are looking for. Let's take a look at a few things it can do.
1. Predict customer intent
There are many reasons why customers may need to contact you, ranging from straightforward inquiries to more complicated requests. What's rare is finding a customer with a unique query.
Given the routine nature of customer intent, it's easy to use AI to optimize interactions. By collecting data from chats, emails, and recorded phone calls, you can then train machine learning models to learn what customers need during real-time conversations quickly. Once the technology understands customer motivations, you can begin optimizing your customer interactions using:
More intelligent routing
Flagging interactions that need follow-up
Showing up-sell suggestions during a call
2. Faster customer service & support
Chatbots are likely the first thing that comes to mind when you think of AI, and many people prefer to use a chatbot to get customer support before calling a contact center. Given that 1.4 billion people use them regularly, your chatbot has to answer typical questions to create the best user experience possible.
Luckily, chatbots are intelligent enough to handle plenty of common queries automatically, such as:
How can I pay my bill?
What is the estimated delivery time?
How can I change my password?
When will [product] be back in stock?
What's your refund policy?
When are you open today?
What's the best deal you can give me?
Customers expect instant service from chatbots, so yours should be optimized to guide them through the processes they need. The trick? If the questions could be included in an FAQ section (like several of the questions above), your chatbot needs to be capable of answering them.
One critical thing to remember is that you're not trying to trick the customer into thinking they're interacting with a human agent. Many people will ask the chatbot directly if it's a robot, in which case, having a prepared answer is vital. You can say something like, "Yes, I'm a robot­ – but I'm also good at helping people. Let me prove it. What can I do for you?"
Companies like using chatbots because they take care of dull, rote work, thereby freeing up your contact center agents to do what they do best: Provide better service and tackle more complex high-value requests. If you're considering getting a chatbot to support your contact center, you might be better off with a scalable Conversational AI platform such as Cognigy.AI instead. Why? Cognigy.AI can reduce a contact center's average handle time (AHT) by 15 seconds, saving you approximately $400,000 per year*.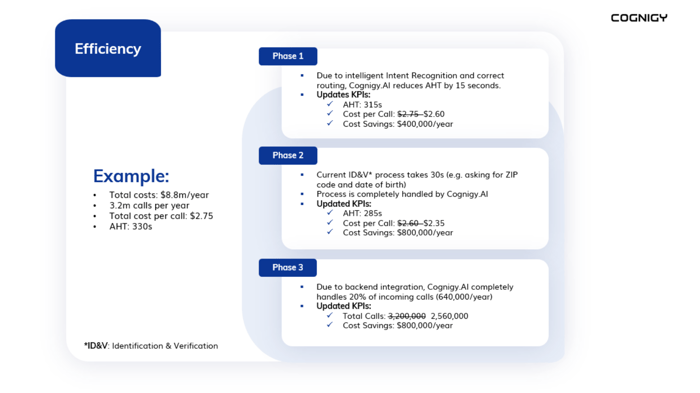 Read the differences between chatbots and Conversational AI to help you decide.
3. Automate routine tasks
AI can free up your human team in more ways than one: It can also help your agents and contact center managers by automating routine tasks. Instead of juggling several things at once (which frequently occurs in contact centers), AI can help your team focus on one customer at a time.
Workflow automation is an excellent example of how AI makes contact centers more efficient. AI can make certain events trigger specific behaviors instead of agents having to initiate tasks manually.
For example, if your representative mentions that they'll email someone during a call, an email will automatically open for them. Similarly, mentioning a client's name can cause their file to pop up, or you can use AI to auto-populate information on specific screens.
This type of automation makes the agent's job easier for several reasons. The most significant benefit is that you eliminate a large part of their most repetitive tasks, making it easier to focus on the customer. Automation is also time-saving both for the customer and employee.
4. Improve interactions routing
There are many reasons why being sent to the wrong place is problematic. It's frustrating and time-consuming for the customer, and it may cause an agent to deal with a problem they're not equipped to solve. AI can help solve this problem by making routing much more efficient.
One of the best tools for routing is Natural Language Processing (NLP). NLP allows customers to say what their issue is without having to rely on suggestions or stock phrases. From here, their needs are sorted according to whether it's a routine query (like delivery of a package), or they can be passed through to an agent who can help with more complex issues.
If your company has multiple contact centers, this type of tool is invaluable to enhance customer satisfaction. It keeps everyone handling only the cases in which they are experts, saving time and eliminating frustration.
Will AI replace contact center agents?
These benefits are just a tiny sampling of ways that companies can benefit from AI. Having heard them, it's normal to wonder if AI can replace your contact centers' human representatives. After all, employees lack the processing power and speed of artificial intelligence, and it may seem like the moment to replace them is close.
But the reality is that AI will never fully replace the people working in contact centers. Here's why.
AI technology still has its limitations
For as much as it impresses us with its intelligence, technology will never be human. AI still falls behind when it comes to replicating emotion or fooling someone into thinking they're interacting with a real person. It's also far from capable of understanding nuances in language and jargon that a real person can.
The need for human interaction
We mentioned brand loyalty at the start of this article, and AI can indeed help drive brand loyalty.
But some people only develop an emotional attachment to a brand through human connection–and when a customer contacts a contact center, they want to feel heard. Despite the fantastic technology available to us, the best way to make a customer feel listened to is by talking with a real person.
AI is also ill-equipped to deal with tense situations where a bit of humor or the ability to empathize with the customer goes a long way. Customer service representatives are still the best resource for putting a client at ease, which is the best way to retain that client's business.
While these are just a few of the reasons that the human voice on the other end of the line remains indispensable, AI is also advanced enough to detect human emotions so it can offer appropriate responses. The following video shows how our Conversational AI platform, Cognigy.AI, uses sentiment analysis to create a more natural and engaging customer experience.
Balance is key
We hope you've seen that AI shouldn't be about replacing people; instead, it's about asking yourself how you can use the technology to partner with and enhance human teams. Both are essential, and you have to find the right balance between human agents and AI. The success of your company depends on discovering the perfect marriage of the two.
How to implement AI in your contact center
There is plenty to be excited about when considering how to implement AI in your contact center strategy. Understanding customer demographics and choosing accordingly is critical, which is why we recommend asking these two questions:
1. Does the technology you're interested in foster a better customer experience?
2. And does it allow the contact center staff to be more effective?
If the answer to both of these questions is a resounding yes, then Cognigy.AI should be included in your contact center strategy. Whether you're a business owner, contact center manager, or agent, you can take advantage of the speed and convenience of a Conversational AI platform to deploy AI-first customer support. Why?
Suitable for tech or non-tech users in your company
Cognigy.AI is a low-code platform that not only lets developers build virtual agents fast but also lets business users and conversation designers manage flows without coding.

Virtual agents that understand your customers in any language
Cognigy.AI is equipped with an advanced NLU engine that rivaled even the Big Tech. It supports over 20 languages while also supporting language-independent machine learning models. And if that's not enough, you can integrate with other NLU engines such as Google Dialogflow, Microsoft LUIS, IBM Watson, and Alexa Skills Kit.
Build once then deploy everywhere
With Cognigy.AI, you only have to worry about building your virtual agent once. You can easily design conversational experiences across a wide range of voice and text channels, including Facebook Messenger, Amazon Alexa, Google Home, Twilio, and many more.
The bottom line
Take advantage of the speed and convenience of developing virtual agents at scale with a Conversational AI platform like Cognigy.AI. However you do it, connecting with customers and making their lives easier should be behind your contact center strategy so you can become a more customer-centric brand.