Voice bot and chatbot technology has reached an interesting phase. More and more companies use it, but at the same time, there is still an enormous potential for development. A recent study showed that three-quarters of the interviewed consumers already had contact with a chatbot. Whether in Messenger, web chat, or the corporate app, companies increasingly use chatbots to communicate automatically with customers. But where is it going? In an interview published originally in contentmanager.de, Sebastian Glock, our Senior Technology Evangelist, talks about the status quo of the technology, possible applications, and whether this will eventually eliminate the need for human contact.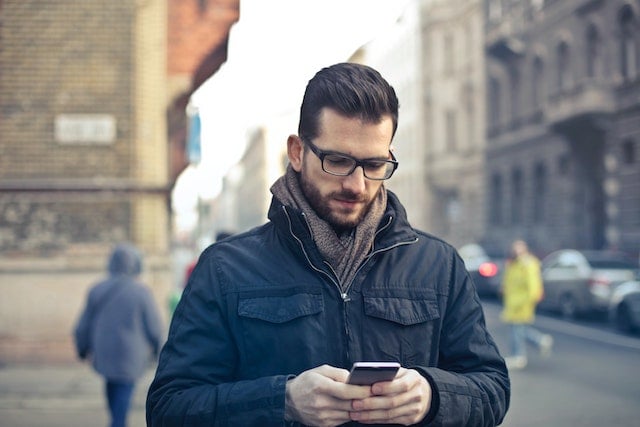 In some cases, it is challenging for customers to get in touch with a company: Either you are stuck in the usual waiting loops, or you're searching for an answer on the website. Both ways are often frustrating. What kind of solution do you suggest?
The bottom line is to help customers first: quickly, second: competently, third: at any time, and fourth: on all channels. However, contact centers are expensive: IBM calculated this in a global study and came up with costs of more than 1.3 trillion U.S. dollars for an annual amount of 256 billion service calls. According to this study, each service call costs an average of 30 U.S. dollars. Scaling contact centers and maintaining sufficient capacity at all times is extremely expensive. However, long waiting times are inevitable during peak periods.
Simple FAQ bots on the website or IVR systems, in which a caller has to navigate menus by pressing buttons, no longer meet customer experience requirements. Many simple bots are based on essential software that can only provide predefined answers to specific questions. They offer no real added value on top of the information provided on the website or in the app. As a result, customers are even more annoyed when they call customer service. However, the technology behind digital assistants has developed enormously, and intelligent solutions are now available that have absolutely nothing to do with these simple FAQ bots.
What has actually changed, and what limitations do voice and chatbots currently still have?
First of all, AI-based language understanding is very sophisticated nowadays. An advanced AI with NLU (Natural Language Understanding) gets a large part of written or spoken issues and can be used in any language. Understanding, in this case, means that the input does not have to be exact but is recognized over a wide range. Therefore, the user can choose their own wording, and the bot adapts to this - not the other way around.
However, it is not enough to just know what a customer wants and have conversations naturally with them. For an intelligent solution, you need to connect the bot to back-end systems. This means that the bot has real-time access to all the knowledge about products, services, or even the customer's personal information from the database. The intelligent bot or virtual assistant can also have write permissions to the back-end, which means that it can, for example, change an address or an order quantity, create an appointment, cancel a booking, store a callback, etc. Our platform, Cognigy.AI, is already widely used for this purpose.
Virtual agents are limited because all issues and their processing have to be known and defined in advance. As a matter of course, no bot can help a calling customer with a previously unknown problem, and therefore, this would always be a case for an experienced service agent. In reality, this has two consequences. First, bots focus on recurring customer issues. That doesn't mean that they are less valuable because mostly 80% of all customer interactions are spread over less than ten different inquiries. Second, complete automation is never the objective when using virtual agents. In fact, bots and human agents work together. While employees focus on complex cases, the routines can be handled by bots.
What are the advantages of voice bots in comparison to chatbots? Is there any informative value that one of the two solutions is the better one?
Both types of bots have different strengths that depend, e.g., on the specific context of the interaction. Chatbots need visual attention and are usually operated by a keyboard or display - using the hands. Messenger apps, in particular, have the advantage that they communicate asynchronously: users can make a request, put their smartphone aside, and later simply scroll up in the thread to pick it up again. In addition, rich media elements such as images, videos, buttons, etc., can also be used.
Voice bots require a different so-called conversation design: The conversation content must be compact but yet understandable. The bot must be able to react flexibly, be interrupted, repeat what was last said at any time, and so on. Users have no visual feedback, but they can solve their requests by only using their voice and hearing, just like in a hotline. For many people, interaction by voice is the most natural and convenient way of communication - and state-of-the-art voice bots certainly live up to these high expectations.
From a technical perspective, however, the two approaches are pretty similar. Conversational AI platforms like Cognigy.AI can serve both channels and also enable a seamless "handover" of customers from one channel to the other.
What are the potential use cases for chatbots and voice bots—even outside of customer service?
Companies with a large volume of communication in customer service and hundreds of thousands of employees in contact centers benefit the most from automation. The benefits for all parties involved are easy to summarize. The companies solve more problems automatically, and the customers receive competent help more quickly. Furthermore, the service agents have more time for the critical cases as they have to deal less with annoyed customers on hold and standard questions. In reality, there are often cases where many people need customer support at the same time. Such peaks can be quickly and efficiently handled with a Conversational AI platform. Both chat and voice bots can also support sales.
The technology is also valuable internally for HR. For corporations with tens of thousands of employees, the work of the internal contact center can be significantly improved by using intelligent dialog bots. Not to forget: Well-designed voice bots can also have an innovative effect and help in the brand-building process.
Especially in human resources and in customer data-heavy sectors, data protection is vital. Can bots guarantee data security?
That's an important aspect that needs to be considered when choosing a Conversational AI platform. If the bot is an essential application for the company, the same high standards for security, data protection, etc., must exist for a CRM system. Therefore, a good enterprise platform fundamentally includes encrypted data transmission, comprehensive control over all user-related content, and granular control of user rights. The dialog data must also be stored GDPR compliant in European data centers or processed completely "on-premises" by companies.
Will bots eventually eliminate the need for human interaction?
Certainly not. No machine can ever replace human intuition, empathy, and creativity. Soon, complex customer inquiries and new, unknown problems will still be handled by humans. That is why a good conversation design always includes handover to a human: Bots should always know their own limitations. Digital assistants will also increasingly support humans in hybrid scenarios. Many customers use our "agent assist" solutions that operate entirely in the background: The AI listens to a conversation and provides the customer service agent with data on the customer history, for example, or product specifications that matter for the current conversation. Such agent-assist solutions make humans more intelligent and improve response quality.
What is your recommendation for setting up a voice or chatbot project?
The implementation of professional, helpful voice and chatbots is straightforward. Even the connection with back-ends and other systems is effortless. We advise perspectives to try out Conversational AI in service or HR and start with small projects and gain experience. In one of our videos, we demonstrate how anyone can set up a voice bot in just 10 minutes.