If you analyzed every time a customer called support over the past several years, what do you think the most pressed button would be? If you haven't guessed already, it's the zero button. Because the scariest words we as customers can here is "Press one for…" at which point we immediately begin mashing zero like a lab rat at a reward lever. And what's the reward? It's a human experience. It's not having to spend more time listening to options than it takes to simply explain your issue.
Despite the rise of digital channels, voice remains a traditional favorite for customers to have their issues solved and grievances addressed. And with the increasing availability of self-service across channels, that makes delivering excellent phone experiences even more critical, because people are not calling about password resets, rebookings or returns much anymore. They're calling about edge cases, unusual problems, and complex issues.
Rapid advances in technology coupled with major players like Amazon, Uber or Netflix setting the bar higher for all of us mean customers don't just expect more, they've experienced it elsewhere and can get it from a competitor.
Why Use IVRs? What Problem do they Solve?
Interactive Voice Response (IVR) was indeed a major step forward for users and businesses when introduced. The problem it solved was simple. It was a basic sorting system, able to quickly route calls at volume to the designated person or department. Over time, it added a few capabilities but quickly reached its limits. There are only ten numbers on the phone. You can't press 11, 12 or 13 for any more options (nor would you want to).
IVRs, however, went from being a means to an end, a simple functional tool to perform a small repetitive task, to the face of customer service, the very first experience a customer has when calling you. And let's be honest, nobody on the customer side welcomed that.
The reality is, if I call and immediately speak with another person, I can explain myself in a few sentences and the listener can extract from that all the details required to start solving my issue.
Here's a personal example I had with a well known US outdoor retailer.
"Hi, this is Jarrod Davis. I ordered these pants 2 months ago but was out of the country so I'm just opening them and see the wrong pair was sent. I'd like to exchange them for what I ordered."
An agent here will just need to confirm my identity, then look up the order and initiate the process. They can already extract multiple pieces of information from what I said and know what to do. Legacy IVRs cannot do this but Conversational IVR can.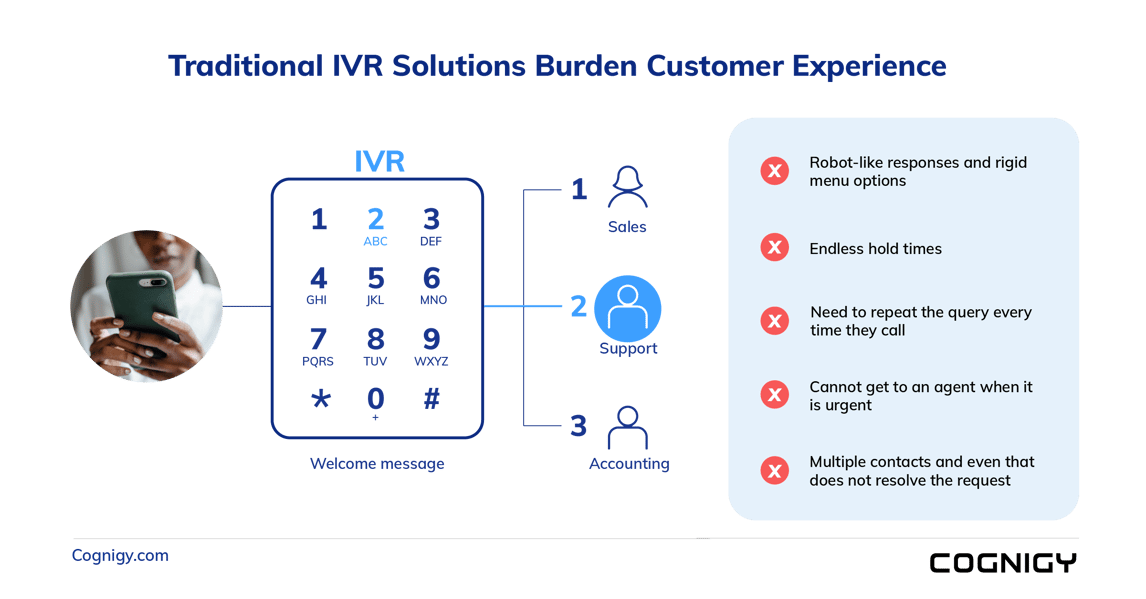 Classic IVRs offer only a series of business-defined options in multiple categories, subcategories and sub-subcategories ad infinitum. Some are so detailed that that you feel lost in a maze and halfway expect to come across some lost fellow caller stuck in IVR purgatory. Traditional IVR systems can only take a single input and perform a single action. It's an abacus in an iPhone world.
Negative Impact of IVRs on Customer Experience:
Long menus with submenus
Single input only (one choice at a time)
Touchtone input only (initially)
Business set the structure and flow, not customer
Using the same device (phone) to both listen and enter choices via button
Impersonal and sterile feel
But if we can't realistically staff enough human agents to answer every call every time, and legacy IVRs are not only outdated, but measurably having a negative impact on customer satisfaction and experience, then what's the solution?
That's where Conversational IVR comes in, which leverages advancements in artificial intelligence (AI) to meet the long unfulfilled goal of fully Conversational IVRs. But what is conversational IVR? How is it different from legacy IVR?
Before we dive into the specifics, let's take a short trip down memory lane into the origins and development of IVR technology to fully comprehend its purpose, capabilities, and limitations.
The History & Development of IVR
IVR systems have been around for five decades. In their nascent form, IVRs were a touch-tone input and voice output systems. This technology was considered a game-changer and widely deployed by businesses across industry verticals. However, it was not without disadvantages.
Many of the problems with first-generation IVRs were resolved by speech input and output systems, which used automated speech recognition to respond either via pre-recorded messages or dynamic messages generated with the help of synthesized speech. Functionalities such as call further streamlined the system by making navigating menus less confusing.
With the advent of Automated Speech Recognition (ASR), IVR systems became better equipped to process more complex inputs. It also improved performance by enabling near real-time voice transcription. Latency (processing time) and word error rate (detection errors) are two major reasons why traditional IVR systems were unable to have conversations. Real-Time ASR took the next step, enabling callers to at least use simple keywords to navigate instead of buttons.
The data hooks integrated into the back end allowed IVRs to process simple customer service tasks independently. If human intervention was necessary, computer telephony integration (CTI) allowed agents to review the IVR activity and pick up a conversation mid-way without the caller having to repeat themselves.
However, the agent only had access to the IVR dial tone menu structure with no other context or detail, meaning customers still had to mostly repeat themselves leading to frustration and wasted time (not to mention longer AHT). This was seen as a big step for the self-service model that the IVR system was designed to push forward which brings us to today.
What is Conversational IVR?
Conversational IVR transforms customer experience on the phone by replacing rigid, impersonal menus with natural language and freedom of choice. Moreover, they enable customers to speak naturally and use self-service options when they reach out to a business for assistance. These systems are smart and intuitive enough to understand both the context and content of a conversation.
Powered by AI, Natural Language Understanding (NLU), and machine learning, conversational IVR systems allow callers to steer the conversation, and it can respond with relevant questions or actions, in complete sentences as a human would. This makes the conversation flow more natural.
Since it uses machine learning in tandem with AI, this IVR system can capture the exact phrases and sentences used by callers,' offering businesses a goldmine of insights into what their callers seek in their self-service journey which helps continuously optimize the system. Additionally, the AI can not only interact with customers directly but sits in the background of all conversations, including with agents, actively listening and making suggestions as well as gathering data for further analysis and your metrics.
NLU enables IVR systems to become more conversational, shifting from "This is what I can do for you" to "What can I do for you." This flips IVRs around, making them customer driven and putting the caller in charge of the journey, instead of forcing them through a rigid tree-like system of choices. For businesses, this also results in more seamless call routing processes, greater reliance on self-service, and reduction of operating costs.
In short, conversational IVR, with the help of AI, can address the core demands of callers, value their time, understand them, and engage them.
How is conversational IVR different from standard IVR?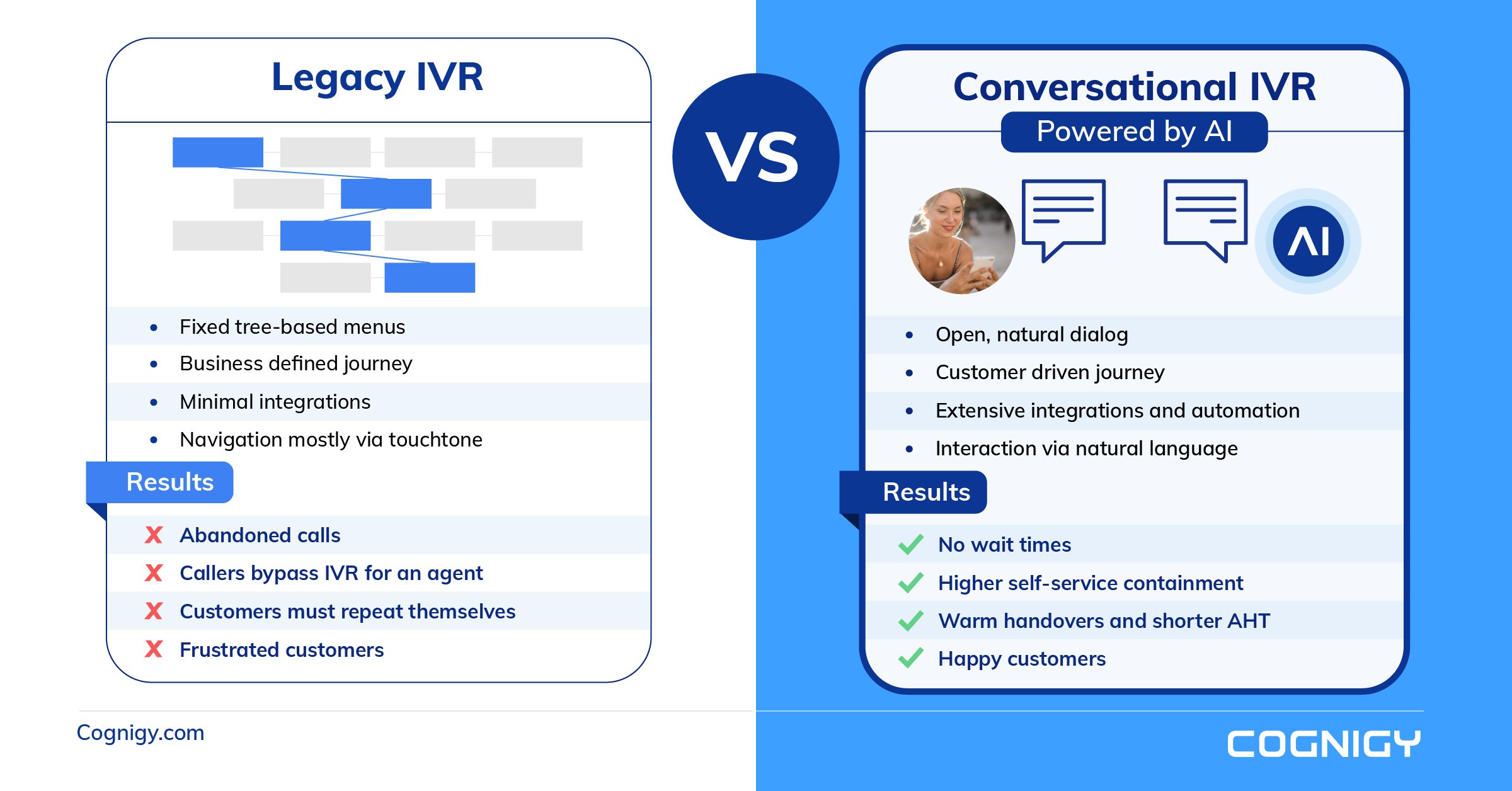 Benefits of Conversational IVR
A monotonous voice spitting out numbers and options with no flexibility or language understanding is simply no longer good enough, any more than selling flip phones or black and white televisions would be.
Conversational IVR delivers a number of benefits to both customers and businesses including:
1. Cost-effectiveness and lower total cost of ownership (TCO)
According to Amazon's research, free form conversation is key to customers, with 83% indicating they need to speak or write freely in self-service options. IBM has reported companies across the world spend more than $1.3 trillion on over 250 billion customer calls per year. That comes to an average of $30 per call a live agent answers, excluding of course the cost of hiring, training, and retaining employees. AI and Conversational IVR can reduce this cost by 1/8 time.
Moreover, AI can streamline the stages of a call, for example doing identification and verification, pulling up customer records, orders or reservations and passing this directly to the agent.  This lowers AHT and speeds up resolutions, a welcome change for customers and agents.
2. Better speed and efficiency
AI powered IVR systems also cut back on the time taken to address every caller, which means it can handle more calls as compared to standard IVR in the given timeframe. A conversational IVR can not only resolve issues faster than human agents, but according to a 2022 study by Amazon, AI outperforms live agents in availability, speed, accuracy and availability on customers' preferred channel. Organizations employing Conversational IVR are regularly able to automate upwards of 50% of their conversations, often significantly more. E.ON, one of the largest energy providers in Europe, automates 70% of their 100,000 monthly conversations!
3. Improved Customer & Agent Experience
Conversational IVR returns things to their natural state, enabling callers to freely express their issue as they naturally would, and can similarly parse it into all the relevant pieces to move forward to either self-service or a handover.  60% of callers bypass pre-recorded messages in standard IVR systems to reach a human leading many companies to deactivate the "Press Zero for an agent" option because people skip the IVR completely and overwhelm contact centers.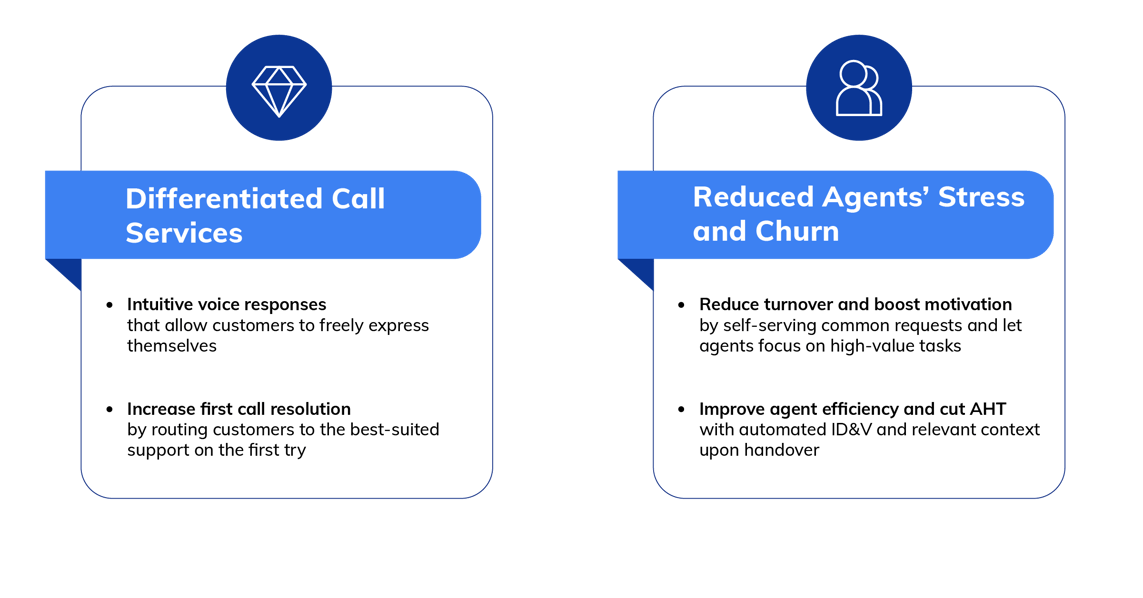 Conversational IVR can not only handle a bulk of caller requests independently but also routes them to a live agent seamlessly when required including the entire call context and customer details, preventing the customer's need to repeat themselves. This saves each agent an average of 1.2 hours per day! That's time they could be using to give customers their full attention and solve complex issues, instead of watching the clock for AHT.
4. Easy Scalability & Plug 'n Play with Contact Centers
In addition to building upon the benefits of standard IVR, conversational IVR also streamlines the issue of scalability. AI enables you to answer every call immediately and either route it to self-service or quickly identify and verify callers and gather initial details before handover. Lufthansa for example, now handles a million calls a month, the majority of which are contained in self-service including transactional issues like flight changes and even automated refunds.
For any business operating in a multilingual market, it is imperative to have a support system where callers can converse in their native language. However, hiring separate agents proficient in different languages is difficult, not to mention extremely costly.
With AI and NLU powered capability to learn and adapt, conversational IVR systems can be configured to handle calls in different languages. As a result, you get the benefit of scalability and reduced operational costs rolled into one.
No Rip and Replace
Finally, conversational AI and IVR is designed to sit on top of your existing tech stack. That means no rip and replace, regardless of whether you're using cloud based or on-premises systems. It can weave together key systems like CRM, knowledge management, CCaaS, case management, ticketing, reservations and others, enabling data to flow freely between them, creating a wealth of new automation and self-service opportunities.
5. Strengthened Brand & Resilience
You only get to make a first impression once and is "Please listen carefully to the following options as some have recently changed" really the one you want to make?
Conversational IVR systems can answer calls immediately 24/7, meaning customers aren't waiting around while the phone is ringing. With the ability to bring dozens of backend systems together into the AI layer of your tech, customers get direct access to all the systems and tools they need to solve their issue or a smooth handover to an agent.
This consistent and speedy support system provides not just a better experience, but a differentiated one, setting you apart from competitors, still torturing callers with old systems.
Getting customer service right can contribute significantly to the bottom line. There's no shortage of surveys and reports that show customers are willing to both spend more with companies who offer better service and dump those who don't. You must treat customer service as if your growth depends on it, because these days it does.
How Conversational IVR Powers Up the Customer Experience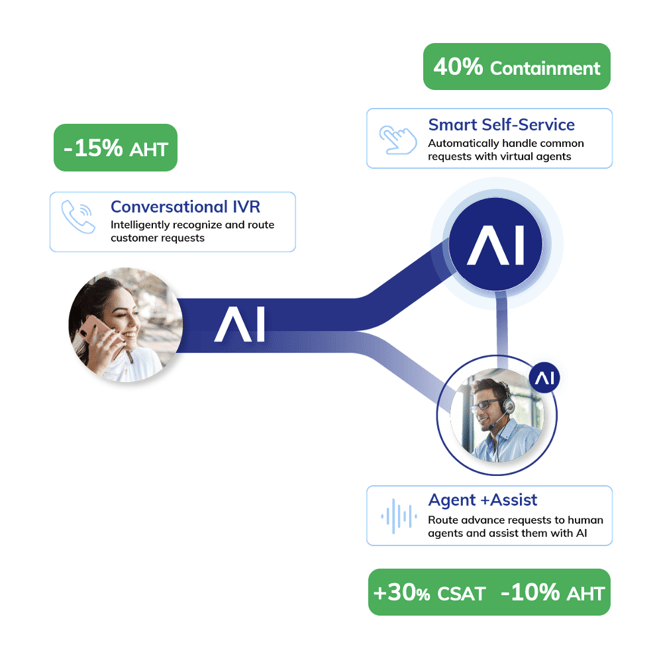 We've focused narrowly on the IVR experience so far, but the big picture is even more exciting. AI does not mean doing old things better, but being able to rethink and transform those old ways entirely.
AI can answer 100% of calls immediately, quickly verify callers and understand and route requests. Powerful integrations and automation enabled by AI offer callers far more self-service options and those that still require an agent get the combined power of both human and AI, which is listening and proactively helping in the background.
The Choice is Clear: Conversational IVR
Let's be honest, Conversational IVR or legacy IVR is about as difficult a question as a black and white television versus 4k. It offers a better experience for customers, reduces the burden on agents and enables a range of new self-service and automation opportunities that are simply technically impossible using traditional systems. Through on-demand self-service, data insights, and intelligence capabilities, these systems can lower cost, reduce caller churn, and improve caller satisfaction.
Are you considering making a shift from Standard IVR to Conversational IVR but not sure where to begin? Check our Contact Center Automation Guide!
Cognigy has also recently been awarded the Customer Service & Call Center Verband Deutschland e. V. (CCV) Quality Award 2022 in the category of IT Innovation for its Conversational IVR solution. Want to see the presentation and product demo that won us this prestigious award? Check out this on-demand webinar with Cognigy's Head of Product Marketing & Technology Evangelist, Sebastian Glock, and Solution Architect, Alexander Teusz.