Summary:
Last week, Cognigy exhibited at Customer Contact Week Europe in Amsterdam. The event saw contact center executives, industry pundits, and tech experts come together to discuss the future of customer service and exchange best practices.
The two days were packed with insights and lively conversations which gave us a sneak peek into opportunities, challenges, and market trends that await CX leaders. Below are our top five lessons learned from the event.
1. Disparate Systems are the Leading Omnichannel Hindrance
The concept of "omnichannel" has been around for years, but surprisingly few companies have managed to make it a reality. According to CCW Research, only 25-30% of companies have offered true omnichannel CX, a sluggish improvement compared to 12-15% five years ago.
The biggest reason? Siloed systems. Indeed, in four out of five conversations we had with contact center leaders, system integration emerged as either a challenge or a months-long initiative that needs to be tackled.
Takeaways: While the integration project can sound intimidating and overwhelming, especially with various back-office systems in place, the first step towards omnichannel and hyper-personalization lies in CRM integration. And the good news is, if you are using a SaaS solution like Salesforce, this can be done without much hassle. Agent desktop integrated with CRM data gives your workforce meaningful customer context and past interactions to accelerate resolution.
If you are deploying or plan to deploy virtual agents as part of your customer service strategy, it's best to go for a solution that can be rolled out easily on any voice and text channels while offering turnkey CRM and contact center integrations. This simplifies implementation and ensures that cross-channel interactions seamlessly flow into your CRM backbone to maintain the context for future conversations.
2. Change Management Starts with Agile – The 80/20 Rule
From alleviating agent workload and improving service availability to better managing peak traffic and keeping up with demand, CX leaders are passionate about adopting AI and new technology to transform their customer service for the better. That said, they are often faced with inertia and reluctance to go against the status quo among internal stakeholders.
When it comes to change management, experts suggest that agile methodologies can be just as helpful as in software development. The key is to start small with a well-articulated customer use case and channel for the first MVP, then constantly measure and build upon it. Automation is not a one-off project, it's a continuous process, so it's better not to try boiling the ocean.
Takeaways: The 80/20 rule, which means 80% of your customer interactions or support volume typically come from a few key issues and channels, provides a helpful baseline to start. Identifying general, yet impactful customer queries for automation that allows you to deliver positive outcomes within a short timeframe for internal buy-in.
What's more, low-code solutions can drastically reduce the learning curve and barrier to technology adoption within the organization while letting you make incremental improvements down the road – fast and flexibly.
3. Messengers are Poised to Overtake Webchat
According to McKinsey, global digital adoption vaulted five years forward in just eight weeks since the pandemic. Engaging with customers on digital channels is no longer a choice but a need to cater to the demand of tech-savvy millennials and gen Z consumers.
Among a plethora of digital channels existing today, there are a few key contenders to watch. In his presentation at CCW Europe, Ted Hunting, VP of Marketing at Bright Pattern, said that messengers will surpass the current #1 digital channel, traditional web chat.
WhatsApp has garnered 2 billion global users – followed by Facebook Messenger with 1.3 billion and WeChat with 1.2 billion users. Throughout multiple conversations, contact center leaders revealed that they were already offering self-service on WhatsApp or planning to employ it as the first messenger channel. While the top use cases still revolve around informational queries, there are notable examples like Pepsi using WhatsApp for outbound contact and visual IVR.
Takeaways: To quickly roll out, scale, and future-proof your digital customer service, it is critical to opt for a solution that provides out-of-the-box channel connectors while allowing you to repurpose and deploy the same service flow on any existing and future channels easily.
4. Empathetic Customer Service Overrides Contact Center KPIs
While AI and automation are among the leading themes at CCW Europe this year, they are seen as the digital enabler to drive excellent experience rather than contact center efficiency. Traditional KPIs like deflection and containment rates are taking a backseat to customer lifetime value as contact centers transition to customer centers.
Technology is not meant to replace empathy. Quite the contrary, experts agree that you can get the best of both worlds with the right approach.
Takeaways: From the ideation and conception phase to building and training your virtual agents, it is critical to involve at least one senior customer service employee throughout the process. While IT admins and operations teams can know the technical implementation inside out, your support agents are the ones who understand customers best and can offer golden insights into empathetic conversation design.
In addition, technology like Conversational AI is not just about automation and self-service, it is also about agent empowerment. Solutions like Agent Assist can help your workforce go above and beyond customer expectations by giving agents real-time recommendations during live support, eliminating the need to juggle dozens of back-office applications.
5. Leverage Customer Data to Inform Automation and Quality Management
Constant learning and feedback loops are indispensable to a customer-centric service design. And these go hand-in-hand with the agile change management mentioned above. Beyond efficiency numbers, experts point out that true success is measured by active customer listening.
There are multiple ways data can shed light on how you can design self-service, manage quality, and capture new value-adds. For example, you can run an experimental IVR using Conversational AI that asks for customer issues in natural language and immediately hands it off to an agent as a start. Customer inputs can then be applied to train the intent recognition of your bot and prioritize opportunities for self-service and redesign of the conversation flow to grow your IVR capabilities along the line.
In terms of quality management, a simple 1-5-star survey allows you to measure CSAT on any channel at extremely low effort. Taking a step further, you can build an automatic workflow that instantly routes one-star raters to a retention specialist to learn about their experience and save the interaction in real-time.
Takeaways: Powerful Conversational AI platforms come with a built-in rating survey and interaction analytics that empower you to build and execute an effective data strategy.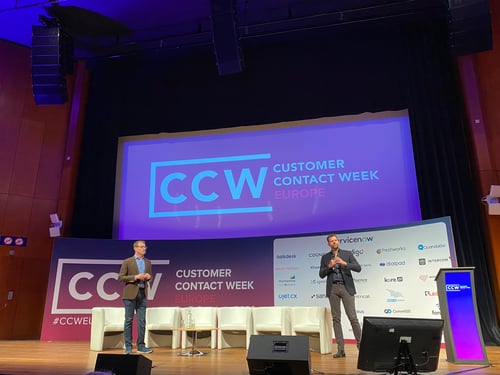 There remains much more to be learned from CCW Europe this year, but we hope you find our top five highlights helpful. We would like to also extend our special thanks to Nick Allgaier of Lufthansa Group for sharing his CX transformation journey with Cognigy on stage, as well as Sarah Haider of Salzburg AG, Hans-Joachim Belz of Carglass, and Barend Jungerius of Adidas, for joining us at our booth and exchanging valuable insights!
Where to Find us Next?
The Cognigy team will continue to hit the road across cities this year. Find all upcoming events we are joining here.
If you want to dive deeper into how to achieve, perfect, and scale self-service with Conversational AI, don't miss our new MasterClass series with Sheila McGee-Smith of McGee-Smith Analytics, Brian Cantor of CCW Digital, Satesh Kumar of E.ON, as well as Philipp Heltewig, Derek Roberti, Karim Amer, and Sebastian Glock of Cognigy. Save your seat using the link below.