Cognigy's co-founder Philipp Heltewig demonstrates Pepper's enhanced capabilities in Hyatt hotel in Düsseldorf.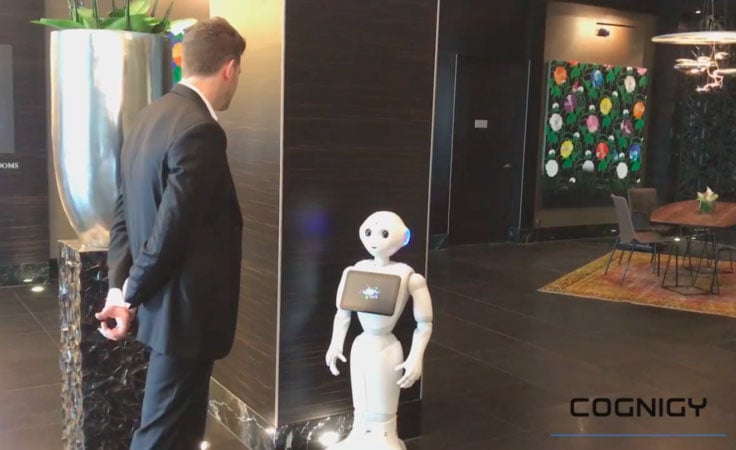 Pepper is a humanoid robot developed by SoftBank Robotics to be a day to day companion with impeccable manners. Moreover, it was also designed to perceive emotions of people interacting with him. Being the first robot in the world with such features it was installed in 140 SoftBank mobile shops as also became the first humanoid robot adopted in Japanese households.
This extremely talkative robot is able to communicate with its surroundings in a natural and intuitive manner. He does not only communicate using his voice but also the body language which makes the conversation with him more natural. The one thing lacking so far was Pepper understanding the users' intent and acting accordingly in response. This has now become a reality using COGNIGY.AI.
With COGNIGY.AI, Pepper can now fully comprehend what the users are talking about and act in an intelligent manner in reply. This allows companies to easily create conversations with Pepper and implement them in a variety of real-life scenarios. The software developed by Cognigy is able to access all of Pepper's functions and control the voice, body language, and tablet of the robot. The video case presented in this article shows how the combination of Pepper and Cognigy's technology could change the in-hotel experience for guests.